© Copyright Protek Supplies

This highly interesting item was made in Japan for an American company to commemorate the bicentenary of the American independence in 1776. We do not believe they sold that well. A large batch of them made their way to the UK where they were sold for several years by Whaleys Of North London. This example is in very good condition having recently been cleaned and dusted off. It cocks and shoots fine even the hammer mechanism now works which they do not always, sometimes they are lethargic or just dont move when you fire. It is an underlever with a pull out tube mechanism similar to a Daisy. The metalwork (some of which is actually plastic) is in good order, this is a nice collector's item, displays well on a wall. We should also point out that the dummy flint lock mechanism does work as a safety and it locks the trigger until it is pulled back for cocking. A nice item.

Now here is something you do not see every day, thankfully! A Webley mark 3 converted to have the functionality of an HW77. The work has been competently if not brilliantly done and the result is a rifle that seems to be very under powered at only about 1.5 to 2 foot pounds but is very smooth to shoot. Fair condition, fitted with what looks to be a professionally made one piece front sight unit, we do not recognise what this might of came off of but looks quite a neat and good quality item. Also with (probably a Milbro) peep sight on the back. Some stippling to the stock obviously set up as a little target rifle but it is .22 and we got severe reservations about the cocking mechanism as the is no anti bear trap mechanism. This is therefore sold only as a collector's item and not really for use (unless with extreme caution) remembering to keep hold of the lever at all times when cocking and loading the gun. An engineering that someone took on, we wonder whether they were happy with the results or not.

This semi automatic bb shooting co2 air rifle is quite a scarce item in this country (England) they were made in America in the 1970s but not for long. All markings are clear, present and correct, the rifle is in good condition, working, holding gas. Fitted with a 3-7 x 20 scope of no particular merit. A nice little light weight synthetic stock rifle, collectable but also a nice little shooting item.

Calibre: .177 smoothbore (bb)
This is a really nicely made pump up air rifle, 100 shot tubular magazine above the barrel. Once you work out how to load bb (quite straight forward once you know how) this air gun will shoot with just one pump and the bb comes out quite nicely more pumps will increase velocity. This example is in good condition retaining most of its original black finish with slight light wear on some of the leading edges and minimal tarnishing in hidden areas. Stock is good with light surface loss to the finish couple of minor marks. Not had a lot of use as the pump handle, for example, is crisp and sharp. An interesting item we had not had one of these before we had the normal .22 single shot pump ups but not the repeating one. Muyst be a nice collectopr's item but actually good fun to shoot as well.

This rare and interesting classic collectable is ijn near new condition, apart from a couple of minor scratches having hads very little use. Ingenious design with 2 power systems next to each other which cock on a single break of the action. Shot tubes in both barrels, these are a nice collector's item, not produced for very long (about 4 years) by the Daisy company in America.

This very neat little air rifle is not a model we have encountered before, it is a multipump-up but with a little sprung loaded magazine on the side of the barrel for bbs to go in. This example is in very good condition retaining virtually all its original bluing to the cylinder with a few spots where the bluing has come off but mostly good. Stock possibly revarnished, cocks and shoots fine, there is a number that looks to have been engraved might be a serial number or an American phone number! It is engraved on the underside of the cylinder but not visible when the pump handle is closed. It might be an Ohio phone number! A neat little multipump rifle which self loads on cocking the bolt back.

This Birmingham made air rifle is in good condition, the metalwork being excellent. No open sights are fitted, stock has a few surface marks and scratches some of which are noticeable because a scratch on the varnish finish leaves it quite light coloured. Shoots at around 10 foot pounds with a pleasing firing cycle. An excellent short range ratting or rabbitingiting rifle.

VULCAN (CUSTOMISED HYBRID!)
According to the top of the cylinder this is a Webley Vulcan. Its not a Vulcan we have ever seen before. Firstly it has a flat ended cylinder end cap which was fitted to the Victor, the front sight is a diopter peep sight and appears to be a Weihrauch and the rear sight is a Milbro style diopter sight. The rifle produces about 9 foot pounds it has a late trigger similar to a Webley Vulcan series 3 which has a grooved front with a curved profile. The stock is also unusual, it is not a Victor one it has got an ambidextrous cheek piece and a flat black plastic butt plate. Overall a bit of an enigma, could be made up from several parts, looks like its been done well and would make a nice junior target rifle. In good condition the metal work going a little bit brown but mostly ok all components seem to be in good order. Has provision for a rear sight on the breech block but none is fitted. Seems to have been assembled for paper target or bell target shooting.
MAIL ORDER INFORMATION
Items that are shown with a blue envelope can be either purchased from our shop or you can have them delivered directly to your home address as they were either manufactured before 1939 or they are on commission sale being sold by us on behalf of a third party. Items where no envelope is shown can be purchased from our shop or you can have them sent to a registered fire arms dealer near you, and you collect it from them. To order an item from us phone 01243 827500
Our stock changes continuously so please check before travelling.

We usually have more than what is shown here in our shop. Call in and see us.

This is the target version of the Webley mark 3 made for bell target and match target shooting. This example is ok the metal on the cylinder is mostly all there and original close examination reveals the barrel has been refinished as under a good light you can see speckling underneath the bluing. We suspect this rifle has been quite comprehensively used for target shooting but it is in good order shoots very well exellent airtight piston head and tap. Stock has some surface marks and scratches is a nice piece of quality walnut. Some general wear overall you can see where it has been used and some light speckling and old rust spots to the underlever and barrel. Fitted with a Parker Hale PH17B peep sight with choice of hole size an allso a cap on the pistol grip with 6 different elements for the front sight. Speaking of which we could not manage to undo the front sight it just neads a bit of loosening off to free but we could not manage it there is a front sight element fitted, a post in this case. A quality air rifle and the Supertargets are always very sellable.

This classic single stroke pneumatic target rifle has recently been fitted with some new seals we understand and shoots nice and consistently at just over 5 foot pounds. The metalwork is in excellent condition and fitted with original Walther diopter sights. The stock is good but there is evidence of a repair to the pistol grip seems to have been very well done and in fact is virtually invisible on one side but with a line of glue apparent through the stippling on the right hand side. The job looks superb. A nice quality entry level target rifle these are always accurate and totally recoilless.

We have to be honest this was a total wreck when we obtained it. We had ideas of selling it as is as a project gun. Then we though it could become our own project, with the extra days of lock down over Christmas and our extra Saturdays that we are not here we spent some time on it. Firstly we did the internals and after replacing all the seals, cleaning it all out, finding a suitable spring we got iyt shooting at 11.4 foot pounds with a nice smooth discharge and minimal recoil. At that point we thought we will have to refinish this one now. So hours spent polishing the metal work taking it down to bare metal then polishing it and bluing it resulted in a nice looking rifle. The metal on the breach block has not been taken down so the pitting can be seen, this had to be left so that the model markings and serial number etc can still be seen. On the breach block it says Beeman model C1 Beeman precision Airguns Inc, San Rafael California 94903 made in Great Briton. On the other side of the breach block it says Calibre .22 5.5 for adult use only. The stock has also been refinished and fitted with its original open sights should have taken a photo before we started work on this really, so you could of seen the before and after but did not think of it at the time. A nice smooth shooter, full power and looks reasonably presentable now. Amazing what a bit of time can do and a lot of elbow grease and some bluing.
This BSA Cadet Major is in what we call original condition. It has not been messed around with or refinished any way. The metal work is slightly brown and grainy, the photo etching is not visible. The breech mechanism barrel lock up is good, open sights are original and again good. The stock has some surface marks and scratches but no major cracks etc. A genuine and honest rifle.

This high quality German made target air rifle from the pre recoilless action era is in quite good condition retaining some original finish a little bit grainy on the cylinder wich makes us suspect the barrel shroud has been refin ished cos it looks very good. Stock is very good with no cracks or major faults just a few minor surface blemishes. Fitted with a Walther diptor sight no rubber eye cup on it. Cocks and shoots very smoothly and consistently at 597 foot per second with with Hobby pellets. These have superb automatic overrideable anti bear trap system whereby if you cock it and leave the barrel swinging which you should not do because its very bad practice, and were to pull the trigger the barrel would not fly up however if you want to de-cock it you can just pull the barrel back fully and whilst holding tension on the barrel pull the trigger and allow the barrel to ride up to un-cocked position. Why this system is not used on modern day sporting break barrel rifles we are not sure as it seams a very safe way of doing things would avoid upward bent barrels which we have often seen on rifles without this system. This should prove to be a highly accurate target rifle. As there is minimal recoil due to the quality and weight of the mechanism.
Note: There is evidence that the cocking link pin has come loose at some time and has been repaired so you will have to keep an eye on it , we think it is OK.

This classic air rifle is in fairly good condition,finish is original with light browning/wear to the cylinder and some small patina or rust spots to the barrel. Stock has no cracks or defects but has some surface marks and scratches overall. The rifle functions really well, original open sights are fitted, an honest rifle, nothing special but nothing majorly wrong with it either. An average one really its obviously had a fair bit of use in the past but not been mistreated.
This not often seen Spanish copy of the Sheridan pump up rifle is in excellent near new condition. Just a few minor marks to the stock. It pumps and shoots however we have had a maximum of 6 foot pounds power from it, after 5 pumps the power does not increase further it gives you a second shot such that 9 pumps will give 2 shots at 6 foot pounds and there is still a bit of air left over. So clearly fully compliant with UK regulations. Also has a plastic hand guard on it which we have seen on Sheridans although we think this may be original and again Spanish made copy. Fully adjustable open sights safety catch functions not great but it does its job at the back, quite a scarce item now.

This is the Sporter version of the VZ47 which was also made as a military training rifle. This example is in near new condition retaining virtually all its original blued/black finish, the stock has a thick orangey coloured varnish which might be the factory original as this example, unlike others we have seen, does not have a metal butt plate fitted but the wood is grooved to provide a non slip surface, Similar varnish fished have been seen on Haenel rifles of the 1950s/60s. Original open sights, ear sight graduated for 10/15, 20 and 25 metres. Cocks and shoots perfectly obviously having had very little use.


This has to now be considered something of a scarcity. An untouched, unmolested original Webley Vulcan mark 1. They sold very well in their day but where are they now. This example is in quite good condition the metalwork having all its original finish just a few marks on the cylinder someone has had a tool at it at some point. The stock has probably been refinished as they originally came with a nasty lacquer type varnish that scrapes off. This rifle shoots exceptionally well and produces 11.24 foot pounds with RWS Hobby pellets or 654 foot per second. Also shoots nice and smoothly. This is is obviously the reason they sold so well as they were truly one of the first air rifles mass produced that produced over 11 foot pounds. Original open sights fitted which are working and complete.

This must be a very rare item in this country we understand it was produced as a gallery gun in America and sold in America just after the second world war. It uses a bulk fill CO2 cylinder that powers the gun you then just have to cock and load a suitable pellet. This example is in good condition seems to be black painted finish we believe may be original as the logo on the side is nice and sharp and if it had been repainted it would be covered over a bit. This also has an adapter that we had made which allows filling from a certain fitting that goes on to the bottom of the tank and allows filling from a fire extinguisher. Lovely adjustable peep sight on it which is a nice fully adjustable and nicely designed item. Wood work is quite good some scuffs and scratches. Not had as much use as you would expect if was used on a gallery, a rare item for an advanced Crosman collector.
Here is the next lot of air rifles to be put on our website as time allows. Most are ready to go, others need a bit of TLC before we put them on the web. All are available now to buy, 1st come 1st served. Keep checking back on our website…Any pre war made item can be sent directly to you, any made after the war have to be sent to a registered fire arms dealer for you to collect from them, speak to us.
Phone or email for details on any item. 01243 827500
proteksupplies@btconnect.com

We believe this air gun is now discontinued, fires bbs or pellets, in good condition in box. It has handle with battle sight.


This lightweight break barrel rifle is in all honesty one of Webley's worst quality rifles! Nevertheless this example is in very good condition, it actually works properly, the safety catch still operates and the rearsight is complete. Fitted with a .177 barrel which is easily detachable and could be swapped for a .22 if you have one. In .177 its a bit lower powered, trying a .22 barrel in these always gives a bit more power. The power level of this one being just under 8 foot pounds. Good finish to the metalwork, just minor wear on the breech barrel block where it has been cocked, a few surface marks and general scratches to the stock, we believe the horrible yellow colour varnish to be original. Its not pretty but it is pretty functional as far as these go. Now becoming collectable and not that often seen in .177, the .22 is a lot more common.

This is a prize collector's item. This scarce air rifle is in near new condition in its original box. Also with a plastic tube with some BSA Pylarm pellets in it and a copy of the instruction manual. No target holder or oil bottle. The polystyrene inner tray has been slightly modified to allow the rifle to fit in with the scope fitted on however there is no scope with this rifle. Original open sight with its little peep hole is fitted at the back of the rifle. Cocks and shoots nice and smoothly with a little resistance on opening at around 6.5 foot pounds which which is what they would have been when new. A nice rifle for your collection. These are quite pleasant to shoot having used one. Unfortunately some one has put brown tape over the end of the rifle which goes over the label where it would have said BSA Buccaneer. This label is just about visible through the brown tape but the serial number which would have been written wunderneath is not visible. Box itself, apart from tape at both ends, is in fair condition having done its job of protecting rifle for many years.
There is no scope with this rifle

This is a realy fun gun to shoot, 12 shots in the magazine just pull the trigger as fast as you want. It runs on the standard large capacity 88/90g CO2 cylinders and is fitted with a Milbro clearview dot sight. Also supplied with 12 magazines!

These are a great fun gun. They are surprisingly accurate, bolt action mechanism just cock and close the bolt to shoot it, this one is fitted with the much more scarce 12 shot magazine. It shoots nice and smoothly and is a very nice gun to shoot. This example is only in fair condition the metal work having had an application of black paint overall unfortunately. Dunno what its like underneath but may need refinishing if you want to remove the paint. However the rifle is complete and working well with Mauser type safety catch at the back and a nice smooth bolt mechanism.

This quality German side lever air rifle is in excellent cosmetic order and superb working order. It is fitted with a Nikko Sterling 3-9x40 scope with Sportsmatch mounts, original open sights are present. This has been tuned by Vortek tuning £118 was spent all new internals and a full tune and service we have receipts with rifle this work was done in 2017. An excellent hunting rifle.
Unfortunately there is a scratch running along the stock as we have tried to photo here. It is just above the light flash area.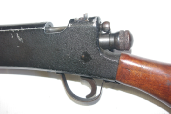 This is a rare air rifle. It was made in America reportedly by ex Crosman employees for just a couple of years after the second world war. This example is in good condition retaining lots of its original bluing to the barrel and cylinder, stock has a few surface marks and scratches but nothing major. It pumps and shoots ok, 7 pumps gives 7 foot pounds we are not sure what they were supposed to have done when new. Seems complete and original, marked "Rochester precision air rifle Rochester New York" on the barrel, open sights, is clearly based on the 1923 Crosman rifle and seems nicely constructed of good quality components. There is an extraneous hole next to the pump arm pivot so may have had some work done there not sure as we have never seen another example of this gun but it looks like someone has done something. A nice collectable rifle.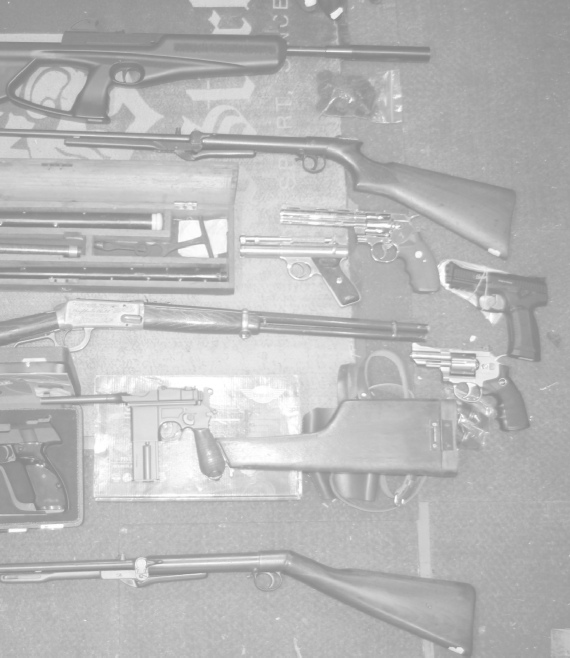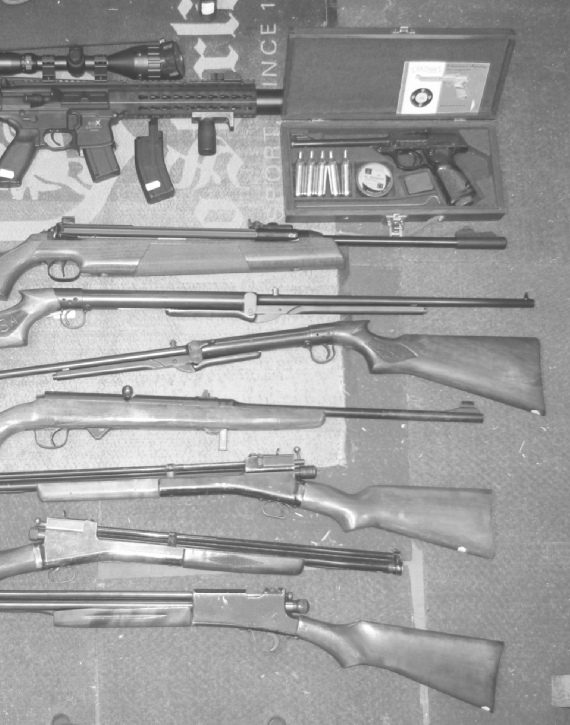 ANOTHER GROUP PHOTO IS ON ITS WAY