© Copyright Protek Supplies

KRAL ARMOUR PCP RIFLE
• 14 shot magazine fed
• Storage for a second mag (1 supplied)
• Can also be used single shot
• Side lever cocking
• Air gauge
• Tactical futuristic look
• Adjustable cheek piece
• Compact
• Great build quality
• Highly accurate
• Metal frame
• Power control device
• We supply with a 3-9x32 illuminated scope & mounts
• .177 calibre
£540.00 includes the scope and a quality hard carry case.

THE NEW BSA DEFIANT BULLPUP REGULATED PCP RIFLE IN STOCK NOW
• 10 shot magazine
• 110 shot count per air fill
• 2 stage fully adjustable trigger
• Sturdily built
• Walnut stock
• Enhanced cold hammer forged barrel for ultimate consistency and very low noise.
• Built in sound moderator
• Manual safety catch
• Supplied with 2 pellet magazines, really nice quality carry case and air filling adapter.
SUPPLIED WITH 2 MAGAZINES
The BSA Ultra SE provides top spec' performance and unique handling qualities in a stylish, affordable package. Perfectly balanced and designed for fast target acquisition, the Ultra SE is purpose built to take your sporting shooting to an exciting new level. It's a lightweight stalker, a super-compact ratter, the ideal hide-hunting rifle and much, much more. It's the BSA Ultra SE – a genuine mini-supergun!
.177 £439.00

Fully regulated PCP rifle achieving consistent and dependable accuracy.
Increased 280cc detachable buddy bottle delivering up to 340 shots per fill.
Adjustable butt pad.
Adjustable Soft Touch covered wooden cheekpiece.
Fully adjustable 2 stage trigger.
Pressure gauge and "on rifle" quick fill system.
.177 in stock, .22 & .25 calibres available to order
@ £799 rifle only.

SPECIAL DEAL
WITH HIGH QUALITY GUN BAG, SUPERIOR JSB PELLETS AND BSA 3-9 x 40 SCOPE
ALL FORONLY
£899.95
HATSAN FLASHPUP
14 shot PCP, compact, full power, .177 with moderator
£399
WALTHER REIGN
10 shot bullpup, sidelever opp, .22
£699
COMING BACK IN TO STOCK SOON
• German made PCP air rifle
• Lightweight and compact (real wood!)
• Side lever action
• Multi shot (10 pellet mag) (2 supplied)
• Full power
• Ambidextrous thumbhole stock
• Adjustable butt plate
• Air fill gauge
• .22 calibre
£895.00



• Precharged pneumatic
• 13ci tank size
• Semi-semi auto (push trigger forward after shot for instant next shot)
• .22 calibre
• 30 round mag
• Long accessory rail
£469.00


The new MCX Virtus air rifle is powerful enough to hunt small game such as squirrels and rabbits and is great for pest control in addition to target shooting. Unlike CO2 powered airguns the high pressure air in PCP models are less affected by extreme swings in temperature, making the MCX Virtus PCP an excellent all weather airgun. Performance will be consistent, whether shooting on hot summer days or in very cold temperatures.


• Manual loading PCP rifle
• Lever action
• 14 shot mag in .177, 12 shot mag in .22
• .177 and .22 calibre in stock
• Thumbhole ABS stock
• Air gauge to tell you how much gas you have!
• Robust construction for professional use
£329.00
MAIL ORDER INFORMATION
Items that are shown with a blue envelope were can be either purchased from our shop or you can have them delivered directly to your home address as they were either manufactured before 1939 or they are on commission sale being sold by us on behalf of a third party. Items where no envelope is shown can be purchased from our shop or you can have them sent to a registered fire arms dealer near you, and you collect it from them. To order an item from us phone 01243 827500
• Pre-Charged Pneumatic (PCP) side-lever action, multi shot air rifle.
• Precision rifled choked barrel for accuracy, threaded for half UNF sound moderator & fitted muzzle cap.
• Detachable 10-shot rotary magazine.
• Ambidextrous wooden stock
• Detachable steel air cylinder tube (180cc). Spare cylinders are available.
• Built-in pressure gauge on the air cylinder to monitor the cylinder pressure.
• Includes quick-fill nozzle & air cylinder discharging cap
• Dovetail groove receiver for both 11mm and 22mm scope mounts.
• Manual Safety & Auto Safety
• Anti-double pellet feed mechanism preventing more than one pellet loading into barrel.
• Patented anti-knock system to prevent gas wastage when rifle is knocked or bounced.
• Quattro Trigger: 2-stage full adjustable trigger for trigger travel and trigger load.
£399.00
PHONE AND CHECK STOCK BEFORE TRAVELLING
• Fibre optic open sights
If you think pre charged pneumatic air gun shooting is too expensive then have a look at this...ready to go shooting package
From Sportsmarketing is the pre charged pneumatic bolt action air rifle. We have had nothing but good reports on this gun. You can fire single shot with the supplied pellet tray or 7 shots with the supplied magazine. Comes with filling adapter and has a pressure gauge neatly in the stock to tell you how many shots you have left. Full hunting power .22 calibre. Ideal beginner's, junior or ladies gun.
HERE IS WHAT YOU GET:
• .22 PR900 pre charged multishot rifle
• 3-9 X 40 telescopic sight (SEE BELOW)
• Telescopic sight mounts
• High quality hunting/target shooting pellets
• Charging pump to fit gun, ready to go.
£299.99 the lot
Pre charge the rifle ready for shooting with the special pump Included in package
WE HAVE UPGRADED THE SCOPE ON THIS PACKAGE FROM THE STANDARD 4X SCOPE TO A 3-9X ZOOM MAGNIFICATION TELESCOPIC SIGHT FOR THE SAME GREAT PRICE.
NOW WITH UPGRADED AIR GAUGE
Why pay more?
Well there are some reasons actually, but we won't go into that in what is essentially a sales pitch! Suffice it to say this will meet some purchaser's needs fully and for others a stepping stone on to greater, and more expensive items
SCOPE SHOWN FOR ILLUSTRATION AND IS NOT INCLUDED IN THE PRICE. ALTHOUGH WE DO SELL THEM AND CAN FIT THEM.
• Rugged all round model
• Durable Varmint thumbhole stock
• Form fit and force-fit barrel lock for constant precision
• Smooth, quiet and vibration free shooting
• High capacity bottle
• Durable ABS stock
• Excellent German engineering
ROTEX RM 8 VARMINT
8 shot
We have scopes, pellets, bags, cases, targets, cleaning kits and more.


• 12 shot (.177 cal) magazine loading
• Walnut stock
• Magazine with index
• Adjustable trigger pull
• Weaver scope rail
• Quattro trigger
• Safety catch
• Air fill pressure gauge
120-140 shots on an air fill
730mm long, 3.45kg weight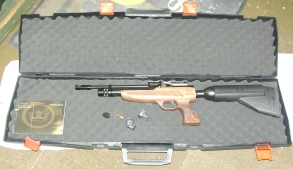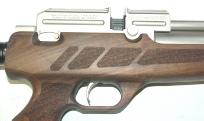 Supplied in a good quality hard case.
This must represent the best value PCP rifle we have ever encountered. It is a really nice quality well made item with a good quality Turkish walnut stock. A large capacity buddy bottle gives 160 shots before you need to refill. A gauge lets you keep watch on air level. Supplied with 2 magazines, silencer and a single shot pellet tray. It shoots at 11.4 foot pounds, a power adjuster allows lowering of the power for shorter range and more shots from a fill. A nice positive side lever mechanism on left side for comfort in cocking while holding the rifle. The scope rail takes 9-11mm dovetail or weaver mounts. Compact and powerful, a uniquely good rifle to hold and shoot.
.177 and .22 calibres in stock.
£375.00


Our stock changes continuously so please check before travelling.

We usually have more than what is shown here in our shop. Call in and see us.

This is a top quality pre charged air rifle that will give outstanding performance in power and accuracy. It has a thumbhole stock insuring that the rifle is held comfortably in the same position for each shot which will enhance accuracy even further. It uses a 10 shot rotating pellet magazine which indexes each time you pull the bolt back to cock the rifle. It is fitted with a Nikko Stirling 3-9 times 50mm scope which has illuminated reticle for low light shooting. Overall the rifle is in very good condition and is supplied with its air filling probe.


This 10 shot pre charged air rifle is one of the last pre charged made in the Birmingham Webley factory. This example is in very good condition fitted with a short moderator and a Zero Option 3-9 x 50 parrallaxx adjustable wide angle scope. The magazine system is not the slickest we have ever tried but if it is used propperly it does work properly. Shoots at about 10 .5 foot poundfs with a couple of different pellets we have tried, stock is in excellent condition just a couplea very minor marks on it. Actually a nice quality rifle. Comes with its filling probe.

This nice quality 2 shot air rifle is fitted with what in our opinion is one of the nicest stocks ever fitted to a pre charged rifle. It is in good condition but it is not working. It does not hold air. It has a leak. The air leeks out slowly over time. When you initially fill it up with air it cocks and shoots fine but the air escapes slowly. It retains most of its original finish, there is some pitting to the blued barrel muzzle weight and a slight bit to the barrel itself. The rest (air tube and stock) are in very good condition. So this is sold "as is" for someone to repair and maybe replace some seals.
A STUNNING NEW PRECHARGED RIFLE.
THE SNOWPEAK M25
10 shot magazine fed, .22 calibre, uses a metal construction pellet magazine, bull barrel, very quiet, full power, really well engineered, safety catch through trigger blade which is discreet but easy to get to and use. Has Weaver type rails for scope and more rails for accessories. Also has air pressure gauge to tell you how many shots you have left before you need to top up.
Supplied as a ready to go kit with 3-9 x 40 zoom magnification scope, high quality scope mounts and a really nice pump for topping up the gun with air.
All this for only
£435

This pump (supplied) is very nicely built, uses quick connectors with fast assembly and no tools required.
• Multi shot magazine fed 7 shot
• .22 calibre
• Pistol grip cocking, really cool
• Can be used single shot as well
• With silencer
• Tactical extending stock for perfect fit
• Available with black pistol grip as shown or tan pistol grip
• Picatinny rails for accessories and 9-11mm top rail for a scope
Push the pistol grip forward/back to cock the gun and index the mag ready for next shot. Really snazzy.
The mechanism that neatly connects the pistol grip to the cocking mechanism.
£359.00
Very limited quantities available