This early American rifle possibly dates from before the 1st world war or just after. It is a dinkey little rifle with a front rod that pulls out for pumping, takes several strokes to build up enough compression to shoot out a muzzle loaded bb. This example has a very nice patina to the bore finish it may have been blacked originally having worn off or removed over the years. The end cap has the markings in this case a selection of patent numbers surrounded by words "Benjamin Air Rifle" and "MFG Co St Lewis MO (Missouri) pat pending" at the bottom and "model E" at the top. Stock is in fairly good condition probably had a coat or two of varnish over the years. The valving seems ok. Quite crude in comparison with what came later but not often seen this side of the pond.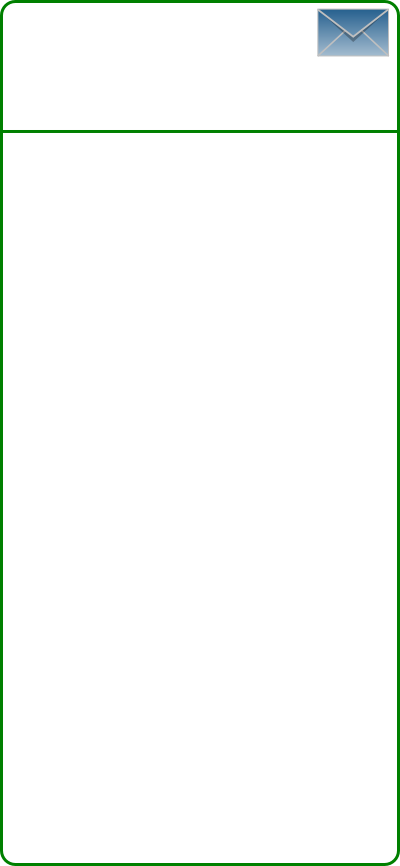 This very nice quality air rifle has been refinished to a good standard. The engraving is still nice and clear and crisp in fact looks good on its newly blued breech block. The rear sight is a replacement we know this because we fitted it! Its a new modern replica. Stock is very nice with quite crisp checkering, some scratches and marks and unfortunately a piece missing off the toe of the stock which has been carefully smoothed off so it does not look too bad. Some tooling marks on the gas cylinder but mostly smooth bluing which is nice and shiny. Lovely engraving on the underside and on the trigger guard. A quality item which presents very nicely.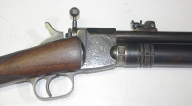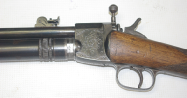 MAIL ORDER INFORMATION
Items that are shown with a blue envelope can be either purchased from our shop or you can have them delivered directly to your home address as they were either manufactured before 1939 or they are on commission sale being sold by us on behalf of a third party. Items where no envelope is shown can be purchased from our shop or you can have them sent to a registered fire arms dealer near you, and you collect it from them. To order an item from us phone 01243 827500


© Copyright Protek Supplies
Our stock changes continuously so please check before travelling.

We usually have more than what is shown here in our shop. Call in and see us.


SECONDARY NEW YORK TYPE GALLERY GUN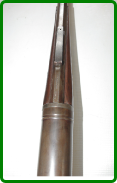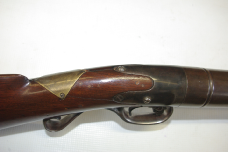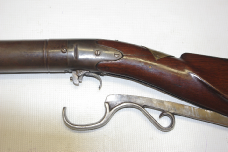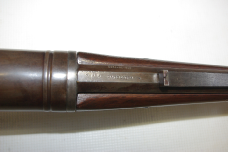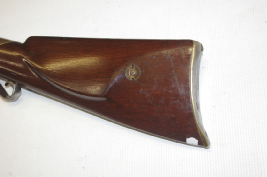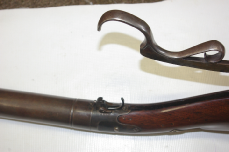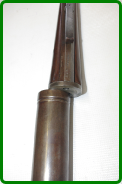 This is a special rare collector's item. Made by David Lurch in New York about 1865 to 1870. This is a underlever cocking gallery gun which was later copied in Germany and became the well know Bugelspanner. However this has a totally different and interesting trigger mechanism. This example is in good condition retaining some original finish to the cylinder and barrel the name David Lurch clearly impressed on the barrel near the breach along with some other letters and numbers. Original open sights are fitted, very large diameter cylinder for a double volute mainspring. This had had has had some repairs around the pistol grip in apparently a long time ago, a brass plate has been put over some repaired cracks around the pistol grip where the wood must be quite thin because a lever comes through to enable cocking. The barrel twists to one side for loading and is a very clean smooth bore. Lurch is one of the most well known makers of such rifles and is well reported in various books concerning such antiques. Nice brass fitted butt plate and shaped cheek piece, a good quality air rifle hand made for gallery shooting in New York.



This is a really nice prime antique collectors item. What we have is an American made crank wound air rifle signed by a known maker Joseph Lurch of New York on top of the barrel, it is a very nice quality hand made item. We believe Joseph Lurch to be the father of another gun maker who's work we also have in stock, a David Lurch. This particular item is in good condition, the metal work to the barrel having a pleasant brown finish, the cylinder a bit worn we do not know wether it would have nickel plated or possibly lightly blued, there is evidence of a light nickel coating over the brass frame at the end what its left with is a pleasant looking finish. Stock is good with reasonably sharp checkering, some surface marks and scratches but no major cracks or defects. A little peep sight is fitted which maybe the original but looks a touch crude but it does work well with the very nice little post front sight which we are certain is original. The barrel twists to one side for loading and relies on a metal to metal contact, it works very well that method of sealing. Complete with a newly made crank lever handle which has been slightly aged to look old and is nicely finished. A really nice hand made American rifle from just after the civil war period from a known maker. Overall length is 43 and a half inches.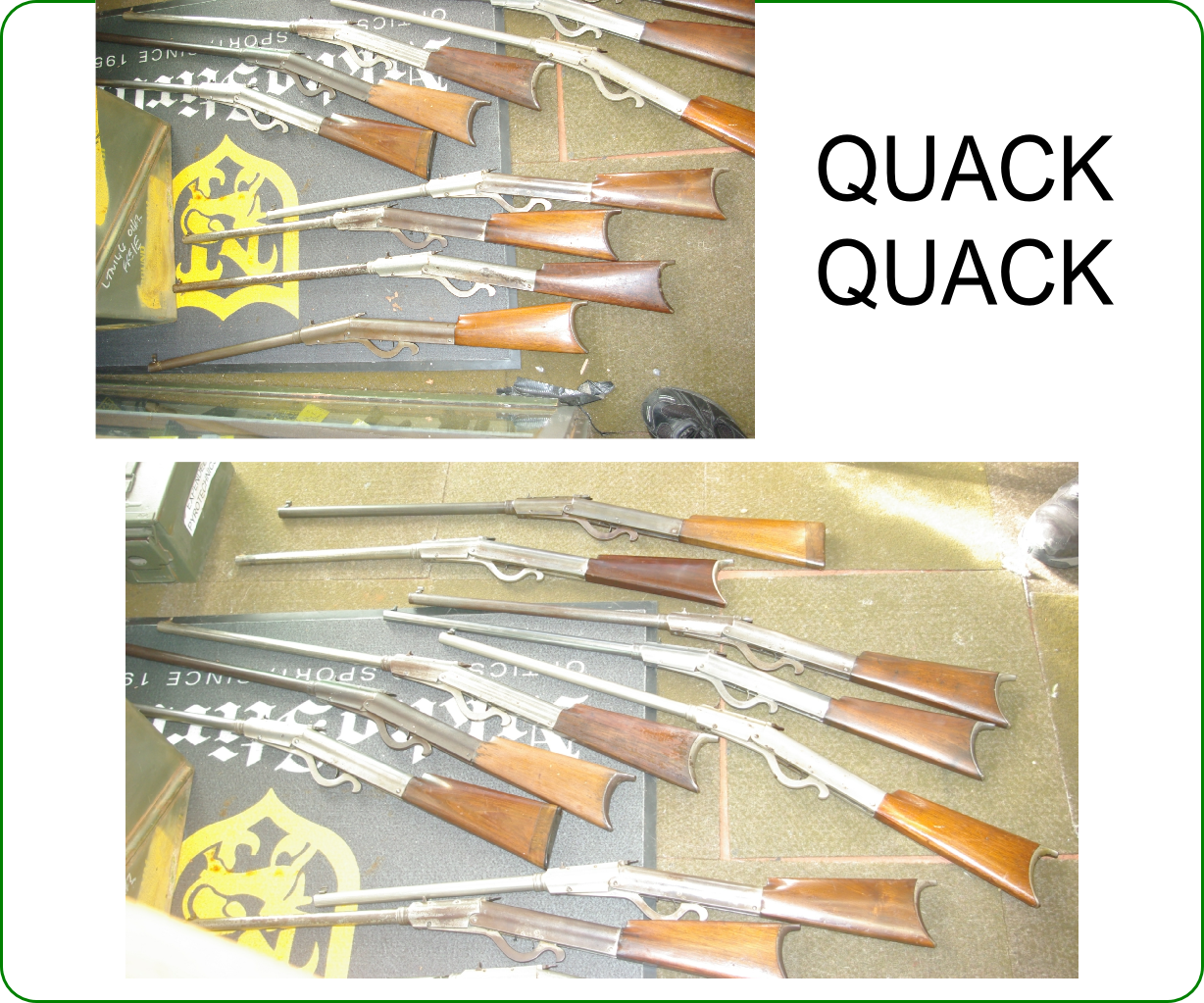 98% of this gun is one of the best Giffards we have ever offered for sale. With lovely deep bluing, superb engraving, nice and crisp smooth original finish. Stock is very good with original varnish with some surface marks of general but not very much and very light. Fitted with original sling swivels and open sights, everything absolutely as it should be, a crisp lovely condition gun. The 2% that detracts from it consists of a small area of pitting on the right hand side of the breach block clearly its been allowed to rust at some point possibly liquid co2 has got on to it and its been left which is a real pity otherwise this would be a fine gun indeed. But what it is is still rather nice.



Calibre: .31 inch rifled
.415 inch smoothbore
This is a superb antique pre charged airgun in the form of an aircane. This one has its original bamboo effect finish which is in good order with a few scratches and knocks to surface but remaining pretty much intact. This was made by John Blissett it is marked as such to the front face of the air reservoir ie "Blissett, High Holborn, London". This has a removable rifled barrel which comes out and leaves a larger bore smooth bore barrel. In its original old mahogany case with a horn screw on handle, original old pump and foot plate. Also what we believe to be the original old key. The case itself is in nice condition with a lovely rebated fold out handle on top. Unfortunately the top lock plate has been removed, there is no key we suspect that at some point it was left locked and the key lost then someone opened it up by removing the top lock plate so the lock mechanism for the case has not been tested. The green baize lining is in good condition may have been re lined but very possibly the original. JOHN BLISSETT trade label in the top of the lid stating every description of pistols and air guns manufactured. A very nice item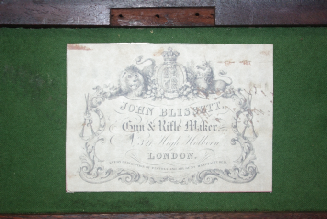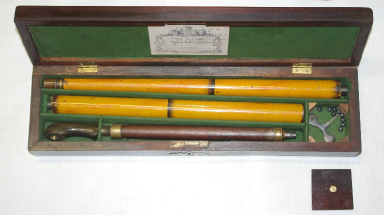 Year: c1848-54
Calibre: .30 rifled, .50" smooth
Stock ref: 5319
£3550.002700.00
For the second time for Protek these photos were taken by Vic, no complaints will be tolerated, if you want bigger photos try pressing the ctrl and + buttons at the same time- works on our computer most of the time. If you want to see the item more clearly you are welcome to come in to our shop and see the item for real!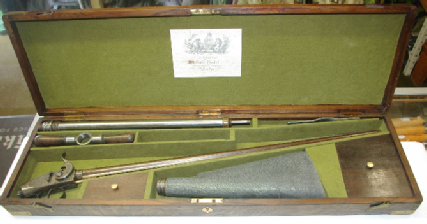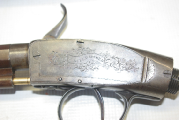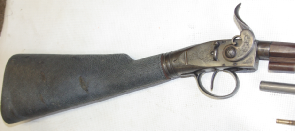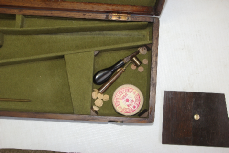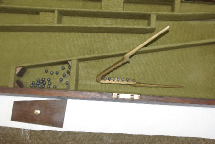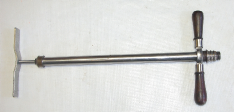 This antique air rifle/air shotgun is in lovely condition. The action has some really nice engraving on it on both sides and top, scroll work on the hammer and with the makers name J Bull, Bedford in a banner within scroll work on the left hand side. There is no pitting the metal is smooth and a light brown antique type finish. The barrel is a brown Damascus twist effect in good order and with some light engraving to it. The butt is covered in what we believe to be the original shark skin known as shagreen which is the skin of a shark or a ray. Complete with a period pump with handle, bullet mould for 6 bullets and a foot plate. Also in a compartment is a tub of lead shot, a shot measurer, another tool marked "Baylis and Son Patent" and some wads for the shot. The case has been more recently made to fit this assembly and is a nice quality wood possibly oak with brass corners and escutcheons there is a lock but we do not have the key so have not been able to test the lock. Overall a really nice quality English made air gun. Interestingly and somewhat unusually this has a rifled c.30 cal barrel that fits in with a bayonet fit to the outer .50 inch smoothbore barrel. There is a pin across the rifled barrel so you can not push the ball in too far using the loading rod. There is a safety bypass on this so you can de cock it without firing should a hunting opportunity be missed you do not have to fire it off. A truly lovely item. There is a trade label in the top of the case for J Beattie of 205 Regent Street London. A similar rifle/shotgun matching almost exactly this pattern has been with a similar trade label in the lid so we made a copy of that and put it with this one. We have never seen a trade label for John Bull of Bedford as they were only in business a short period of time being 1846 to 1854 at High Street Bedford. James Beattie was at 205 Regent Street from 1848-64 so therefore we can confidently date this rifle as being from 1848-54. A nice collector's item that would be a prized item among any collection.

ANTIQUE GERMAN STRIKE PUMP AIRGUN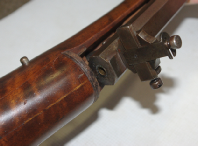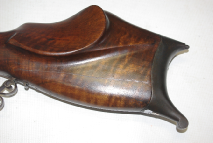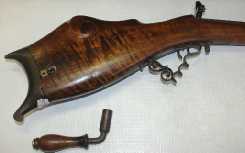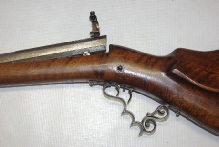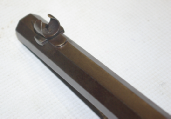 What a fantastic lump of an antique airgun. This is beautifully made, very heavy, very solid. It is a strike pump gun which basically consists of a spring and piston within the butt that is cocked and uses two leaf springs. The mechanism works but it takes a lot of effort to cock those two leaf springs and the power output is not great. This would have been used for shooting darts at very close range. The barrel is massive being fully octagonal and about an inch in thickness. With its original fully adjustable rear sight which is a lovely bit of mechanics and a very nice fine post front sight within an open shroud. This has a double set trigger mechanism, you cock the back trigger and then the front trigger is truly a hair mechanism. The airgun is in good condition with the barrel being mostly brown finish. The stock is nice but with one major crack on the underside that looks to have been repaired but is structurally perfectly sound. massive cast heavy butt plate and very fancy trigger guard allowing you to hold it with all your fingers comfortably. This really is a nice quality item. No engraving, the metal work is plain and the woodwork is plain apart from a heavy large Tyrolean cheek piece and some sort of oak leaf carving on the front end. A really nice antique. Also it is complete with what we believe to be its original cocking handle. Overall length is about 44" and weighs more than we can weigh with our 5kg postal scales!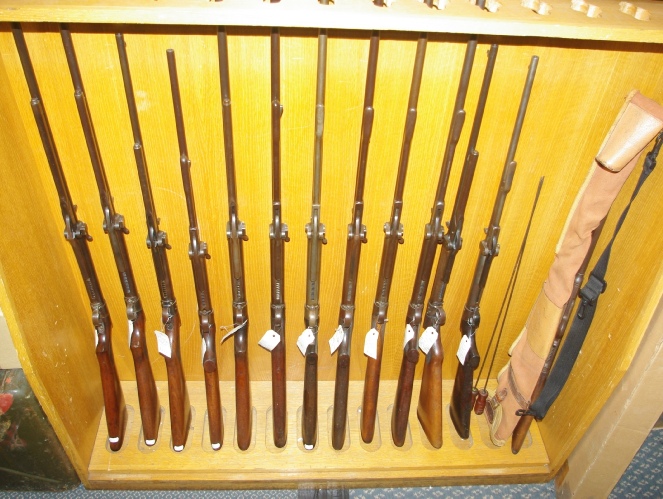 Vintage wood handle Parker Hale type cleaning rod 28.5" long c1930s to 1950s only £12.00 collection from our shop only. These also fit in to Webley Service air rifle cases/boxes.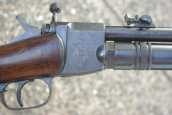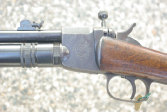 This example is in superb near new condition with nice crisp engraving, all components correct, probably the best condition cylinder we have seen with all its original blacking and nice sharp knurling. Few minor surface marks to the stock but the checkering is still nice and crisp, the finish is original. Fitted with the nice balloon butt plate also fitted with factory fitted sling swivels. This is the second best 4.5mm Giffard rifle we have ever seen hence its being sold we are keeping the best one! The only minor fault with it is some very light browning and lightest of pitting on the barrel just below the rear sight. The rest is smooth and black.



TOWNSEND TYPE
KNOBBLY AIRCANE


This is a nice old English made air cane basically being a pre charged air rifle in the form of a walking stick. It has its original finish and it is one with knobbles on it to make it look like a piece of brier wood. This is in an old made case with a nice quality air pump with a Damascus finish to the steel and a selection of original old tools and key and also unusually the key for the case lock which works. We have put some green baize lining in the case as it was a bit loose inside it. A nice set, no maker's name as most of these did not have it.



This an antique big bore pre charged pneumatic air rifle (actually smooth bore) in the form of an aircane. The finish on it is original the enamel finish has lots of chips and marks of age but has never been refinished. Complete with its original ram rod with brass ferule. No key but all the lock work is present. A very interesting antique.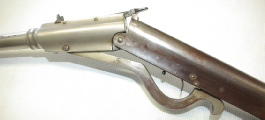 This high quality early American made airgun is in excellent condition for its age. The barrel and breach block retain most of the original heavy nickel finish. There is some wear to the nickel where it has been held at the wrist and on the right hand side of the breach block where the front hand would of held it. Basically those marks are from good honest use. Nice very clear markings on top of the cylinder, the breach lock up is nice and crisp but there is some play at the barrel it moves up and down very slightly maybe a new thicker breach seal would sort that out. Stock is good with what we believe to be original varnish and some light scuffs and wear to that varnish but no major marks to the stock. Little patch box on the side of the stock and the original, very nicely shaped, crescent shaped metal butt plate. This is the much scarcer carbine version with an 18" barrel with a very dirty bore. The spring is the flat section type. The stock we notice is a bit loose and can turn in the action.



This is a lovely well presented collectors item. The rifle has been refinished to a high standard and is complete with what we believe to be all original components apart from the rear sight blade which is a newly fitted replacement part. Probably the stock is a replacement new item or has been refinished to as new condition. The barrel may well be a later one it does not have a number on it it is marked 25 calibre but not in the usual Webley stamping. It is rifled and is very good quality with correct looking front sight on it. It has been fitted in an old rifle case which has been slightly modified to fit the gun nicely , has a period cleaning rod and brush and a very nice old valve spout oil bottle. Also with a reproduction box of Webley .25 pellets with no pellets in it. Purely for display purposes. We can supply an original box of pellets with this for an extra £130 . Not for sale separately. The case is in fairly good condition obviously old slightly worn with some replacement leather straps on the outside. Overall a very nice little kit and in .25 calibre to boot.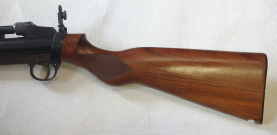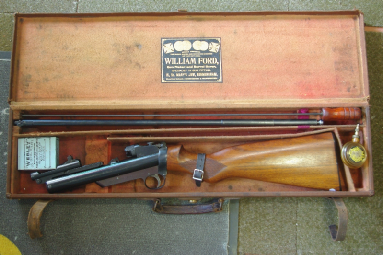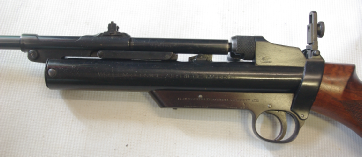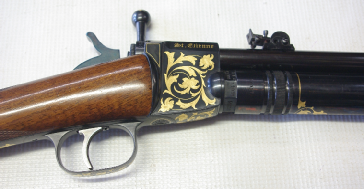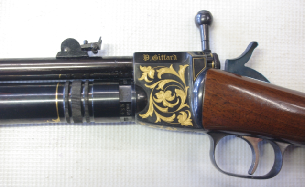 ANTIQUE GIFFARD CO2
Superb gold inlaid and refinished

This stunning antique air gun is nothing less than a masterpiece. This base Giffard rifle has been re finished to a better than new condition and engraved and inlaid with shaded gold in various areas, the workmanship being of the highest possible standard. The stock has been refinished and re chequered, the whole thing looks new and will be a star item of any collection. If you were to commission this level of work on an existing rifle or shot gun we think it would cost more than we are asking for this superb air rifle.
A true masterpiece.
For high quality uncompressed photos click here
This is a commission sale, it dates from around 1890 to 1900, calibre is 6mm and price is £4500.00



IMPROVED MODEL D (JUNIOR MODEL)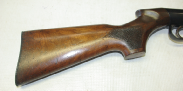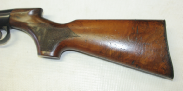 This is an example of the shortest model of Lincoln Jeffries type underlever that BSA made. It reall;y is a dinky little thing at only 34 inches long, you dont realise how small it is until you pick it up or sit it in a rack next to normal lengthy rifles. This example has been fully refinished, it looks nice with an even black finish the top of the cylinder markings were left so whilst visible you can see that there was a little bit of pitting that has been polished off of most of the gun. The rest of the rifle is complete with original front sight and a complete and working rear sight fitted, screw heads are good and refinished so they look like new. Stock has also had some major repairs, one crack is visible through the pistol grip but the repairs have been done really well. Original checkering is present and the BSA pylarm markings on the stock can bee seen as the stock was not heavily refinished just repaired so there are numourous surface marks and scuffs of age to the stock. A good spring fitted and the tap action also fits nicely. Overall quite a nice example that a couple of people have seen in the shop and thought was a original.

SOME SOLD ITEMS FOR YOUR REFERENCE




This is a very nice original condition rifle the metalwork being an even black very slightly grainy finish overall, the photo etching on top of the cylinder is just about visible in good light, so its not been refinished. Screw heads are excellent in fact all components are very good, the rearsight is an interesting upgrade to an Alfred Parker adjustable sight of the period. Stock has a few minor surface marks and scratches of age but no significant damage. Overall a nice condition example.





This interesting old air rifle in the form of a walking stick, known as an air cane, is in good condition, this example is the knobbly finish pattern to imitate brier wood which was commonly used for walking sticks in the 19th century. This example is in a probably later light wood possibly oak case with its original pump, single bullet mould, key and foot plate for the pump. Possibly refinished at a later date difficult to tell. Original bone handle, a nice item.




This is a relatively little known Swedish made pump up airgun. Made for a long period but always of a similar design just with different materials and slight design changes. This example is in very good condition retaining most of its original bluing, nice clear lettering on top of the cylinder "Excellent Made In Sweden C1" and "Patent" on the valve block at the back. This takes quite some pumping to build up any compression, probably could do with a new leather pump seal. This is a 5.4mm and this air gun comes with a sizing block to squeeze 5.5mm pellets down to the required 5.4mm. A nice quality design, not that common over here in UK and nice to think this is probably around 100 years old.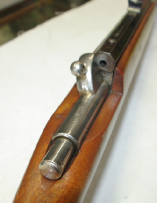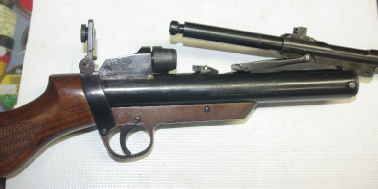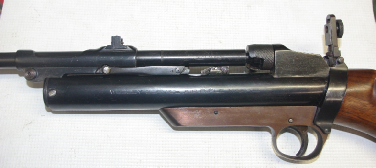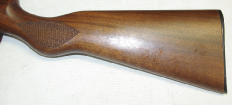 This most classic of air rifles presents very nicely. It has been fully refinished to a good standard, the metalwork being an even black reasonably shiny finish throughout. It has a new stock fitted, all open sights are present. The barrel is not the original it has been refitted to this but it is a genuine Webley barrel and it has been renumbered to match the action. Marked .22 calibre on the breach, it slides in to the barrel carriage nicely, the sights have all been refinished and are nice and crisp and sharp. Everything works and looks nice. A good deal of time has been spent on this we do not know what it looked like before the restoration started. Markings are clear, some evidence of prior pitting prior to the refinish but not much. Overall quite a nice restoration job.



This is a very nice little airrifle one of the very first ladies models produced under the BSA name. This example is in quite good condition, the metalwork being a gray lightly worn finish overall, the stock has possibly been refinished but the BSA trade mark is still visible. The underlever is a later replacement part but the patina looks exactly the same as the finish on the rest of the rifle. So we can only assume it was replaced very soon after the side catch lever was introduced. This is a rare example being one with a very thin barrel which BSA experimented with at the time but soon reverted to the standard thickness of barrel as it probably was not worth the effort in machining it down or producing separate items. This has a very strong spring and quite a good tap fitting and a good piston washer. All screws etc seem to be original, or maybe later very good replacements cannot tell. A nice clean little example with good clear serial number on the trigger block but the markings on top of the cylinder being very feint in fact almost invisible. But you can just about make out that it says BSA air rifle on the top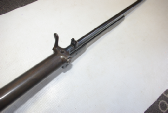 In our opinion the Diana 27 is the epitome of air rifle design. A good solid well made break barrel rifle, this example is just prewar and has what would have been the finest trigger fitted to a production air rifle at the time. These are a nice size very nice to shoot. All good solid engineering with all bolts and lock screws, this example has its original sliding leaf rear sight and front sight. The stock has been refinished and also has been subject to a repair through the pistol grip. This looks to have been done very well and very solidly some time ago. The metal work has probably been refinished or at least likely reblued but the markings on top of the cylinder are nice and clear with the trademark of Diana the huntress throwing away her bow in favour of an air rifle being very nice and clear above the words"Diana mod 27 Made In Germany" also has the date stamp on the butt for May 1938. A good solid example, the previous owner was very fond of it.



These 2 photos show the repair done some time ago.


This is an example of the sporter version of what is usually found as a military style air rifle. It was made as a sporter just before world war 2. This example is in very good condition retaining lots of its original finish with a few minor areas of pitting on top of the cylinder but all the markings are nice and clear, some slight bluing loss to areas of the barrel but not too bad. Stock is good with a couple of minor dents and some surface scratches. Lovely quality mechanism with a good reservoir for loading lead balls in to. Complete with its original sights marked up from 5 to 25 being the range in metres. Safety catch works . Overall a very nice example of this rarely seen bolt action rifle.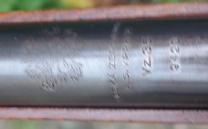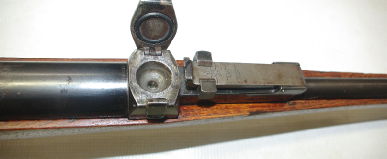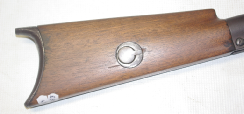 This solid heavy and well made air rifle is in fair condition, the metalwork overall is brown finish with a patina overall and it almost certainly would have been nickel plated originally as there is traces of nickel left in some crevices. The rifle is basically complete and would seem to be all original components, reasonably tight at the breech, stock is fairly tight on the gun. The lettering on top of the cylinder is visible though not crisp. These are much better quality than the later GEMS which copied these and become much cheaper lower quality construction. This is the original. One of the first mass produced air rifles of all time and a nice collector's item.