Calibre: .31 inch rifled
.415 inch smoothbore
This is a superb antique pre charged airgun in the form of an aircane. This one has its original bamboo effect finish which is in good order with a few scratches and knocks to surface but remaining pretty much intact. This was made by John Blissett it is marked as such to the front face of the air reservoir ie "Blissett, High Holborn, London". This has a removable rifled barrel which comes out and leaves a larger bore smooth bore barrel. In its original old mahogany case with a horn screw on handle, original old pump and foot plate. Also what we believe to be the original old key. The case itself is in nice condition with a lovely rebated fold out handle on top. Unfortunately the top lock plate has been removed, there is no key we suspect that at some point it was left locked and the key lost then someone opened it up by removing the top lock plate so the lock mechanism for the case has not been tested. The green baize lining is in good condition may have been re lined but very possibly the original. JOHN BLISSETT trade label in the top of the lid stating every description of pistols and air guns manufactured. A very nice item


This early American rifle possibly dates from before the 1st world war or just after. It is a dinkey little rifle with a front rod that pulls out for pumping, takes several strokes to build up enough compression to shoot out a muzzle loaded bb. This example has a very nice patina to the bore finish it may have been blacked originally having worn off or removed over the years. The end cap has the markings in this case a selection of patent numbers surrounded by words "Benjamin Air Rifle" and "MFG Co St Lewis MO (Missouri) pat pending" at the bottom and "model E" at the top. Stock is in fairly good condition probably had a coat or two of varnish over the years. The valving seems ok. Quite crude in comparison with what came later but not often seen this side of the pond.




This early precharged air rifle is in good condition the metalwork is in the white possibly having been polished off but is nice and smooth and looks good. Stock is in good order with checkered wrist, nice engraved fittings, trigger guard, action block and hammer, a nice short size we do not know wether this is original size or reduced but it seems to be in proportion. Good solid butt plate, nice smooth metal work, mock flintlock mechanism, the action on the side is marked DAVY we believe this may be a Norwich maker as we have seen his name on some other antique air guns and shot guns.



This very nice quality air rifle has been refinished to a good standard. The engraving is still nice and clear and crisp in fact looks good on its newly blued breech block. The rear sight is a replacement we know this because we fitted it! Its a new modern replica. Stock is very nice with quite crisp checkering, some scratches and marks and unfortunately a piece missing off the toe of the stock which has been carefully smoothed off so it does not look too bad. Some tooling marks on the gas cylinder but mostly smooth bluing which is nice and shiny. Lovely engraving on the underside and on the trigger guard. A quality item which presents very nicely.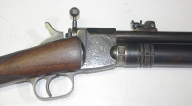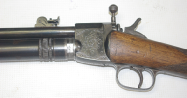 Whilst this antique butt reservoir rifle has no markings or makers name on it we are pretty sure it is of Austrian manufacture, there is no decoration and it is very plain in the military style. The hammer mechanism is unusual with moving striking piece which strikes a just off centre located hammer. The butt reservoir itself appears to have been recovered in leather some time after its manufacture, a really nice job has been done and it looks in good condition. The metalwork is in brown smooth condition apart from the brass coloured brass! The lock plate itself is devoid of any engraving or decoration, it is extremely plain and functional. Fitted with a ramrod which may well be later, probably not original and nice tiger stripe effect to the wood which has probably been refinished. Plain trigger guard fitted underneath with quite a thin trigger. An interesting antique item. We have seen repeating versions of this made by Girandoni but this one is a single shot and not made by Girandoni (sometimes referred to as Girardoni). This rifle is stored in our shop but is not on open display.
Calibre 8mm ( 0.32" rifled)
Made c1800-1820
Barrel length 708mm (27.75")
Overall length 1170mm (46")
£2650.00 PRICE REDUCED ON INSTRUCTION OF OWNER TO £1900



This rare little rifle has seen better days but then have not we all this year! Whilst pretty much complete there is some damage to the stock like a layer of wood is missing at the fore end is delaminated and come off. The front sight is a replacement. The metal work is overall a browny greyey finishy some deep pitting on one area of the barrel presumably where its been held to cock it. This is a push in barrel, we have never had one of these for sale before , has markings on top which are just about legible "H M QUACKENBUSH HERKIMER NY USA" then a patent number. This seems to work ok with pellets .177 lead but was probably designed for balls. Darts are very fiddley to load. Non original metal sling swivel through the little tab on the bottom of the barrel and also has corresponding holes that don't go right through on the stock for fitting of a sling of some sort. Obviously had a lot of use in its time but to its credit its still all there sort a thing.
MAIL ORDER INFORMATION
Items that are shown with a blue envelope can be either purchased from our shop or you can have them delivered directly to your home address as they were either manufactured before 1939 or they are on commission sale being sold by us on behalf of a third party. Items where no envelope is shown can be purchased from our shop or you can have them sent to a registered fire arms dealer near you, and you collect it from them. To order an item from us phone 01243 827500


© Copyright Protek Supplies
Our stock changes continuously so please check before travelling.

We usually have more than what is shown here in our shop. Call in and see us.


This is a fairly good condition rifle the metal work has gone to an even brown patina with light graininess overall. Original components, open sights, stock has almost certainly been rubbed down, this is the later example with pressed checkered pistol grip and sheet metal trigger guard with no trigger adjustment. Screw heads are good, overall a pretty average example. The stock screw cover plate is well made and certainly a replacement part but the rest seem to be original components.


This air rifle whilst complete is not all original. The fragile barrel carriage which was a distinctive feature of the first series Webley Mark 2 has been replaced with a later barrel carriage and the barrel cleverly modified to fit so it slides in and out with ease and works perfectly. The barrel number does match the barrel action so it is just the barrel carriage which has been replaced. A rear sight is fitted and the correct aperture sight. The breech mechanism is as per the original series one being very different to the later series. Stock is quite good almost certainly rubbed down with the checkering still there. No major defects. The metalwork of the action is a bit grey and brown but all markings are clear visible. The barrel and the barrel frame are a bit grey. We suspect the work to repair it or to modify it and fit the later barrel frame was done quite a while ago and it was done quite well. We believe Webley did do this themselves if they got faulty barrel frames back for a certain period but obviously no way now of knowing who did the work.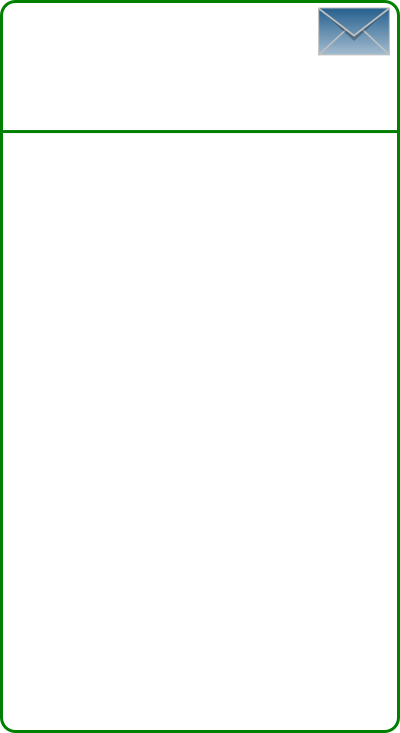 This rifle is in a well used condition it was obviously someones well loved pocession condition is fair moderate pitting all over evenly ,the rifle is complete although the elevating screw is a new one and it works fine. The underlever catch is also not original but does a perfect job, no engraving is visible on top of the cylinder it has been lost, serial number is legable screw heads are ok . Stock shows signs signs of previous use it has score marks underneath some one has put score marks in where they have killed a rat or something. This was something made popular by John Wayne we think. The rset of the stock is fair condition probably a little bit worn checkering but no severe cracks. Overall a well used honest example perhaps some attention to underside of stock to remove score marks would make it look a lot better.
This is a rare item, it is an English made air rifle from the Greener factory produced under the Braendlin Armoury factory trade mark it is basically a cheaper version of the well known Greener rifle but without the Greener patented features of the cam lock action and the rearward moving barrel. This example is in very good condition the metal work having been professionally refinished to an excellent standard. The markings on top of the barrel which read "English manufacture" and the Braendlin army cross penance trade mark are exceptionally clear and crisp. They are the only markings on the rifle cant even find a serial number. The stock has also been refinished unfortunately has a crack through the pistol grip as there is on so many of these rifles, it has been repaired, looks nice and strong unlikely to break. Fitted with what we are pretty sure is a non original metal butt plate. Nice tight mechanism, obviously refinished some time ago by the looks of it. A collector's item. Correction to the last it has a 2 figure serial number under the barrel block.





SECONDARY NEW YORK TYPE GALLERY GUN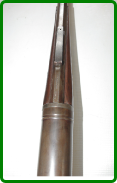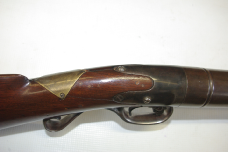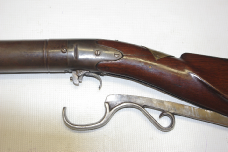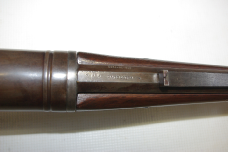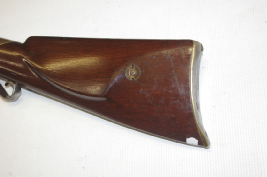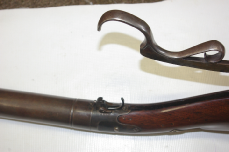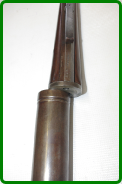 This is a special rare collector's item. Made by David Lurch in New York about 1865 to 1870. This is a underlever cocking gallery gun which was later copied in Germany and became the well know Bugelspanner. However this has a totally different and interesting trigger mechanism. This example is in good condition retaining some original finish to the cylinder and barrel the name David Lurch clearly impressed on the barrel near the breach along with some other letters and numbers. Original open sights are fitted, very large diameter cylinder for a double volute mainspring. This had had has had some repairs around the pistol grip in apparently a long time ago, a brass plate has been put over some repaired cracks around the pistol grip where the wood must be quite thin because a lever comes through to enable cocking. The barrel twists to one side for loading and is a very clean smooth bore. Lurch is one of the most well known makers of such rifles and is well reported in various books concerning such antiques. Nice brass fitted butt plate and shaped cheek piece, a good quality air rifle hand made for gallery shooting in New York.



This is a really nice prime antique collectors item. What we have is an American made crank wound air rifle signed by a known maker Joseph Lurch of New York on top of the barrel, it is a very nice quality hand made item. We believe Joseph Lurch to be the father of another gun maker who's work we also have in stock, a David Lurch. This particular item is in good condition, the metal work to the barrel having a pleasant brown finish, the cylinder a bit worn we do not know wether it would have nickel plated or possibly lightly blued, there is evidence of a light nickel coating over the brass frame at the end what its left with is a pleasant looking finish. Stock is good with reasonably sharp checkering, some surface marks and scratches but no major cracks or defects. A little peep sight is fitted which maybe the original but looks a touch crude but it does work well with the very nice little post front sight which we are certain is original. The barrel twists to one side for loading and relies on a metal to metal contact, it works very well that method of sealing. Complete with a newly made crank lever handle which has been slightly aged to look old and is nicely finished. A really nice hand made American rifle from just after the civil war period from a known maker. Overall length is 43 and a half inches.





This interesting pump up pneumatic rifle was made in Sweden some time in the 1920s or 30s. This example is in excellent condition retaining most of the original bluing, nice clear markings on top of the cylinder. The brass tube and breech block we believe would have been original nickel plated, we have seen from other examples but this has been removed to reveal a very pleasant brass coloured metal which actually looks better than ones we have seen with shabby nickel. The stock itself is good, possibly had a re varnish since it was new, difficult to say really, the butt plate has definitely been painted black. Builds up a fair bit of compression but still wont fire a full 5.5 pellet as this is 5.4 calibre and we have found that if you feed 5.5 pellets through the barrel then re insert them that works.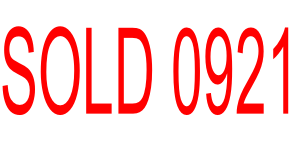 SUPER NEW PRODUCT
Metal sign with the Bulldog Pellet box design professionally printed on. Each corner has a hole for mounting to a wall. They come in 2 sizes and you can also choose to have the aged/slightly rusty edges look. These will look great on any gun room/workshop or maybe the bedroom subject to other halves permission!
If you have a design you would like made in to a metal sign contact us and we may be able to offer you a free one in exchange for your design. Phone us 01243 827500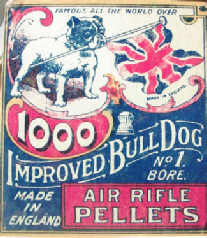 2 sizes available, both available with slightly rusty look edges or clean.
24/28cm
£8.50
28/32cm
£18.50



This Swedish made pump up airgun is in good condition retaining lots of its original finish and nickel plating to the breach block and valve knob mechanism. Stock is good with a few very minor surface marks , the bluing to the metalwork is just starting to turn matt and brown. Nice clear markings on top of the cylinder " " but there is some very neatly drilled and tapped screw holes for a scope rail (not included) original open sights are present. This rifle was made IN 5.4MM calibre with rifling at front of the barrel only, normal .22 pellets will not go through the barrel but we have included some sized pellets using a pellet sizer for this calibre barrel. The Excellent was produced for many years this one we believe to be just pre war.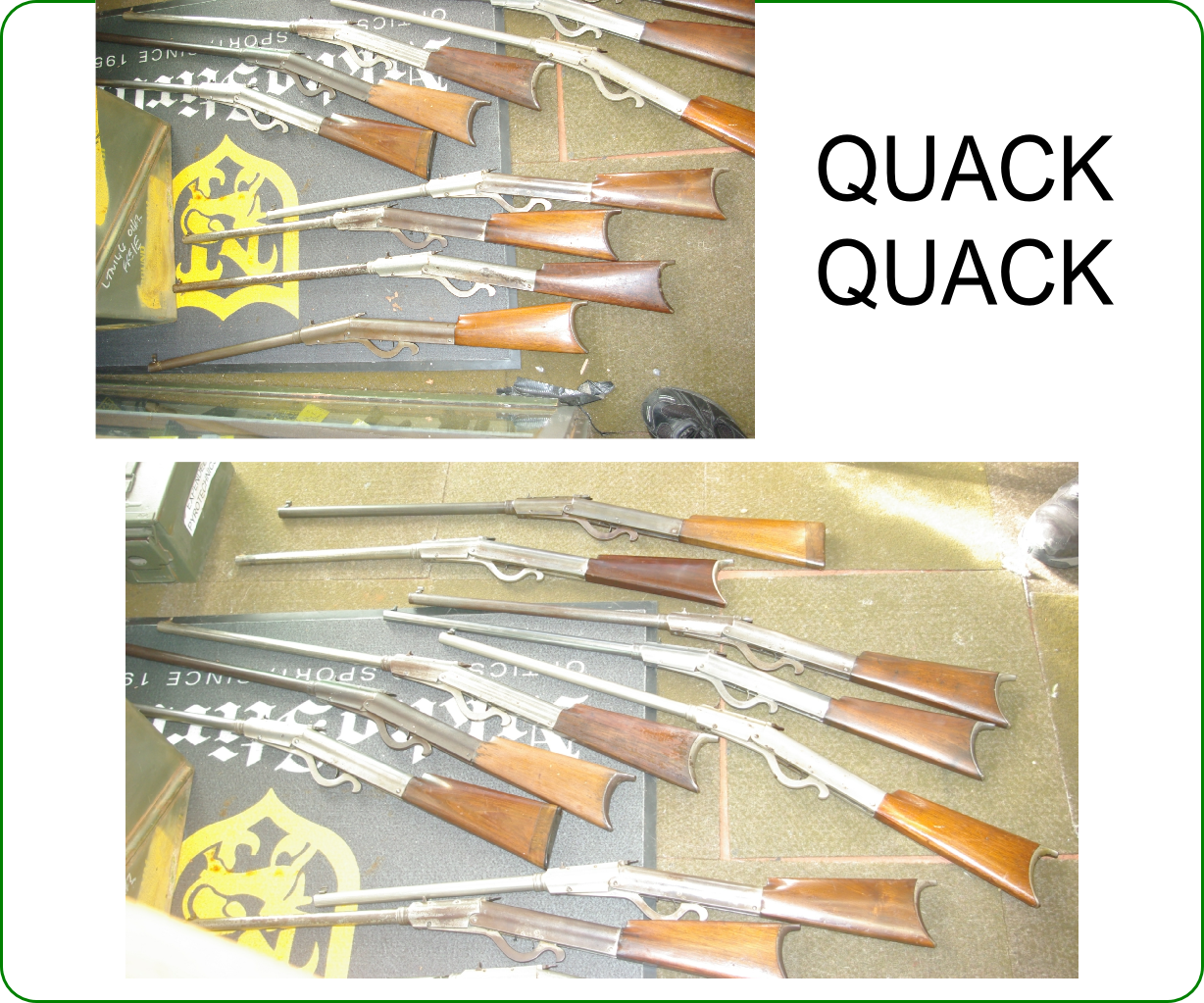 This is a reasonably honest fair condition example, the metal work is a brown slightly grey finish overall. The rear sight elevation screw is a hand made replacement that seems to do the job and the cocking lever axis bolt lock screw is a replacement, non original part. Everything else seems to be original, the front sight bead is missing
as is often on so many of these. Markings are fully visible, stock is ok with some surface marks and scratches the tap mechanism and pistol seal are very good, trigger mechanism is also original. An honest example, been well used but not abused particularly and aside from the odd two screws a reasonable example. The cover over the stock bolt on the butt is also a replacement part.

This air rifle is from the 5th batch of Lincoln Jeffries marked air rifles to be made by BSA for Lincoln Jeffries. This example is in good honest condition, the metal work is an even brown grainy finish overall with the markings being visible on top reading "H THE LINCOLN AIR RIFLE PATENT" serial number on the trigger block and the standing man Lincoln Jeffries trade mark stamped in to the stock. The cocking link axis screw seems to be a replacement and the foresight has had its bead removed which is very commonly seen then its been re profiled. Original rear sight, all other screws and components are as they should be, good piston head, an honest example in fairly good condition.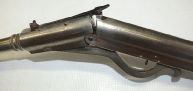 This nice quality solidly made air rifle is in good condition retaining a fair proportion of its original nickel plate which is slightly worn thin in places but not flaking. Good complete condition, nice clear manufacturers stampings on top of the cylinder and nice and tight at the breach. Stock is good, probably refinished, has some hairline cracks down the side where the rod runs through but the stock is secure and tight on the action. Original open sights fitted the front of which has some form of adjustment. Good clean nicely rifled bore. A solid example these were later copied in Europe and became known as GEMs but they were lower quality lighter weight not as strongly made. The Quackenbushs are nice quality air rifles.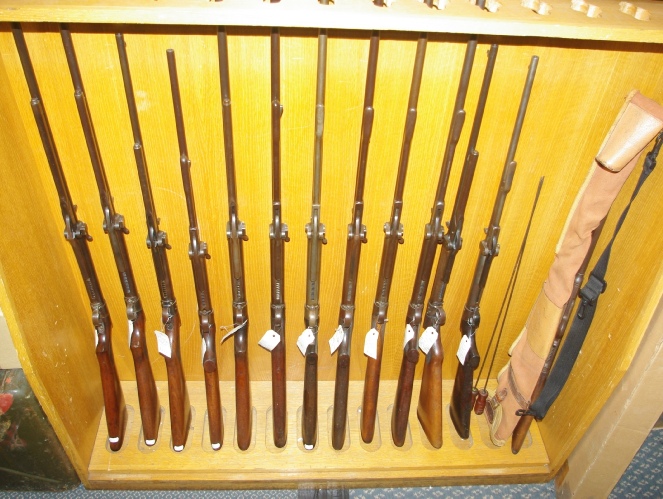 DETAILS OF RIFLES, LEFT TO RIGHT
1. BSA CS CLUB SPECIAL .177 CS43687 (1930) £340.00 SOLD
2. BSA CLUB SPECIAL .177 CS48018 (1932) £280.00
3. BSA L LIGHT MODEL .177 L12961 (1920) £230.00 SOLD
4. BSA IMPROVED MODEL D LIGHT .177 S69889 (1913) £90.00 SOLD
5. BSA CS CLUB SPECIAL .177 CS 48578 (1933) £220.00
6. BSA IMPROVED MODEL D/STANDARD .177 S73947 (1913) £190.00 SOLD
7. BSA AIR RIFLE LINCOLN JEFFRIES PATENT .177 2397 (1906) £190.00 SOLD
8. BSA IMPROVED MODEL D .177 33416 (1909) £185.00 SOLD
9. BSA AIR RIFLE LINCOLN JEFFRIES PATENT .177 6609 (1906) £185.00 SOLD
10. BSA IMPROVED MODEL D .177 25674 (1909) £178.00 SOLD
11. BSA 'L' LIGHT MODEL .177 L27545 (1924) £160.00 SOLD
12. BSA IMP. MOD. D 19222 (1908) £145SOLD
Plus a vintage wood handle Parker Hale type cleaning rod 28.5" long c1930s to 1950s only £10.00 when ordered with any of the rifles shown to the left. These also fit in to Webley Service air rifle cases/boxes.
HERE IS A LIST OF THE RIFLES SHOWN TO THE LEFT. THEY ARE AVAILABLE NOW AND IF YOU CALL IN TO OUR SHOP YOU CAN INSPECT THEM. THEY ARE ALL PRE 1939 MANUFACTURED SO WE CAN SHIP DIRECT TO YOU.
CALL FOR DETAILS 01243 827500
This photo is same rifles at different angle.

REDUCED ON INSTRUCTION OF OWNER TO £1900



Calibre: .22 rifled barrel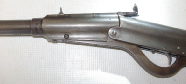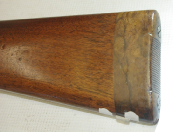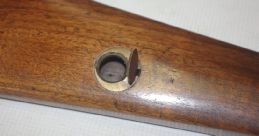 This high quality solidly made rifle is in good condition, it is the full 22" barrel length version. This example has fitted peep sights at the back which flip down to allow use of the ordinary back sight if required and a very nice little what seems to be an adjustable front sight in a tunnel giving it a very nice sight picture overall. The metalwork is a smooth gray* finish with we believe most of the components being original and all the markings nice and clear on this example. This has had an extension on the stock making it longer in the reach this has been neatly applied and looks like it was done quite a long time ago. A very nice example of what would have been an early target air rifle in .22. There is a small bit of lateral play at the barrel this may need a shim or something to tighten it up.
*NB we have spelt grey "GRAY" as we feel this is a better way to spell gray and it is the American way which is appropriate for this American made air rifle.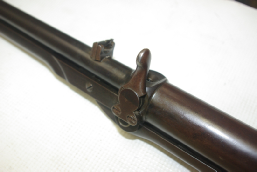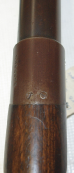 This nice solid air rifle is in good condition the metalwork being a black to slightly brown very slightly grainy finish but with areas of smooth original finish here and there. Complete and seems all original. The front sight has been modified for target shooting with a blade being very neatly inserted in to the foresight. The photo etching on top of the cylinder is not visible but in a good light you can see a ghosting of where it would have been. There has been 2 very small holes drilled at the end of the trigger block presumably for some sort of sight. These have been filled in with 2 neat little slot head screws, the finish of which matches the rest of the gun, obviously done a long time ago. Stock is good used condition but no major defects, general wear and scuffs overall, with the original stock bolt cover in good order. Screw heads are good, action is nice and crisp, tap is very tight, holds a very good seal, piston seal is also very good. This was the one known as the number 4 it is basically a 43 inch model as opposed to the earlier full length club special. A nice example generally.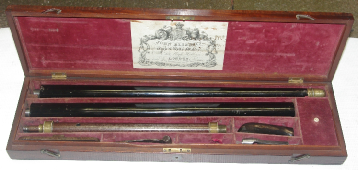 This is a superior quality air cane made by John Blissett of London. This example is in superb original condition in its original wooden case which we believe to be mahogany with some very nice grain to the outside. The case is lined in a burgundy coloured felt which is all original. The air cane itself is black Japanned finish which is original and has just a few surface marks of age. Complete with its original pump which is engraved "John Blissett 321 High Holborn London". With its detachable foot plate, also with a single ball mould, a wad punch and a screw on very nice horn handle for the air cane. This is a muzzle loading example with a detachable rifled barrel which screws in to a larger smooth bore barrel. Also with its original key and some ball ammo. Overall a very nice condition example in its original manufacturer's case with original manufacturer's label in the lid. A superb quality antique pre charged pneumatic air gun in the form of an air cane.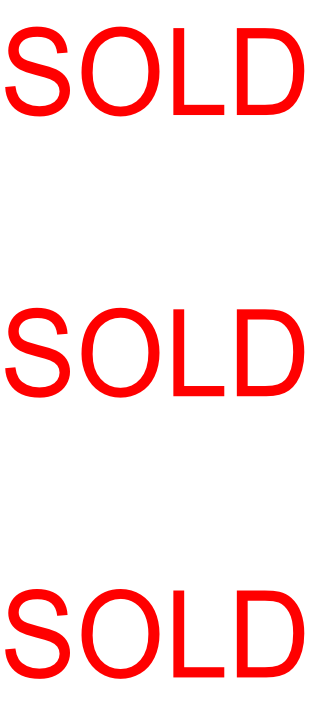 98% of this gun is one of the best Giffards we have ever offered for sale. With lovely deep bluing, superb engraving, nice and crisp smooth original finish. Stock is very good with original varnish with some surface marks of general but not very much and very light. Fitted with original sling swivels and open sights, everything absolutely as it should be, a crisp lovely condition gun. The 2% that detracts from it consists of a small area of pitting on the right hand side of the breach block clearly its been allowed to rust at some point possibly liquid co2 has got on to it and its been left which is a real pity otherwise this would be a fine gun indeed. But what it is is still rather nice.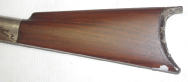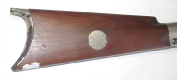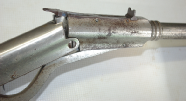 This is a very nice quality heavyley constructed air rifle. Whilst some will think it is of the GEM description thats like saying a Rolls Royce and a Lada are the same in that they are the same overall thing (4 wheel vehicle) the quality somewhat differs. This example is in very good condition with a nice tight lock up, retaining lots of its original nickel finish, some wear to the cylinder. Original open sights are fitted, some of the nickel plating is missing to the barrel mostly on one side.. Has a patch box in the stock and a very nicely cast butt plate. Walnut stock, seems to be a good spring. Barrel, whilst rifled, looks filthy.



This interesting old air rifle in the form of a walking stick, known as an air cane, is in good condition, this example is the knobbly finish pattern to imitate brier wood which was commonly used for walking sticks in the 19th century. This example is in a probably later light wood possibly oak case with its original pump, single bullet mould, key and foot plate for the pump. Possibly refinished at a later date difficult to tell. Original bone handle, a nice item.


This really nice tin plate type air gun is in excellent condition the nickel plating to the cylinder has rust spots coming through but no flaking. The nickel to the barrel is fine and is also all present on the trigger block. Stock is nice and tight on the gun a few minor surface scratches. Complete with original open sites, very good screw heads just one obvious replacement nut on the trigger axis bolt. Stamped Made In Germany in the metal of the wrist of the gun, stamped 1935 date stamp in the stock, Haenel trade mark on the trigger block and also unlike every other example of these we have ever seen this has the model number as 20 rather than the usual Roman numeral "XX".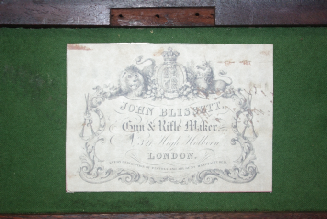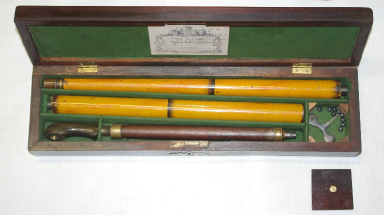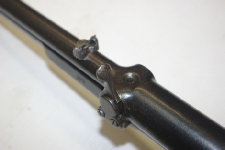 This rifle has recently been subject to a heavy refinish overwhat was obviously a heavy pitted surface. There are no visible markings on top of the cylinder but the serial number is visible on the side of the trigger block. Basically complete apart from there is no metal butt plate fitted, the front sight is slightly loose and has no bead on it, the rearsight would seem to be complete probably not the original sight blade. Some of the screws are also not original but do not look too bad, the trigger guard is the obvious area where most of the pitting took place and it still visibly scarred. The trigger mechanism works fine the stock is quite tight on the action again the stock has been rubbed down, the pylarm trademark is only just visible, there are a few minor surface scuffs and marks as you would expect over 100 years of what was obviously quite a hard life. The trigger axis bolt head is not in too gooda condition in fact looks like a philips one thats been carefully modified. But does do its job. Overall a pretty sort of average refinished example we don't think we've over priced it its quite reasonable.



This is a good clean original gun, the safety interceptor sear is a replacement part we know because we made it and fitted it but you may not notice, the rear sight elevation screw is a non original replacement part
which does the job of raising and lowering the sight blade. The rest of the gun is good, the metal work is an even dark brown colour which is very pleasing with all good clear markings no rust, the peep sight is original and good nice and crisp, the stock has probably had a coat of varnish but there don't seem to be any damage to the stock, apart from an area where the varnish looks like its had a bit of tape on it that is in the centre of the stock otherwise there is no cracks or damage or missing wood to the stock. Action nice tight and crisp barrel in good order the number matches the action, a nice example and housed in a well made box with a label on the front stating that it is for this air rifle. Slight damage where the bolt handle has pushed through the top surface of the box. Green baize lining also contained with some old style pellets in a tin for Bisley bullet pellets which are an unusual looking pellet there is only about 30 in there I doubt thay would be accurate in any gun. And with a vintage we believe Parker Hale wood handle cleaning rod which is a swivelling handle type and fits in the box just right.



Now this is interesting, a modernised Giffard rifle. This has been very cleverly fitted with a fore end that slides easily over the existing cylinder and gives a much more modern look. We are certain the fore end has been made from scratch for this and quite some time ago. Looks like a 1950s Airsporter stock. This cover has had a couple of repairs in the past the wood is quite thin but in its current state it seems stable and strong. Simply slides on a fits on with a thumb screw. The hammer is also non original really nicely made, the metalwork of the rifle is in good condition with some engraving visible and when you take hte slide off you can see all the engraving of the existing breech block. Non original sights which are well fitted and working. Trigger guard is made specially for this gun as is the stock. Overall really nicely done however it has not added value to the rifle as we are selling this quite a bit cheaper than it would have been in its unmodified form but is a nice looking item as it is.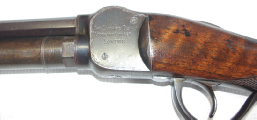 This is an example of what we believe to be the only production made CO2 airgun ever produced in Great Britain. This is a London made Giffard which is a hammerless design using the lever to cock it in the fashion of a Martini Henry or Winchester type operation. This example is in good condition the metalwork retains a black finish but there is odd spots of pitting on the barrel, the cylinder we believe to be the original black finish a dull black finish to the action but the lettering is all fully legible and quite clear, nice crisp engraving on top of the breech block. The stock is nice with some beautiful graining tiger striping along the length on one side and slightly less visible on the other. Good checkering all seems original with original open sights. A nice example of this rarely seen antique airgun. This example is unusual in that it does not have a shot counter never made with one most of these we have seen have a shot counter which does not work so it may have been dropped as an unwarrantied troublesome component.

Year: c1848-54
Calibre: .30 rifled, .50" smooth
Stock ref: 5319
£3550.002700.00
For the second time for Protek these photos were taken by Vic, no complaints will be tolerated, if you want bigger photos try pressing the ctrl and + buttons at the same time- works on our computer most of the time. If you want to see the item more clearly you are welcome to come in to our shop and see the item for real!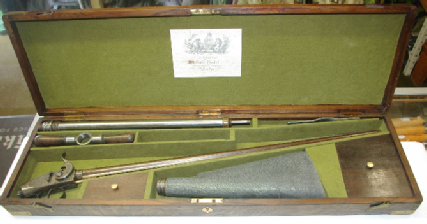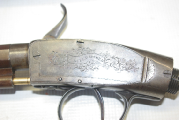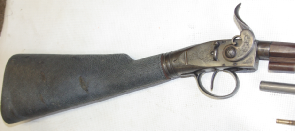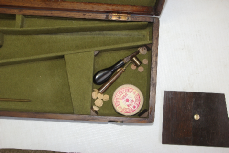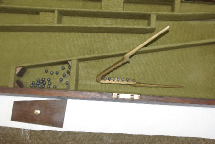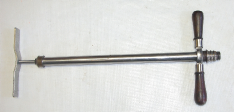 This antique air rifle/air shotgun is in lovely condition. The action has some really nice engraving on it on both sides and top, scroll work on the hammer and with the makers name J Bull, Bedford in a banner within scroll work on the left hand side. There is no pitting the metal is smooth and a light brown antique type finish. The barrel is a brown Damascus twist effect in good order and with some light engraving to it. The butt is covered in what we believe to be the original shark skin known as shagreen which is the skin of a shark or a ray. Complete with a period pump with handle, bullet mould for 6 bullets and a foot plate. Also in a compartment is a tub of lead shot, a shot measurer, another tool marked "Baylis and Son Patent" and some wads for the shot. The case has been more recently made to fit this assembly and is a nice quality wood possibly oak with brass corners and escutcheons there is a lock but we do not have the key so have not been able to test the lock. Overall a really nice quality English made air gun. Interestingly and somewhat unusually this has a rifled c.30 cal barrel that fits in with a bayonet fit to the outer .50 inch smoothbore barrel. There is a pin across the rifled barrel so you can not push the ball in too far using the loading rod. There is a safety bypass on this so you can de cock it without firing should a hunting opportunity be missed you do not have to fire it off. A truly lovely item. There is a trade label in the top of the case for J Beattie of 205 Regent Street London. A similar rifle/shotgun matching almost exactly this pattern has been with a similar trade label in the lid so we made a copy of that and put it with this one. We have never seen a trade label for John Bull of Bedford as they were only in business a short period of time being 1846 to 1854 at High Street Bedford. James Beattie was at 205 Regent Street from 1848-64 so therefore we can confidently date this rifle as being from 1848-54. A nice collector's item that would be a prized item among any collection.





This nice quality well made rifle has no markings on it apart from the numbers which are the date of manufacture under the breech. This being 7,27 for July 1927. We believe these were made by Diana for sale on the export market with no Diana markings on possibly sold in Britain very similar to a Midland Gun Co Demon. This example is in good condition the metalwork having gone a little dull, brown with the odd very small bit of pattina or pitting on it, the front sight has had its post broken off or deliberately removed, the rear sight is not the original one its a replacement which is securely fixxed at least and possibly could be adjusted for windage. This has the slab sided straight trigger block usualy fitted to the Diana 27E and an English style stock with chequering, metal butt plate that has possibly been revarnished or might be original. All screw heads are good complete all parts are present apart from the original rearsight. Not a bad example with a reasonable spring and piston seal.


This rifle is in superb condition. Having examined it carefully we believe the finish is original and superb. There are signs of congealed grease and dirt in crevices and nooks and crannies but most of the metalwork is the original shiny black finish. Some light scratches here and there, the lettering is extremely crisp reading "Diana Luft-gewehr" on top of the barrel and the Diana huntress trade mark on top of the cylinder. The stock has possibly been rubbed down or maybe original, the butt plate is superb and retains most of its original black. The spring has recently been greased and the action is nice and smooth. Original open sights are fitted, this really is a nice condition pre war air gun.