MAIL ORDER INFORMATION
Items that are shown with a blue envelope were can be either purchased from our shop or you can have them delivered directly to your home address as they were either manufactured before 1939 or they are on commission sale being sold by us on behalf of a third party. Items where no envelope is shown can be purchased from our shop or you can have them sent to a registered fire arms dealer near you, and you collect it from them. To order an item from us phone 01243 827500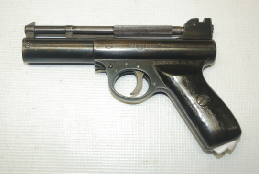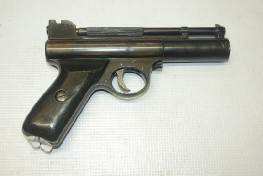 This nice quality classic design pistol is in fair condition, it cocks and shoots nice and positively, it is all complete, the metalwork the bluing is a bit thin and wishy washy may have had some touching up in the past but it is smooth. The barrel axis pin seems to have wrong screw in one side but seems to do the job, the grips are ebony wood black coloured probably not ebony really but look like it, actually quite nice on pistol. More a user's item than collector's item in this condition.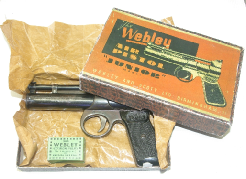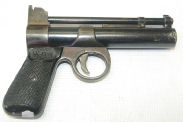 This classic Webley Junior is in quite good condition retaining some original bluing but with wear on the frame also some marks where a tool has been used on the barrel latch, some idiot tried to use a punch on the pin and left numerous marks however the barrel catch does work perfectly. The pistol cocks and shoots fine the grips are complete, has been placed in one of our excellent repro boxes and with a just about full card box of waisted pellets. This is a repro box for the pellets as well. A nice little 1950s style set.

This example retains most of its original deep black finish just with a few minor speckled and signs of box wear here and there. Placed in one of our reproduction boxes with a reproduction Webley pellet box about half full (100 approx.) And also a reproduction component parts diagram. Overall a nice little set, cocks and shoots fine, good grips and mainspring and breech seal etc. a nice little collector's set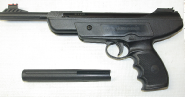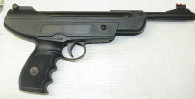 This very solidly made break barrel pistol is in near new condition apart from the front sight is very slightly broken resulting in the fibre optic rod being a bit loose. Complete with its detachable cocking aid this is a little twangy to cock but shoots smoothly with a good power output of about 3 foot pounds. Quite a long mushy trigger pull though. A good little plinking pistol. Manual safety catch and can be fitted with a red dot sight on its scope grooves. Fully adjustable fibre optic rear sight the sights are quite nice on this pistol.

This solidly made pistol is in as new condition in its original box with its cocking aid. We have tested it at around 430fps with JSB 8.4 grain pellets so somewhat less than the probably optimistic velocity claimed on the front of the box. It is nice and smooth to shoot, quite easy to cock with the cocking aid, has a fully adjustable fibre optic rear sight and will make a nice target pistol for someone.

A lot of work has gone in to this pistol,it started off as a 1978 Crosman Medallist it has been fully polished to the metalwork and the forend has been fitted with a very nicely made and fitted polished metal handle. The grips are a custom set of wood grips which fit the hand very well also a silencer has been fitted to the muzzle end and the the muzzle end cap itself is a custom made part. Fitted with blocks to the barrel and a Nikko Sterling red dot sight. Cocks and shoots fine but there is a defect in that the barrel is loose. It moves slightly on its axis so needs tightening in some way. However the sight is attached to the blocks on the barrel and that moves in the same plane so presumably accuracy would be maintained. We have not looked at fixing it ourselves as we are selling on a commission basis for the owner who said he bought this pistol as it was. A nice item with potential.


This is a 1970s Webley in very good condition, in its original box and the remains of a tin of BSA Pylarm pellets but with a mixture of odd pellets within the tin.

This good quality English made pistol, the design of which is the predecessor to the Webley pistols, is in fairly good condition retaining most of its original finish being brown and slightly grainy overall. The trigger guard we reckon is a later made replacement very well done but not quite with the same finish or fit as the rest of the pistol. Grips are in good order with a few minor chips and the mechanism is complete. A nice quality pistol now quite rare and very collectable.


This American made spring piston air pistol is in very good condition but the rear sight elevator blade is a home made replacement part but it seems to function. The rest of the pistol is complete and in good condition with nice clear markings and cocks and shoots fine. These are an interesting design of pistol with its full length concentric barrel and separate trigger mechanism. A nice quality item and very collectable.
The home made rear sight unit. Works very well



This prewar Webley Senior appears to have been subject to light refinishing but generally it is in quite nice condition. We believe the barrel may be a later example as it has characteristics of post war production but we are not certain. It has been placed in one of our superb quality reproduction pistol boxes with a reproduction box
of Beatall waisted pellets which has some old pellets within and card tag which is also superb reproduction. These bring the whole together to make a nice collector's piece. Grips are very good with no chips or damage and the overall finish sort of thin bluish finish but all markings are clear and all component are correct and as they should be.
This is a customised Chinese S2 pistol that was imported by TJ Harrington who made the GAT pistol and was fitted with their own grip, a bored out barrel and an adaptor for firing corks. They were not produced for very long they were introduced at the end of 1994 and sadly by the end of 1996 Mr Harrington had died and the company terminated. This example is in quite good condition the metalwork retaining all its original finish, some signs of use and odd bit of scuffing to the plastic grip frame. Cocks and shoots perfectly, we do have a stock of .22 darts that would work in this. A nice collector's item with its connections to the GAT and the Harrington factory in Walton On Thames.
GATS and other push out barrel pistols
Calibre: .320 rim fire (obsolete)
This is a nice quality obsolete calibre revolver in .320 rim fire. It has possibly been refinished as it looks very nice with nice deep bluing. The only markings on the gun are a patent number. Good checkering to the grips, a nice tight action and all the springs are good. In possibly a period case a maybe a slightly later case we are not sure with a definitely later copy of a Webley trade label in the lid. With some inert rounds, a little oil bottle and a tool. A nice antique item.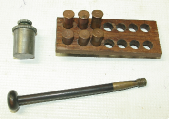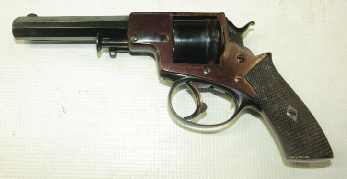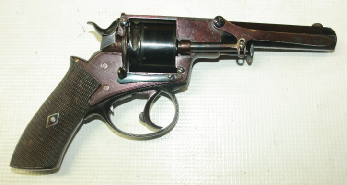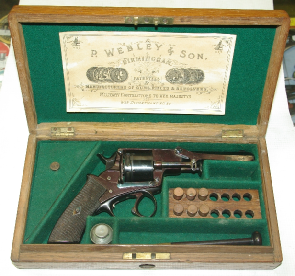 This is a nic quality German made co2 pistol, it has an 8 shot magazine or a single shot adapter tray for target shooting. It can be shot double action or single action, it has a very nicely designed ambidextrous but anatomical rubber grip which feels comfy in either hand. It is in its original case with some operating instructions 2 mags and the afformentioned single shot adapter. Condition is generally good but there is one small crack to alluminium slide on one side however this does not look to be a problem the crack does not look to be getting bigger or doing anything but it has to be noted. Cocks and shoots well consistent output and holds its gas perfectly. A good solid well made pistol a shame they are not made now. They were available in several versions with more basic grips and also with full target grips and in a precharged version we recall. They even made a version in .22 which was the only full power repeating .22 pistol available. At the time.

This classic American pump up pistol is in excellent condition with some paint loss around trigger grip (see third photo) and in very good working order. It is an early model with an all steel breach block and a sliding sleeve for loading. It is fitted with a Hawke red dot sight and pro blocks. A nice collectable/shootable pistol made at a time before Crosman started using masses of plastic in their pistols, although having said that their products do still work very well so we are not knocking them.

This is a prime collector's item this is a nickel plated version of the Westley Richards Highest Possible which was the first quality mass production British air pistol. This example is in good complete condition, some of the nickel plating has flaked here and there and some remains where it should be. All markings are clear and visible, the mechanism is nice and tight and sound. This has been placed in a new box in which it fits well with a copy of a Westley Richards trade label, a nice quality oil bottle and an old tin and glass tub containing some pellets. This has a rifled barrel, an adjustable rear sight and would have put all previous pistols on the market to shame in our opinion. Lovely collector,s item.

© Copyright Protek Supplies
Our stock changes continuously so please check before travelling.

We usually have more than what is shown here in our shop. Call in and see us.
Take the time to visit other pistol pages, things are being added.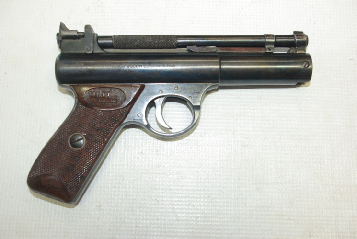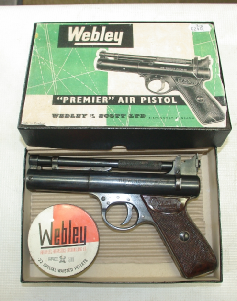 THE Webley Premier was the last of the traditional all steel blued pistols. This example is in nice condition, retaining most of its original finish, couple of minor spots of pitting on the side where it has lane, brown grips fitted that are perfect, cocks and shoots nice and smoothly. This has been put in to one of our excellent repro boxes and has an original period tin of pellets, quite a clean tin with about 80 possibly original pellets within. A nice collector's item that shoots as well and proper quality construction.

HARRINGTON GATS for interested persons.
Two different "last" model GATs with safety catches. Note the differences. One has "F" and "S" stamped in to it the other one (top of picture) has "FIRE" and an "S" raised above the level of the casting and the word "GAT" put in to the pistol and also the screw holding the 2 halves together is through the grip on different sides on each version. We are not sure which one is earlier we suspect the lower one is older than the top one. Both were sold in this country by Harrington and this was before they were produced in America. Both say "Made in England" and both have "J101" with F in pentagon on the other side which is identical apart from the grip screw hole. Also we notice that the cork holder on the tip of the barrel has a coarser knurling on the top one.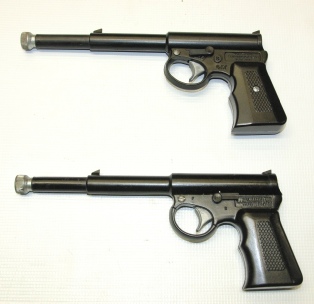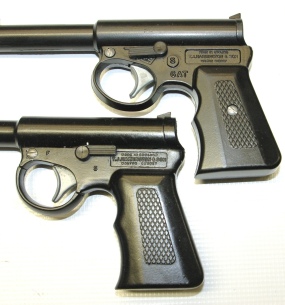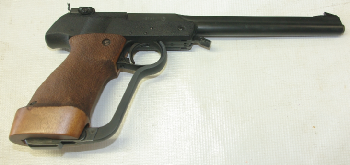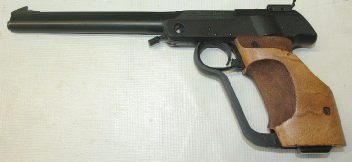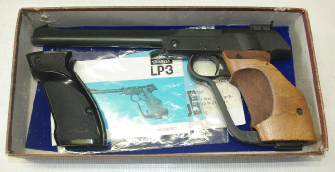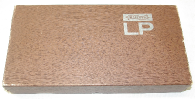 This pistol is in near new condition in its original numbered box, has been fitted the optional extra walnut grips, and with its original plastic grips separately in the box. Complete with owners manual and other paperwork, spare rear sight blade and breech seal. We understand this was re valved approximately 5 years ago by someone who is an expert in this work. Shoots very consistently at 307 fps with 7.2 grain Bisley Practice pellets. A noce collector's or shooter's item.
WE HAVE LOTS MORE GAT TYPE PISTOLS IN STOCK THAT ARE NOT ON THIS WEBSITE

This nice quality British made air pistol is in good condition retaining m,ost of its original finish with some discolouration and possible slight refinishing in some small areas. Signs of light wear on the trigger guard where it is cocked and the two surfaces slide over each other. Grips are perfect, placed in to one of our superb reproduction Acvoke boxes with various leaflets. A nice collectors item cocks and shoots fine. These are actually a nicely polished and finished item that work well but are not that common as they stopped production after a little while.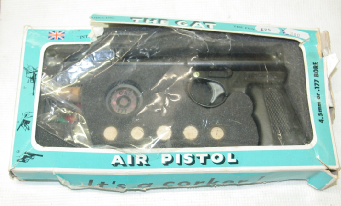 One of the first productions in Huntington Beach California USA Box is somewhat tatty but pistol is in really nice condition.
THIS ITEM RESERVED BY CUSTOMER


This nice condition Mark 1 is in good working order and complete, some minor loss to the bluing on one side and very good on the other. Is in a nicely made case which has a provision for the addition of a second Webley pistol of your choice. For example a period Senior or slightly later Premier or even another Mark 1 which was what was in it when we obtained this set. But weve separated them off. Also with an old Webley .177 pellet tin and a spare main spring and breech seal. The case is very nicely made and would make a nice set for display example etc.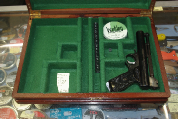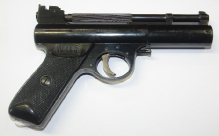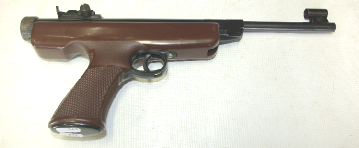 This now classic German pistol is in good condition retaining lots of its original bluing with the odd speckle or mark here and there. Original open sights fitted, cocks and shoots well a new piston seal has recently been fitted, some slight marring of the serrated knurling on the back of the end cap, a few minor surface marks and scratches to the stock but nothing major. Overall in quite nice condition.

This is an example of the last model of Webley Junior which was not made for very long. This example is in near new condition retaining virtually all its enamel finish obviously having had little or no use. This has been placed in a nicely made case with an envelope of pellets which is a reproduction of superb standard and a spare mainspring an also a breech seal and piston head set. A very nice collector's set which would look good on display but does shoot perfectly and has a rifled barrel which most Webley Juniors do not. Only this last model was standard with the rifled barrel.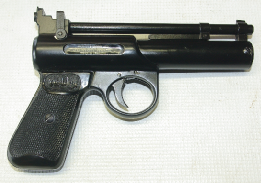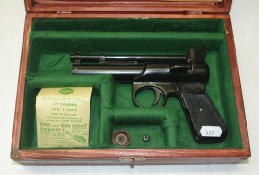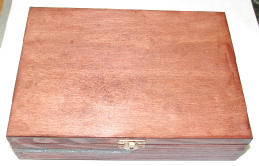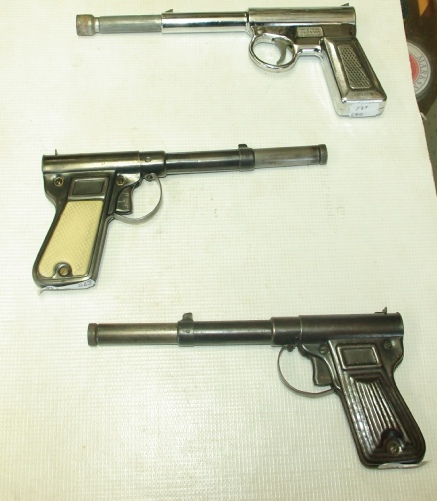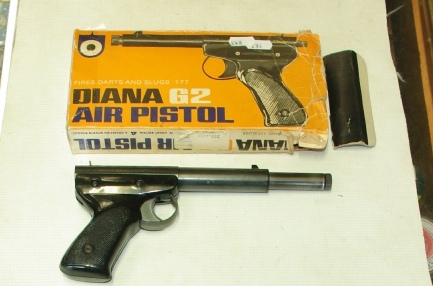 LOV 2 pistol
.177
Stock number 0240 £30.00
THIS ITEM HAS BEEN SOLD
HEYM Model 103
.177
Stock number 0242 £65.00
HARRINGTON GAT
.177
Stock number 0237 £55.0
SOLD0
LIMIT PISTOL
.177
THIS IS AN ANTIQUE (1930s)SO CAN BE SENT DIRECTLY TO YOU
Stock number 0238 £75.00
SOLD
BRITON PISTOL
.177
THIS IS AN ANTIQUE (1930s) SO CAN BE SENT DIRECTLY TO YOU.
Stock number 0239 £70.00
SOLD

MILBRO(DIANA) model G2
.177
Boxed, one box flap detached.
Stock number 0234 £48.00
SOLD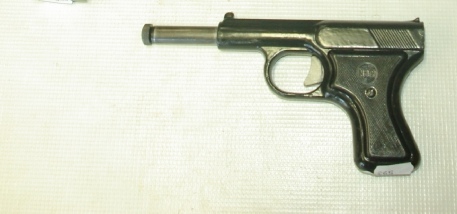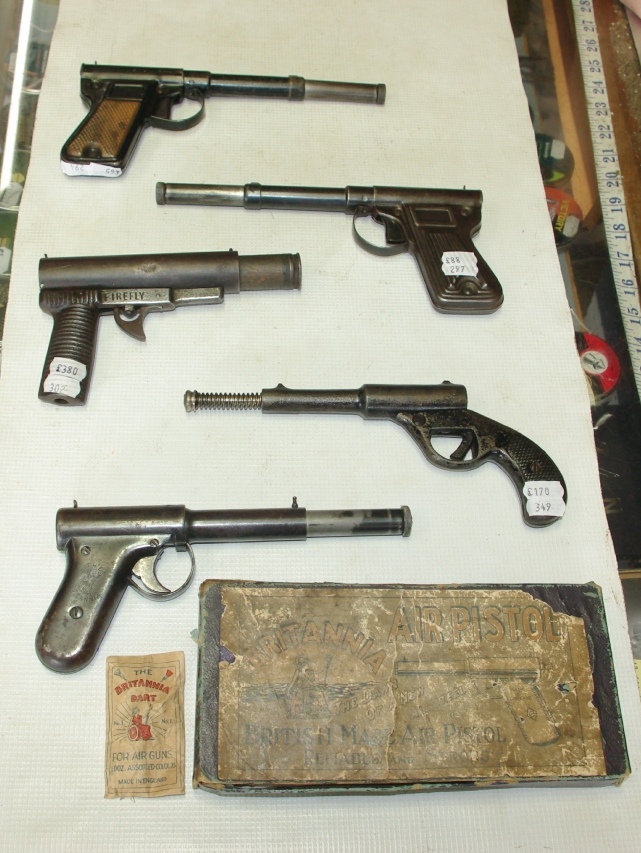 THE BRITTON PISTOL
Stock number 0294
£65.00
LIMIT
Stock number 0297
£88.00
ANSONS FIREFLY
Stock number 0302
£380.00
SOLD
EG DOLLA
Stock number 0349
£170.00
BRITANNIA
Stock number 0306
£280.00
THIS ITEM SOLD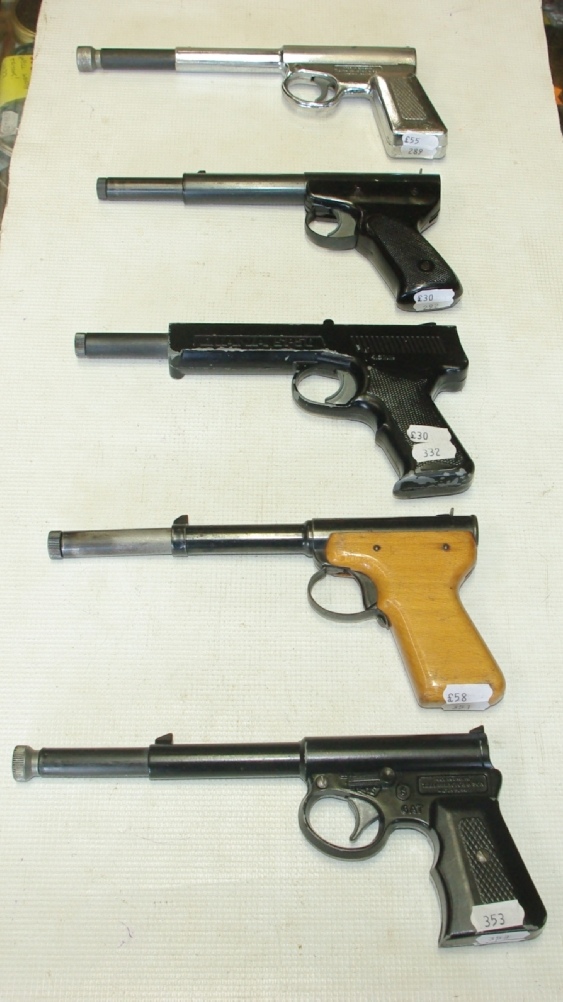 GAT NICKEL PLATED
Stock number 0289
£55.00
SOLD
DIANA MODEL 2
Stock Number 0292
£30.00
DIANA SP50
Stock number 0332
£30.00
DIANA MODEL 2
Stock number 0351
£58.00
GAT (UK MADE, LATE MODEL)
Stock number 0353
£45.00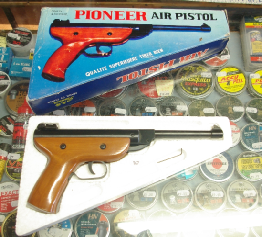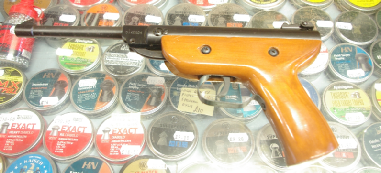 This pistol is one we used to sell years ago as the Pioneer brand and it is still available but as the Westlake brand. This example is boxed, in as new condition and has the original instruction leaflet. Both pices of polystyrene are present although not photographed. Marked on flap of box is " SHANGHAI STATIONARY AND SPORTING GOODS IMPORT & EXPORT BRANCH"

This early CO2 target pistol is in excellent condition in its original box. Cocks and shoots superbly, in a polystyrene inner, some period Daisy CO2 capsules in boxes and a little tin box of 100 RWS pellets obviously made to fit in the compartments in this pistol box. A classic high quality nicely made pistol.



This fairly recent example of this long running model is in excellent condition retaining virtually all its original finish, cocks and shoots fine, parts of it are we would say near new condition.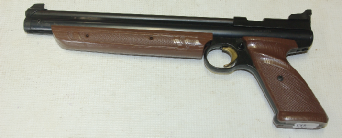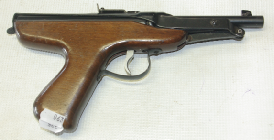 This interestingly designed unusual pistol is in good order for its age retaining lots of its original bluing however we can tell you that the rear sight is a non original replacement copy that has recently been fitted. Has most of its varnish to the pistol grip with the odd surface scuff and scratch cocks and shoots fine we suspect the pivot bolt at the front is a replacement but does its job.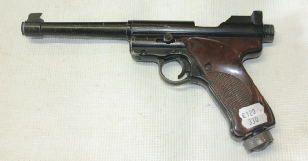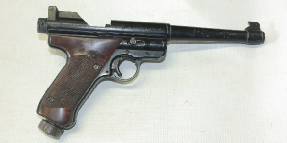 This is a very nice quality co2 pistol all metal apart from the plastic grips. This was not working when we got it in however we changed a seal ion the base plug and it cocked and shot fine however in the 2 months it has been sitting in our store waiting to go on this website the gas has leaked out so obviously we are selling it as a seals not quite perfect. Although we suspect if you gas it and then shoot it its fine just long term its not great so might need looking at. As it currently stands it uses smaller 8 gram co2 capsules but we think there might be a removable spacer which if removed would allow standard 12 gram capsules to be fitted. Retaining most of its original painted finish with some scuffs and general marks. The grips are nice and solid pistol feels really good in the hand, weve not had a lot of these in here due to the importation was effectively banned when they were produced.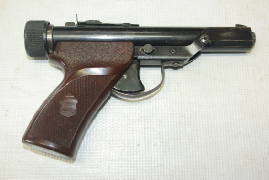 These were a nice quality pistol that were not produced for very long they were made using old parts and machinery making new parts from the original American design differing mainly in the front end where the muzzle is square which means that we presume the whole cylinder mechanism was the newly made part. Other parts we know to be original American manufacture. The venture closed down after a few years and made these instantly collectable. This example is is good condition retaining most original bluing but with the odd wear area and scratch. Is complete, cocks and shoots fine, this has the first type of rear sight which is exactly the same as the American version, the grips have been subject to a repair which is almost invisible this plastic is highly vulnerable to cracking and that is the case on this one but you can barely notice it. A nice compact solidly made pistol which shoots well and as we said is very collectable.





WEBLEY JUNIOR
Pre 1958, good condition stock reference 0333 £90.00
WEBLEY TEMPEST
1980s/90s .22 cal, works well stock reference 0317 £120.00
SOLD
WEBLEY TEMPEST
1980s/90s .22 cal very good condition £140.00
WEBLEY TEMPEST
1980s/90s .177 calibre, good condition. Stock reference 0315 £140.00
WEBLEY TYPHOON .22 cal, in good condition stock reference 0303 £130.00
SOLD
HERE ARE SOME WEBLEY PISTOLS FOR SALE, WE HAVE MORE IN OUR SHOP.
PHONE IF YOU NEED MORE DETAILS. 01243 827500


Excellent condition and working order, this is the silver framed version of Webley's last own designed air pistol a single stroke pneumatic that is completely recoilles and very nicely made. This is fitted with a custom made silencer and looks the bizzo. Nice and quiet to shoot. Good power and consistency and these always prove accurate to shoot.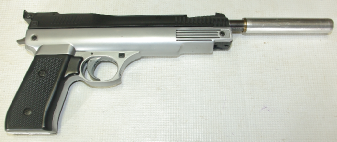 This AP20 can be changed to left or right handed. Has customisable barrel sleeves, with pressure gauge and tools. Cased working perfectly in very well kept condition. Presented in its original Hammerli pistol case with owner's manual etc. We are selling this on behalf of a careful owner.
PRICE REDUCED ON INSTRUCTION OF OWNER TO £490


This HW40 pneumatic single stroke pistol is in very good condition and has recently been fully serviced by the importers (Hull Cartridge) and shoots really well. It is completely recoilless, the safety catch is automatic and engages on lifting the top of the pistol. Rear sight is adjustable for best accuracy. German made quality and a great intro in to target shooting.



This interesting design of air pistol was the original design that went on to be copied by several companies in Germany, Great Britain and Sweden and elsewhere. This example is in very good condition retaining lots of its original finish, the bluing is just starting to go slightly brown here and there but overall still very nice. Nice clear markings, complete all original components, nice polish to the but with a few surface marks of use and being handled. A nice interesting design of prewar pistol.
IMPORTANT: DUE TO THE INHERENT DESIGN OF THE END CAP WHICH HAS A TENDENCY TO FLY OFF WHEN FIRED THIS ITEM IS SOLD AS A COLLECTABLE, NOT FOR FIRING.




This nice quality pistol was the for runner to the Webley the inventor Frank Clarke having basically invented the Webley system which was a major modification of this design. This example is in fair condition having even brown finish all over with some surface marks and scratches however it has not been refinished, the lettering is visible on the side, and new piston seal and breech seal have been fitted but the spring is not that strong. Seems to be all original components a nice collectable item.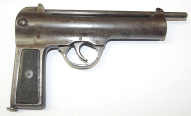 THIS ITEM RESERVED BY CUSTOMER

We have to say from the outset that in our opinion this was one of the lowest quality air pistols ever placed on the market. This example is shooting which is something in itself, the owner of it says he has spent many an afternoon plinking with it however we feel not too safe just shooting it a couple of times. The rear sight is missing or rather incomplete there is a little notch been shaped in to the plastic which we guess would allow basic alignment, the pistol retains most of its original black paint finish, there is a bit of looseness at the front sight which you notice every time you cock it. Which cant be conducive to accuracy and the stock is a little creeky as it is on all of these. These are a pistol that promised much but delivered little! Made of low grade metals and plastics but they were a good seller in their day, sold under many names by many importers and distributors. This one is marked IGI on the front of the stock and IGI CAL 4.5 177 at the back and MADE IN ITALY on the other side. It is what it is which aint much.!



This pistol is in near new condition and it cocks and shoots really smoothly. It has had a new piston seal fitted. A good quality classic German made air pistol with fully adjustable open sights.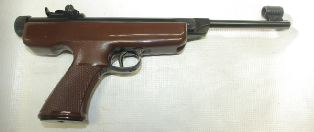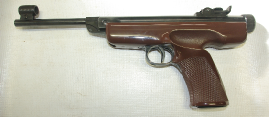 This is an interesting and rare Haenel air pistol, this item is in good condition retaining lots of its original bluing with all components seemingly correct and present. However the very back of the grip on both sides has broken away slightly it looks like the wood is very thin and goes to a point best thing to do would be to take the grip off and smooth it off so it looks like its finished however the rest of the grip is fine with good sharp checkering and nice deep stamping in the bottom saying made in Germany and the date stamp. Most bluing is present and this is a repeater presumably for 100 bbs. Good solid construction, a scarce item.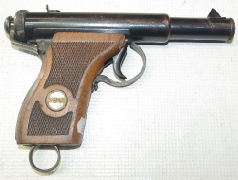 Exert from John Griffiths encyclopedia of spring air pistols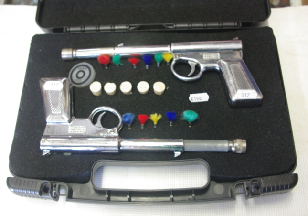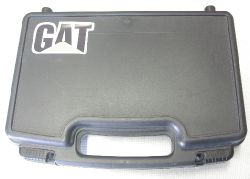 This is a nice little composed set almost like a dueling set, two nickel plated GATS one in near new condition and one in very good condition. With original corks, darts and a little tub of GAT pellets. In a plastic case with a GAT sticker on the outside. These are nice collectable pistols with a very good we believe chrome plated finish.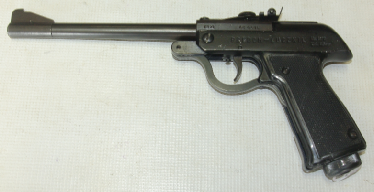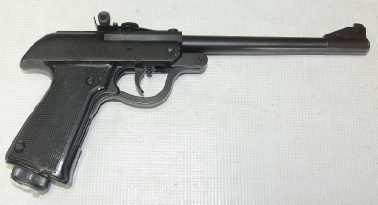 This is a Polish made copy of the well known and famous Walther LP53 air pistol. This version is not as well finished or polished as the LP53 but construction wise it is very similar, its a nice solid pistol. This example is in good condition a few minor scratches to the
painted finish. Cocks and shoots perfectly with a good strong spring. Complete with its now scarce military type holster which was made specifically for this model and also with its original cleaning rod. A very nice set. Also with a spare breech seal and what seems to be a piston seal in the bottom of the holster. Collectable and shootable pistol all complete and original components we think the rear sight is actually stronger than the one on the Walther as we have seen a number of Walther ones broken where as this one is not. A nice quality gun actually.


This interesting design of pistol whilst complete is only in fair condition. The top lever seems to have been shortened and a rear sight reformed in the back and the grip has been used as a hammer resulting in lots of nasty marks at the bottom of the grip. But we are supplying it with a spare grip which is in better condition and also the remains of an action which has the top lever complete althoufh a bit rusty and tarnished. This would be an interesting project for someone to complete and get in to one nice item with some spares to go with it.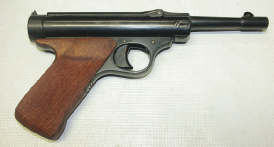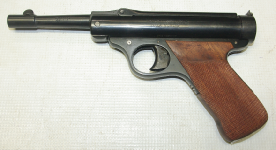 This rare and excellent quality pistol has been restored to near new condition and is now in a very presentable state. All the markings are fully visible and quite clear and crisp. The grip is a newly made wooden one with excellent checkering over most of its surface area. This has a single digit serial number so is one of the first ones made, a lovely quality item with a unique mechanism.



An interesting unique design of pistol, although they are reasonably scarce we have had quite a few of these in which must lead one to believe they have a survival rate due to their good quality solid steel construction. It is in good condition all the finish is original being a bit brown smooth and lightly worn in areas. All the markings are very clear and crisp, even has stamped "made in Germany" on both sides of the grip which again is very clear. Complete and original a nice example the barrel has lost its bluing but thats probbly cos its pushed in and out and handled more than the rest of the gun which overall is in a pleasing original order.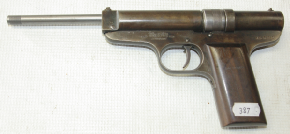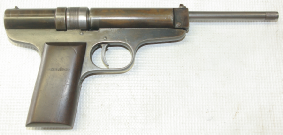 Year: c1977-84 (PA series)
This classic British made pistol, one of only two models that BSA ever produced, is in excellent near new condition in its original carton with all its original correct accessories including front sight hood, oil bottle, target holder, pack of pelletsa and cocking aid. Inits original box which is serial numbered to this pistol. Obviously had very little use. It is quite stiff to cock but does shoot alright. We have fitted a new breech seel. Original open sights. Classic collector's item. Not often seen in this superb condition.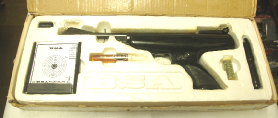 A very low power pistol. It does work though. It has been painted up so the markings are not really visible. Fires steel bbs slide back operation.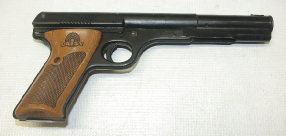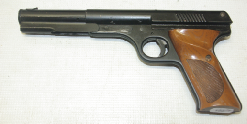 This side lever air pistol is a solidly made British produced rival to the Webley pistols and it is one of the better rivals. This example is in fair condition the metalwork being brown and slightly grainy overall but is complete with a nice tight mechanism and a good spring. The left hand grip however has been slightly broken and re profiled and smoothed off so it is not complete which is a shame. However it has been smoothed off nicely and does not look that bad. This example is mentioned by number in John Griffiths's encyclopedia as it is a late one but with an early trigger guard. Again this was almost certainly the trigger guard fitted when it was produced. A nice collectable tem and just one of a very small number of side lever air pistols.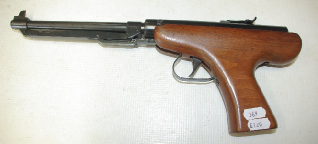 This pistol is in very good cosmetic condition and is fully working.



This scarce item is in excellent condition. One of the best condition prewar pistols we have seen. The metalwork is near perfect retaining all its original finish, couple of very minor marks on one side where it has lain, the grip is near perfect with all its original finish, sharp checkering, crisp stamping, one tiny area at the back where the grips join on where the wood is slightly flaked but thats a tiny area in what is otherwise a perfect example. A lovely interesting and rare item , shame it has not got its box really.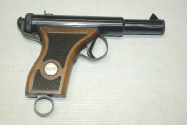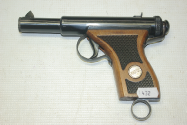 In very good condition, boxed with instructions and tool.


This is a very rare factory colored finish example of the single stroke pneumatic Webley Nemesis pistol. We believe they offered them in various colors like red, yellow and this orange one. This example is in as new condition, cocks and shoots perfectly, a nice quality pistol and rare in this color/colour. They probably only did one batch and they probably were not that popular.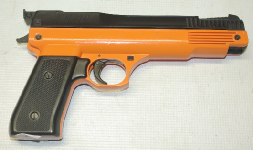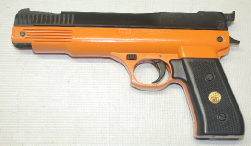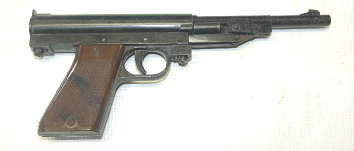 This is a nice lightweight easy to cock easy to shoot pistol, made predominantly of die castings but quite nicely so. Made in West Germany in the 70s, we reckon these are the inspiration for the current Umarex Ruger and Browning pistols as they share a lot of similarities in construction style and overal design. Not had too many of these this example is in fair condition some marks and scuffing and speckling to the die cast black finish but is complete and we understand from the encyclopedia of air pistols that this is an early one because it has an open front sight rather than a built on shroud. Cocks and shoots fine no powerhouse but very pleasant manners


This example of what now must be regarded as a classic design of air pistol is in very good condition in its original polystyrene base with cardboard lid box, an empty Webley oil bottle and a partial tin of pellets. Polystyrene base is slightly breaking up, the pistol is in very good condition apart from the Webley Tempest markings on the front fore end shroud have faded and there is a very light surface marks where it has lain in its box. Cocks and shoots absolutely perfectly, obviously not had that much use. A nice quality compact air pistol which is why they were very popular. Also with a photocopied (we think) copy of its original manual.


A well presented Webley Tempest in really nice condition that fires perfectly. It is in a nice wooden case that was made for it by a loving owner. Also there is a tin of Webley pellets that feels full and a spare piston and breech seal set.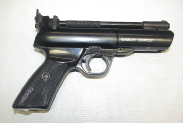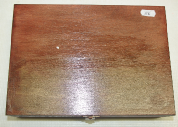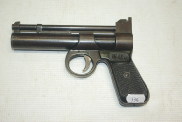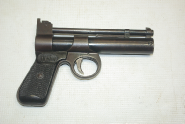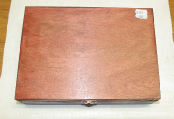 Thius pistol is in very good condition and fires perfectly. Presented in a custom made wooden box and supplied with a reproduction envelope of pellets and some darts!. Also has a spare breech seel and spare main spring which were added by the previous owner.

The Webley Senior is the high point of pistol manufacture.. This example is in excellent condition retaining virtually all its original condition, perfect grips, cocks and shoots extremely smoothly. All screw heads and lettering are near perfect. Fitted in a bespoke wooden case with a spare spring, an old tin of Webley .22 pellets which look original and the gift voucher is inside. Also with a spare breech seal and piston seal. A lovely collector's item which shoots well as well.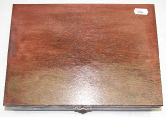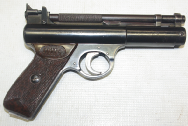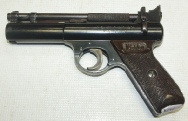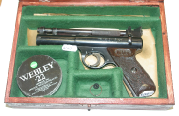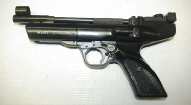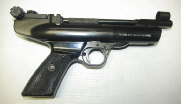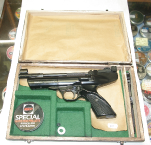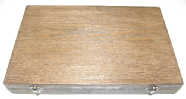 This now classic pistol is in very good condition with its original open sights, cocks and shoots very nicely, with a spare .22 barrel which actually from a Tempest but will fit on this pistol fine. In a very nicely constructed case with a tin of period Webley Special .177 pellets and spare piston seal and breech seal. A nice kit.



This superb quality pistol is in excellent near new condition, aside from one small area of bluing loss around the front of the screw hole at the barrel axis bolt. Otherwise near perfect. In a reproduction box with a period tin of Webley pellets and what appears to be some original contents. Cocks and shoots perfectly with a nice smooth cocking mechanism. Obviously had little or no use.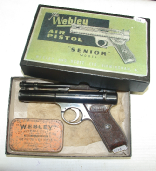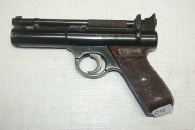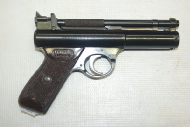 This superb pistol is in excellent near new condition obviously having had very little use. It has been put in a custom made wooden case which it fits in really nicely, it is complete with its not often seen original barrel weight plus spare rear sight blades, 2 front spike elements and a wooden cocking aid. Also with its original manual. Also a period tin of pellets containing about 100. A very nice quality pistol made famous by a certain J. Bond (007) in promotions for films.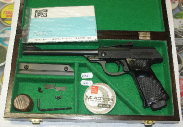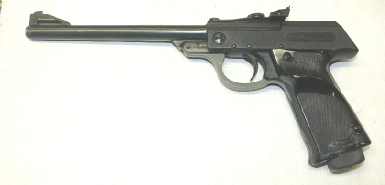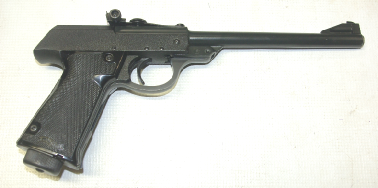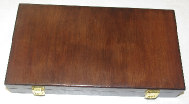 This is a really nice set, this is a black enamel or sunkerite finished pistol made in 1974. It is in new condition in a custom made case with a spare main spring with the correct Premier air pistol tag attached, a spare piston seal, breech washer and piston screw. Also with a very nice condition BSA Pylarm pellet tin with about half of its original contents therein. Cocks and shoots as it should, nice and positive all round, obviously having had little to no use. A nice collector's item. They did not make this version for very long at all at all.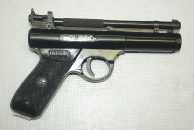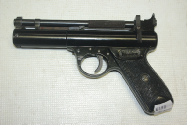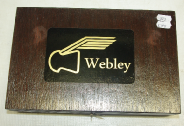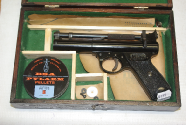 This is a lovely example of a B series Premier which is beautiful blued steel and the brown grips. This example is in excellent condition retaining almost all its original finish and obviously having had very little use. In an original box which is a little dirty but complete and with a replica envelope of pellets. A nice collector's item.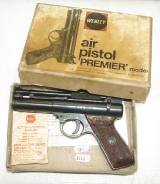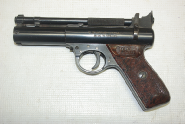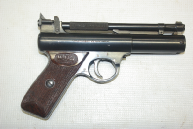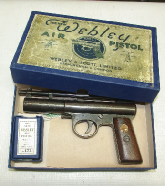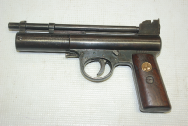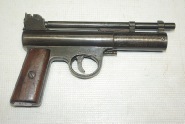 This is a nice example in good complete honest condition. There is slight wear to the metal but retains most of its original finish, the metal is all perfectly smooth with no pitting, all markings are very clear and as we said all components as they should be. We have placed it in one of our excellent deluxe quality reproduction boxes with a pellet box compartment and pellet box inside it. A nice collector's item.



Calibre: .177 smooth bore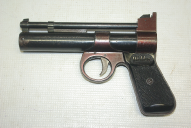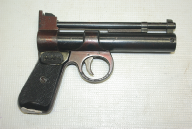 This is a nice example retaining lots of original black finish to the cylinder and barrel, the frame has a very pleasing deep burgundy colour as originally made and looks nice against the black of the cylinder and barrel. Grips are perfect, cocks and shoots very positively. In its original box with a reproduction tag and box of pellets with some old pellets init in it. A nice collector's item in good working order.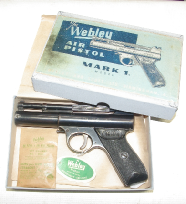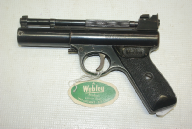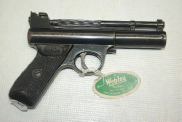 Very good condition and very good working order with a very positive mechanism. In a reproduction box with reproduction pellets envelope. A good collector's or shooter's item.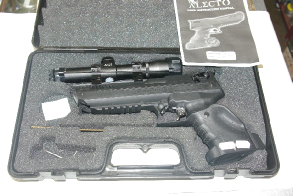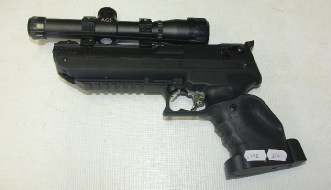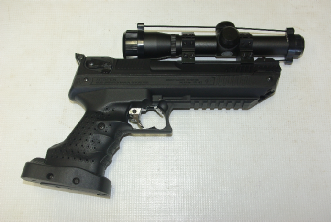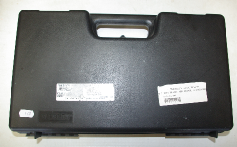 In our view this is one of the best single stroke pneumatic pistols that there is. Plus its also a multi pump. One pump gives enough power for 10m target shooting, 2 pumps will shoot tin cans at a range and 3 for vermin at close range. This example is in near new condition in its original case with a cleaning rod and fitted with an AGS 2 x 20 pistol scope. This is for a right hand shooter it has original open sights as well so the scope could be removed, superb trigger mechanism, and we think the best auto safety catch. If you are going to have an auto safety catch then this is the design they should all be. A nice pistol, accurate reliable we have found.