© Copyright Protek Supplies

This is a very high quality Italian made Olympic grade target air pistol. This example is in as new condition in its original case which is one of the nicest such cases we have seen and supplied with a second air cylinder and its filling adapter as well as all its instructions and manuals and tools. A high grade item indeed.
MAIL ORDER INFORMATION
Items that are shown with a blue envelope were can be either purchased from our shop or you can have them delivered directly to your home address as they were either manufactured before 1939 or they are on commission sale being sold by us on behalf of a third party. Items where no envelope is shown can be purchased from our shop or you can have them sent to a registered fire arms dealer near you, and you collect it from them. To order an item from us phone 01243 827500
Beautifully made replicas of Webley boxes from yesteryear,
ideal for collectors.
REPLICA WEBLEY PISTOL BOXES


This is a second series warrior which has a serial number and a non chamfered cocking lever. It is in the much less often seen .22 bore with good clean rifling. This example is in fair condition, possibly been refinished at some stage in the past, the grips have definitely been repainted as they had degraded and gone grey over the years. Spring and seal are ok, the lock up is nice and tight, original open sights fitted, markings legible on both sides. A reasonable example.


This fine quality blued steel pistol is in fairly good condition retaining most of its original pellets but with some surface scratches on one side but worn and very lightly pitted on the other side where it has laid in the box. A bit of a shame. The grips are perfect and the pistol shoots very well with a very good spring and very tight breech lock up mechanism. The box is a bit torn and battered with one end flap detached but present inside the box.
Our stock changes continuously so please check before travelling.

We usually have more than what is shown here in our shop. Call in and see us.

In its original box with a mostly empty Bulldog pellet tin.
Take the time to visit other pistol pages, things are being added.

HARRINGTON GATS for interested persons.
Two different "last" model GATs with safety catches. Note the differences. One has "F" and "S" stamped in to it the other one (top of picture) has "FIRE" and an "S" raised above the level of the casting and the word "GAT" put in to the pistol and also the screw holding the 2 halves together is through the grip on different sides on each version. We are not sure which one is earlier we suspect the lower one is older than the top one. Both were sold in this country by Harrington and this was before they were produced in America. Both say "Made in England" and both have "J101" with F in pentagon on the other side which is identical apart from the grip screw hole. Also we notice that the cork holder on the tip of the barrel has a coarser knurling on the top one.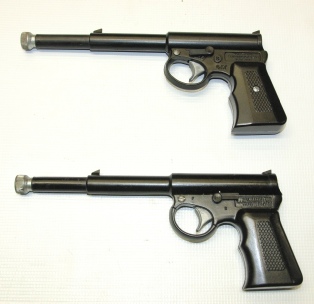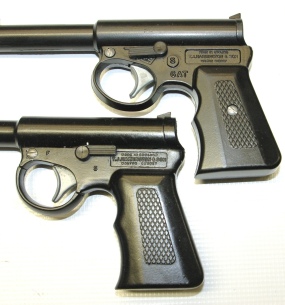 SUPER NEW PRODUCT
Metal sign with the Bulldog Pellet box design professionally printed on. Each corner has a hole for mounting to a wall. They come in 2 sizes and you can also choose to have the aged/slightly rusty edges look. These will look great on any gun room/workshop or maybe the bedroom subject to other halves permission!
If you have a design you would like made in to a metal sign contact us and we may be able to offer you a free one in exchange for your design. Phone us 01243 827500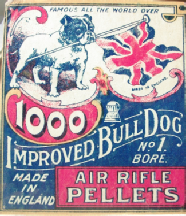 2 sizes available, both available with slightly rusty look edges or clean.
24/28cm
£8.50
28/32cm
£18.50



This scarce desirable nice quality pistol is in quite good condition retaining some original finish with the odd bit of speckling to the metal, the lettering is all nice and clear, the gun cocks and shoots fine now. The tap lever is a replacement part but looks the same as an original one pretty much, this pistol when we purchased it had its mainspring in 6 parts so has been replaced and now as long as the pellets are passed through the pellet gauge on the lever the pistol shoots fine. However we found that certain pellets if not presized had a tendency to not reach the loading port completely as its quite a long way down as the loading port is in centre of the cylinder as the barrel is concentric, runs through the middle of the piston. These pistols were not made for very long but are of very good quality and as such are a highly valued collectors item. This is contained in a modern reproduction box with a large photocopy of the parts list stuck inside the lid. A nice collectors item.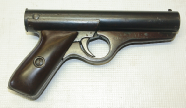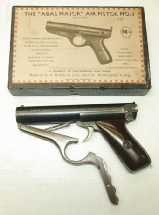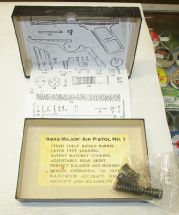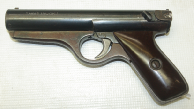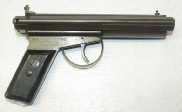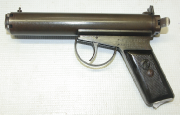 This is a sound complete example, we suspect its had some level of cold blue style of refinishing at some stage in the past but really does not look too bad. The lettering is all visible, perhaps a bit light on the word "Warrior" but may have been made like that.
All original components, nice tight lock up at the back, grips are quite good, have been held a bit and there is light wear to them but are complete with no chips or damage other than a few scratches. These are a solidly made pistol one of just a few sidelever operated pistols with a concentric barrel meaning that it runs through the middle of the piston. Interesting design nicely made/good quality now quite a nice collector's item.




This pre charged pistol is in as new condition, fitted with a Gamo 3-9 x 40 scope and good quality mounts. Also fitted with an optional folding shoulder stock accessory adapter to take the supplied sound moderator which is a very effective one. Also with its filling adapter, grip frame side plate so can be converted back to a standard pistol and spare o rings and alternative silencer baffle. Also comes in a nice quality combination locking pistol case. Shoots around 4 foot pounds and is almost silent with the moderator fitted.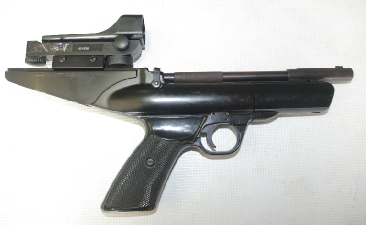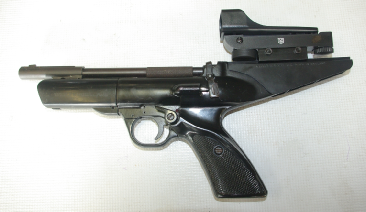 This solid English made pistol is in fair condition, shoots well at about 3.25 foot pounds, the Webley Hurricane legend is not visible on the fore end, fitted with a scope bracket and a Nikko Sterling red dot sight. A nice plinking pistol, nice and solid in the hand.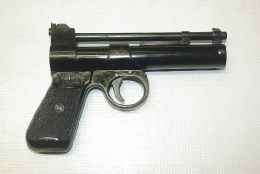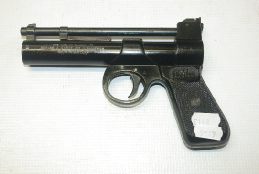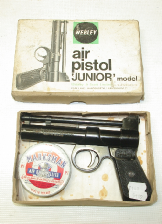 This example is in very good condition retaining all its original black finish, cocks and shoots superbly, in its original box with period Marksman pellet tin which contains only 3 pellets but several darts which can be shot through this smooth bore barrel. Obviously not had that much use but maybe the 497 pellets missing from the tin have been fired through it! We believe this finish is called Suncorite 243, a sort of baked on paint finish, this example has a large letter A stamped on trigger guard which indicates this.

Good condition but with some wear and rubbing marks down the sides where it has lain. Good complete grips, nice strong spring a positive barrel closure, lots of original blacking.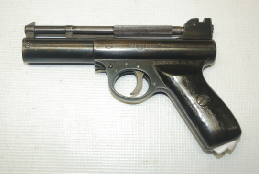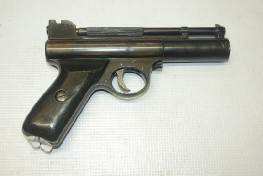 This nice quality classic design pistol is in fair condition, it cocks and shoots nice and positively, it is all complete, the metalwork the bluing is a bit thin and wishy washy may have had some touching up in the past but it is smooth. The barrel axis pin seems to have wrong screw in one side but seems to do the job, the grips are ebony wood black coloured probably not ebony really but look like it, actually quite nice on pistol. More a user's item than collector's item in this condition.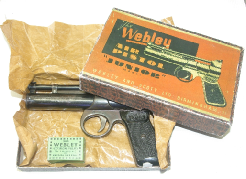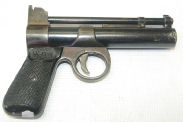 This classic Webley Junior is in quite good condition retaining some original bluing but with wear on the frame also some marks where a tool has been used on the barrel latch, some idiot tried to use a punch on the pin and left numerous marks however the barrel catch does work perfectly. The pistol cocks and shoots fine the grips are complete, has been placed in one of our excellent repro boxes and with a just about full card box of waisted pellets. This is a repro box for the pellets as well. A nice little 1950s style set.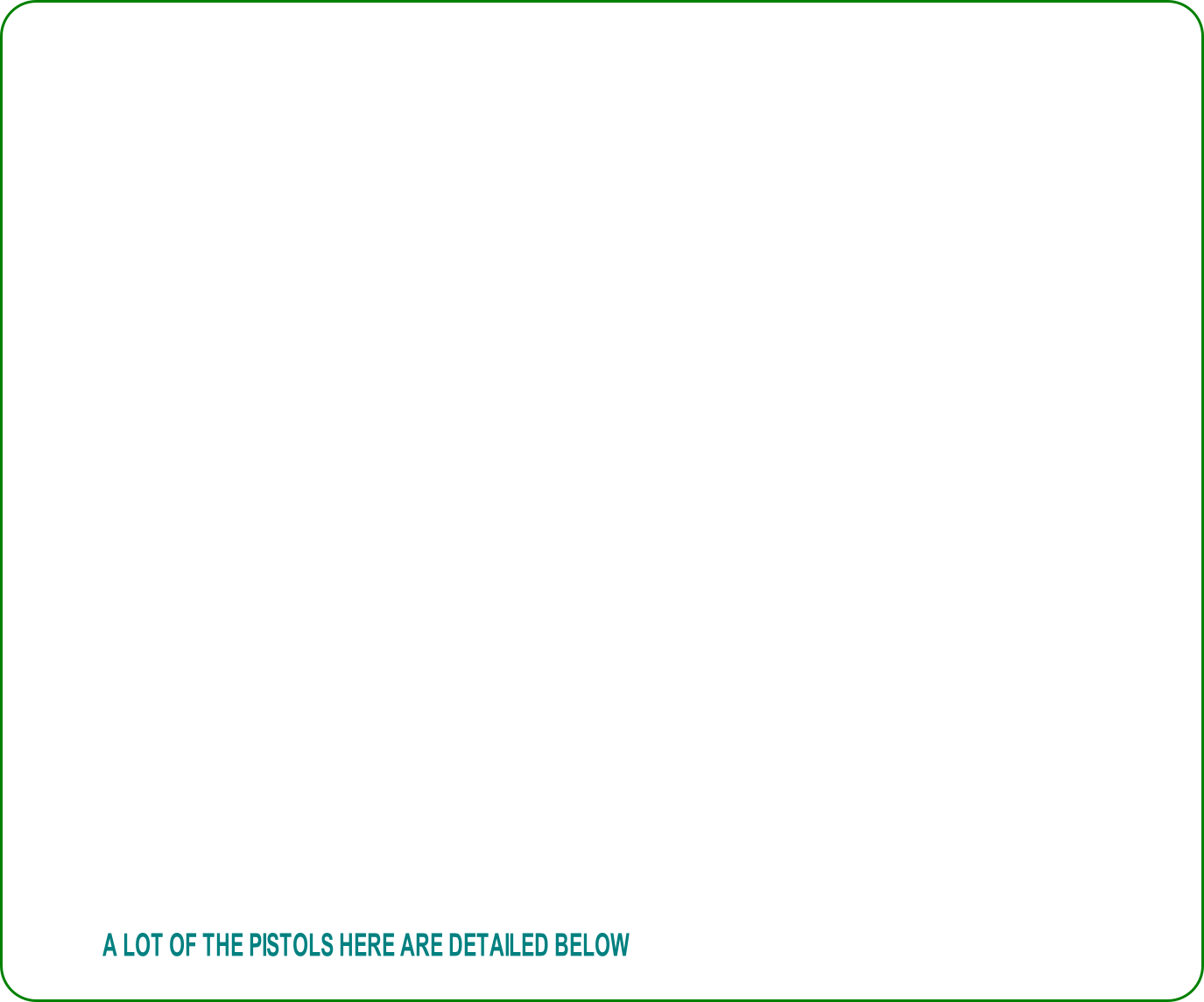 WEBLEY NEMESIS .22
NOT WORKING PROPERLY, Sold as spares or repairs, near new cosmetic condition.
Stock number 5235
£55.00 SOLD
GAMO P900iGT
Near new condition, .177
£54.00 Stock number 5237
ACVOKE PISTOL
In repro box, good condition
£370 Stock number 5238
WEBLEY JUNIOR
1960s, quite good condition.
£85.00 Stock number 5242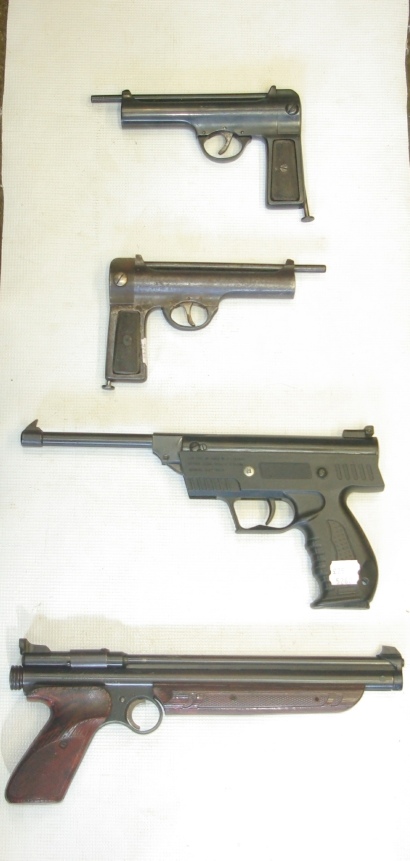 TITAN
Antique pistol, refinished nicely, £495.00 Stock number 5243
THIS ITEM HAS BEEN SOLD
TITAN
Antique pistol, quite good original condition, £540.00 Stock number 5244
SMK XS3 .177
£25.00 Stock number 5262
SOLD
CROSMAN MEDALLIST 1322,
Made 1978, re sealed, fair condition, £70.00 COMMISSION SALE (BD)
SOLD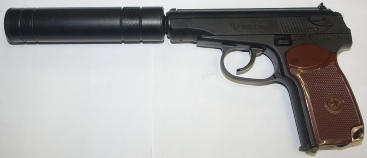 Boxed in as new condition, no instruction manual but easy to use. Mag holds 17 rounds.

This example retains most of its original deep black finish just with a few minor speckled and signs of box wear here and there. Placed in one of our reproduction boxes with a reproduction Webley pellet box about half full (100 approx.) And also a reproduction component parts diagram. Overall a nice little set, cocks and shoots fine, good grips and mainspring and breech seal etc. a nice little collector's set


Sadly this is now out of production the Webley Tempest is surely destined to become one of the all time classic air pistols. This example is in very good condition in its original box, a few minor signs of use to the pistol but the box is complete with its polystyrene base, instruction manual and guarantee certificate. Also with period Milbro Caledonian pellet tin with a very small quantity of pellets in. Cocks and shoots perfectly, nice and smoothly, a good shooter's or collector's item we feel feel sure these will become more collectable. Please note this is in the much less commonly seen 177 calibre, most of these sold at this time were in .22 calibre.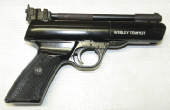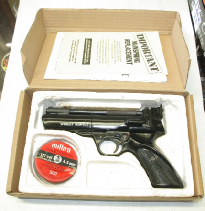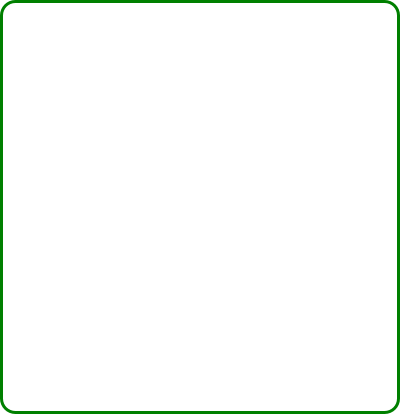 This model of pistol, as well as being very well made German engineering, are always accurate we find. No mainspring as it uses a sealed gas piston which is fully charged by a single stroke of the top of the pistol. This example is in good condition. Safety catch is on the side.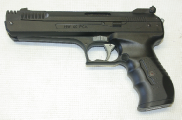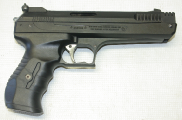 This nice quality pistol of pretty much unique design is in good condition retaining some original finish with some minor wear here and there and some minor light pitting. The spring and breech seal appear to be good but this does require either a very loose fitting pellet or a couple of shots for the pellet to emerge. We suspect the piston seal is not as it should be. Nice clear markings the grips are complete and in one piece and original, nice clean rifled barrel with a good crisp mechanism. Just probably needs a new piston washer.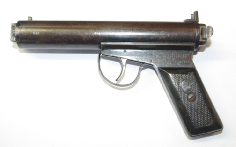 BULLSEYE TARGET AIR PISTOL PANTHER DELUXE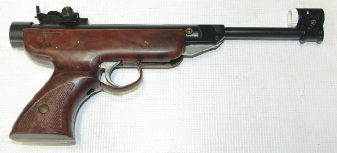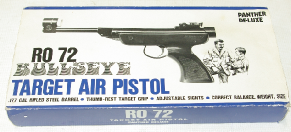 This in our opinion is one of the worst pistols ever made. It uses cheap plastic where better quality plastic should be used, plastic where castings should be used, uses castings where steel should be used and pins where bolts should be used. Overall not a high quality pistol in any way shape or form. It looks the part and sold in mass in the 1970s. This example has obviously had very little use because it is still complete and functioning. We fired it a couple of times but do not want to push it! Seriously, it has a plastic detent latch which is gonna wear quicker that anything else. The trigger barely returns it is only the recoil and closing the barrel that makes it return for the next shot and the grip just feels like it is gonna break. We do not know if shoddy is an Italian word but if it ended in I we would be certain. Anyway this example is boxed in near new condition, nothing much more to say about it. A collector's item.
Fig 1. Artists impression of pistol after half a tin of pell…oh wait it's an exploded parts diagram.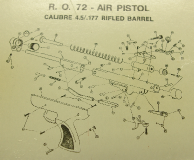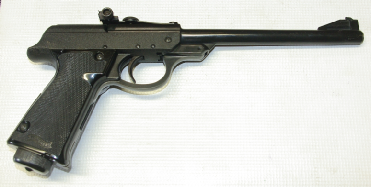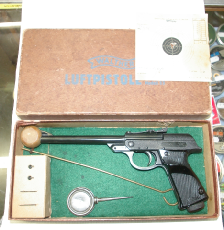 This iconic pistol is in near new condition appearing to have had little or no use. It is in its original box with a cleaning rod, cocking aid , two separate front sight elements
and two separate rear sight blades in their correct box. The base of the box has been lined with green felt. A lovely collector's item which also shoots really well. Also with an old oil bottle marked Halford, it could be older than the pistol.




Year: late 60s or early 70s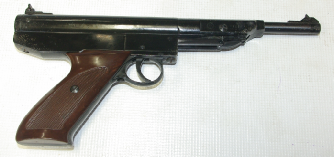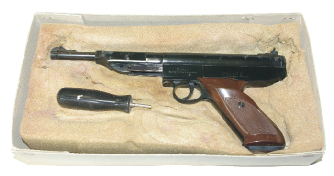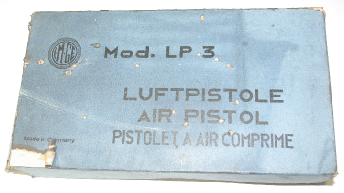 This nicely made and finished traditional design pistol is in excellent condition in its original box. The pellets has a few pellet holes shot at it but luckily the pistol cannot have been in the box at the time it was shot at. Cocks and shoots fine it has a replacement cocking aid supplied as the front sight is incredibly sharp and the barrel quite short. All the markings are clear nice gloss finis, cocks and shoots fine, obviously had very little use, the foam of the box is starting to degrade and go hard so it has been placed in a poly bag to stop foam getting in the pistol. A lovely collectors item which shoots well.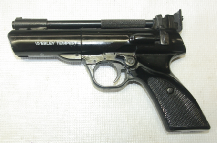 This model of the classic Tempest pistol is in excellent near new condition apart from a couple of scratches to the finish on the right hand side as you hold it, it has been scraped against something but it does not seem to have broken the surface just marred the enamel finish. Cocks and shoots fine, obviously not had a lot of use, good that it is in the much rarer .177 calibre. Now is the time to buy as they are not making them anymore, the wording on the front shroud is completely visible and not worn in the slightest. A shame there is no box with this one.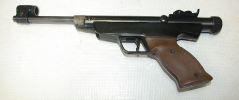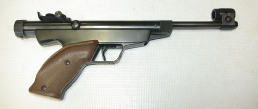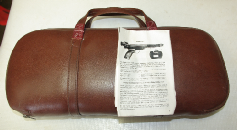 This German made entry level target pistol is in very good condition retaining most of its original finish. It cocks and shoots fine with no recoil whatsoever atabout 300 footpersecond with Bisley Practice pellets weighing 7.2 grains. Original open sights fitted which are fully functional, fitted with left hand grips but we can swap these for right hand ones if preferred for no extra cost. In a foam padded soft case with a copy of instruction manual (for a later model). A nice quality target pistol with the superb GIS contra piston system whereby a second piston moves in opposition to the main one and effectively cancels recoil.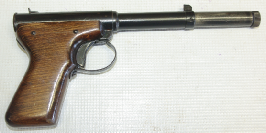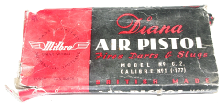 This classic junior air pistol is in excellent near new condition retaining all the original finish to the barrel and cylinder, very slight wear to the telescoping barrel section. In its original box which is complete but a little bashed. A very nice collector's item.



This Acvoke is presented in a superb quality reproduction box with a reproduction pellet box and repro paperwork. There is some slight freckling to the bluing but otherwise really nice condition.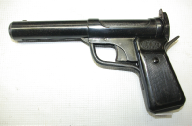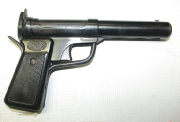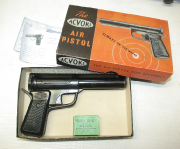 This high quality German made air pistol is in very good condition retaining virtually all its original bluing. It is in its original box, does not appppppear to have had very much use, shoots perfectly at around 250 foot per second with RWS Hobby 11.9 grain pellets. A nice item for the collector or shooter.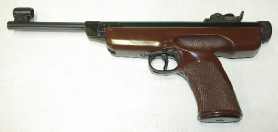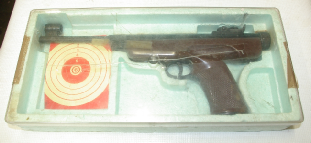 This is an unremarkable and uninspiring pistol notable only for its quality construction. It is very solidly made in Czechoslovakia in the 1960s, this example is in good condition, cocks and shoots fine. Better quality than any other break barrel you can buy now we believe. Based on the famous pre war Diana model also produced as the Diana model 5 and still currently still produced by Chinese factory as the S2 etc this example is in good condition retaining lots of its original bluing just starting to take on the lightest tarnishing overall, original open sights fitted , nicely knurled end cap, stock has seen some use with general wear marks but no damaGE one of the pistol grip screws is definitly wrong as they not identical in fact one is cross head and one slot head. Good clear markings on top of the cylinder.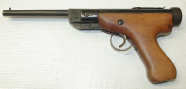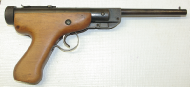 This very solidly made break barrel pistol is in near new condition in its original box. Does not have an instruction manual. Cocks very easily using the supplied extension cocking aid, shoots at 300 fps with Bisley Practice pellets 7.2 grain weight which is somewhat less than the velocity stated on the outside of the box. We not sure weather pistol is faulty or is the true velocity but it is consistent, easy to cock and has a very mild recoil characteristic.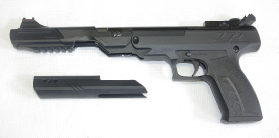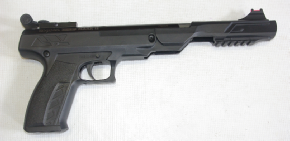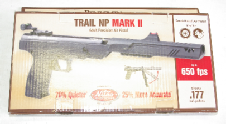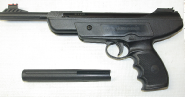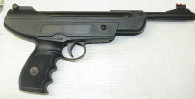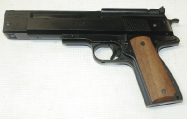 This quality german made pistol is in quite good condition this is an early model with only the one power selection which is full power and this case being 460 fps with RWS Hobby pellet which is 5.7 foot pounds with very good consistency. The metalwork is a bit dulled but we dont think is was very shiny in the first place, dosnt have the current fibre optic sights which some may feel is an advantage. Depends on your opinion. This is a high quality classic air pistol for good plinking use.
This very solidly made break barrel pistol is in near new condition apart from the front sight is very slightly broken resulting in the fibre optic rod being a bit loose. Complete with its detachable cocking aid this is a little twangy to cock but shoots smoothly with a good power output of about 3 foot pounds. Quite a long mushy trigger pull though. A good little plinking pistol. Manual safety catch and can be fitted with a red dot sight on its scope grooves. Fully adjustable fibre optic rear sight the sights are quite nice on this pistol.

This pistol is in as new condition. It is a semi recoiles design the action slides back. Someone has made a metal cocking aid that extends the barrel to make it easier to cock. Fully adjustable fibre optic sights, it shoots at about 5 foot pounds Boxed with instruction manual.