© Copyright Protek Supplies
The listings for spares are continuously updated. If you don't see what you want please phone us with your requirements.
Parts, spares and miscellaneous bits for air guns
Please use the part numbers (to the left of the descriptions) when ordering. WHERE ITEMS SAY THEY CAN BE SENT ONLY TO AN RFD PLEASE DONT ATTEMPT TO ORDER THEM VIA PAYPAL PHONE US PLEASE!!!
M51 - Rifle end cap for Gamo rifles and Brocock Independent. £6.00
M47 - Stock for B45 pnuematic pump-up air rifle Italian made (deluxe version) good condition with trigger guard and butt plate £20
M28 - NAC air rifle cocking link VGC £12 00

M80 - Allows a silencer with internal thread to fitted to an air rifle with internal thread. Half UNF to half UNF. Made by Parker-Hale £4.90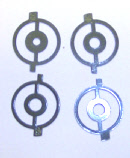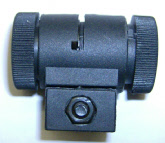 ~~~ Most parts in stock for dispatch usually same day ~~~
~~~ Flat rate postage charge of £3.50 (air guns £16.00 to send) ~~~
Air guns can not be ordered by Paypal. Phone us to place order using credit/debit card. Barrels, pistons and air guns later than 1939 can only be sent to a registered fire arms dealer. Postage rates shown for UK if outside of UK contact us first. 01243 827500

M143 - Hammerli side lever loading tap £12.00
M88 - CHINESE made rearsight to fit on a scope rail, all metal construction, useful replacement part. £16.95 OUT OF STOCK
M160 - Pump head seals for Sharp Innova £14.00 OUT OF STOCK
We stock all sizes of ring elements for WALTHER and ANSCHUTZ front sights at £1.00 each
Phone us (we have them) 01243 827500
Phone up & order it
01243 827500
Quick & easy
M194 - Hatsan 10 shot magazine .22 fits AT-44 etc
OUT OF STOCK
M201 - Umarex CO2 cylinder piercing pin seal. Fits Beretta 92 and Colt 1911 as well as Walther CP88 and 99 pistols and lots of other CO2 pistols £3.00
M202 - F.A.S. Valve seal. Does NOT fit FAS604 or 6004. There is some dispute over it being for a FAS! £12.00
M172 - WALTHER with spirit level
Used VGC
£38.00
M173 - WALTHER with spirit level
Used VGC
£38.00
M108 - Improved mod D marked Lincoln Jeffries patt 8761/04 working condition, little pitting overall £45 SOLD
M109 - Early BSA underlever 1st spade handle without strengthening filletts, brown worn finish, no markings, possibly Lincoln Jeffries £45
M110 - Sterling HR81 underlever, good condition, some light rust speckling £16 SOLD
M111 - Webley Osprey side lever with link and push button, good condition, slight wear marks £18
M86/6 - 6 shot, 4.4mm, BB Magazines to fit Haenel 33, 49a, 310 and Anschutz 275 bolt action rifles. £24.40
D63 - Front stock cross head bolt for Anshutz 335 £1.50 or 2 for £2.50
D92 - Front stock bolt to fit ASI CF16, CF20 and CF30. Blued finish. £1.00 each
M84 Chinese under lever air rifle breech seel £3.00
M97 - Leather b reech seel for Haenel 300/302/303 £2 50
M103 - BSF MAINSPRING for 54, 55,70,80 £16.00
M106 - Trigger guard for BSF rifle, VGC fits 54, 55, 60, 70 etc £12.00
M137 - Front sight assembly for Sussex Armoury Jackal, poor condition but complete £9.00
M138 - ½ UNF threaded end cap £4.00 each
W245 - Trigger spring 4.69mm - 5mm x 20mm for Beeman C1 £3.25
M163 - MA654 pistol magazine, brand new (for pistol manufactured AFTER 2011) £57.60
M164 - IZH60/61 mainspring, brand new £8.00
M166 - Baikal IJ22 breech seal, brand new, leather £4.00
CHINESE RIFLES AND PISTOLS
M183 - For B3 rifle, underlever holding catch holds lever parallel to barrel after cocking the gun. Comes with fixing nut and bolt £6.70 OUT OF STOCK
M206 - Laser mount for Gamo P23 pistol. £5.95
M207 - Laser mount for Gamo R77 pistol £5.95
M159 - Pellet pusher for Milbro Diana model 2 and SP50, new £14.00
M130 - Piston seal for FWB Sport £14.00
M135 - FWB Sport breech seal £2.50
TITAN1 - FWB Sport Main spring £18.90
M222 - O ring for the end cap of XS78 (gas seal) £0.30
M233 CO2 cylinder screw used on lots of pistols like CP88, Beretta 92 etc £5.00
M/W234 - Air filling probe for Webley and Hatsan PCP rifles. £12.00
M123 - DAN WESSON pistol seal kit. Comprises 5 seals. £6.99
M243 - Brass cylinder band for stock retaining bolts, used good condition £8.00 each
M244 - Cylinder front plug and barrel locating band , used good condition £15.00
M245 - Complete seal kit for PR900W PCP rifle. £9.00
M246 - Complete seal kit for CR600W CO2 rifle. £6.00
M258 - XS501 gas seal washer for end cap. £3.00
M259 - .22 cal magazine for SMK 600 CO2 rifle, 900 PCP rifle,, Kandar CP-1, and SMK Victory pistol £19.99
M264 - Hand guard for Sheridan blue/silver streak, not new £8.00
M265 - Fibre optic front sight to fit c8mm grooves £12.00 SOLD
M266 - Fibre optic front sight to fit c9mm grooves £9.00 SOLD
M268 - Rearsight to fit rifle with screw holes 42mm apart £12.00
M270 - Complete seal kit for UMAREX AIRMAG 850 PCP air rifle, consists of 7 seals. £10.00
M272 - CP88 seal kit, comprises 5 seals £12.00
M273 - Short plastic handguard to fit Sheridan pump up rifles. It has been shortened to 60mm . Not new £4.00
M274 - Loading tool for Falcon air gun magazine. £8.00
M275 - End cap that secures 12g CO2 cylinder in to pistols such as 1911 and others. 20mm diameter. Brand new un used.
£4.00
M280 - Selection of parts including polished silver barrel bands, we think from a Falcon Hawk. £24.00
M281 - Rail for Dan Wesson pistol, no fixing screw, Weaver type £4.00
M86/12 - 12 shot, 4.4mm, BB Magazines to fit Haenel 33, 49a, 310 and Anschutz 275 bolt action rifles. £38.00
M282 - Trigger shoe, will fit up to about 7mm width. Not new but very good condition. With allen key £8.00
M283 - Arrestor blocks. Put behind scope to stop movement due to recoil action. For standard 9-11mm rails. £5 each or a random selection of 5 for £20
M285 - Gamo front sight fits 1970s/80s ASI rifles, used, fair condition £10.00
M286 - Complete rear sight for Gamo 1970s/80s, used, good condition £15.00
M288 - Gamo front sight fits 1070s/80s ASI rifles, well used condition. £8.00
M287 - Rearsight Gamo 1970s/80s windage adjustment wheel broken off but windage is adjustable using remains of thumbscrew £8.00
M290 - Rear sight for pistols, CP88, Beretta 92 and other CO2 pistols with the little dovetail groove at the back. £6.25
M291 - Barrel weight for unknown pistol. 105mm total length, 12.6mm diameter hole.Used good condition . Goes on an Original model 5 and 6 but would need a bit of modifying to enable the pistol to cock properly. £11.00
BULK DEALS AVAILABLE PHONE US
M292 - Nylon spring guide, fits perfectly in BSA spring (B 10). Dimensions shown here are approx. Comes with 2 washers one steel one nylon. £6.00
V209 - Rearsight fits Weihrauch HW77 but may fit other guns. These are unused old stock in very good condition. £39.00 or buy 2 for £70.00
M121 - Set of 4 elements from 2.6mm to 4.4mm aperture (to fit unit shown to the right only) £6.00
M120 - Dove tail groove fitting 9mm +- 0.6mm approx fits Weihrauch, FWB Sport, Original Diana etc £9.40
M293 - Seal kit for CP1 £8.95
M296 - ANSHUTZ front sight, used good condition, post element fitted fits any Weihrach or Original rifles as well. £25.00
FAS604 SEAL KIT
Part number M298 £14.50
M299 - Plastic trigger guard for a Hatsan/Edgar Brothers rifle. New £5.00
M304 - Tool for MP654 pistol. As supplied as standard with pistol. £9.00
M307 - FWB 300 piston seal £19.50
M311 - Cocking bolt handle for Daisy Powerline 717 £8.00 each
M312 - Internal trigger and sear mechanism new but slightly tarnished £15.00
M313 - Daisy 717 rear sight assembly £10.00
M215 - End cap for for pre 2012 Sportsmarketing XS78 CO2 rifle. Depth is 20mm £19.00
M314 - Firing pin for Beretta 92 FS CO2 pistol £2.50
M316 - Magazine and magazine housing marked Winchester believed .22 calibre, not known for whicdel £20.00
M317 - End cap for XS78 long version 30mm used t fitted with a new seal £10.00
M319 - Breach seal for FWB 300S £9.50
M284 - Magazine clip for Luger 9mm pistol, used good condition. £18.00
M321 - Barrel .22 to fit BEEMAN P17 and AIRFORCE 1 and FALCON DUO, and maybe HW40. VGC we think unused £15.00 CAN SEND TO RFD ONLY PHONE FOR DETAILS 01243 827500
M322 - Seal kit for XS78 including custom made valve, stem and seal. £28.00
M329 - Side cocking lever for Hatsan AT44 pre charged rifle. Brand new £14.40
M330 - GAS RAM PISTON SPRING NITRO GAMO CROSMAN BENJAMIN Brand new £25.00
M338 - Three Daystate magazines .177, 2 with magnetic locating point, 1 without, slightly modded to fit under scope in low mounts. £64.00 for all 3