ENCYCLOPEDIA OF SPRING AIR PISTOLS 2nd EDITION
By JOHN GRIFFITHS Phone up & order it
01243 827500
Quick & easy



© Copyright Protek Supplies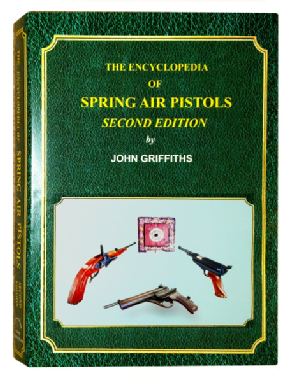 PLACE AN ORDER USING PAYPAL
ORDER BY PHONE USING DEBIT or CREDIT CARD


513 pages of closely written, meticulously researched detail on every known spring air pistol. Compiled over some 30 years by a qualified academic contains all variations, markings, characteristics, dates of manufacture plus collector's notes. Colour pictures wherever possible throughout the full book. An absolutely necessary reference work for anyone with any interest in air pistols. We believe this to be the most finely researched and carefully collated book on air guns yet published. Includes details of patented but not produced pistols plus unique pistols and some frankly bizarre ones. Includes a section on shooting gallery pistols. Lots of information you will find nowhere else.
In our opinion indispensable.
We are the exclusive mail order suppliers for this book. A limited quantity have been reserved for sale at selected arms fairs in the near future.
PRICE REDUCED
WAS £55 NOW £49.99
Collect from our shop or order for delivery

If you phone your order through to us we can usually combine it with other parts you may require for the same shipping rate.
PLEASE NOTE
When you place an order by Paypal you do not get a notice of confirmation or endless emails from us but rest assured we will post your order ASAP. This is normal with our ordering system, delivery is usually less than 10 days but if you don,t receive your order after 14 days contact us. Sometimes longer over the Christmas period.
SPECIAL EXTRA OFFER
You can order any other books on our website with this book and we should be able to send them for no extra postage charge.
To order paying by credit/debit card phone
01243 827500
Prices shown include postage and are as follows:
To UK address
1 copy £60.00,
2 copies £110.00
3 copies £160.00
4 copies £210.00
To non UK address
1 copy to Europe address £76.00
1 copy to America £95.00

If your country is not listed
Phone for a quote