Used sporting & pest control air rifles
Air rifles & pistols
You are on the red highlighted page
MAIL ORDER INFORMATION
Items that are shown with a blue envelope can be either purchased from our shop or you can have them delivered directly to your home address.
Items where no envelope is shown can be purchased from our shop or you can have them sent to a registered fire arms dealer near you, and you collect it from them. To order an item from us phone 01243 827500

© Copyright Protek Supplies Phone up & order it
01243 827500
Quick & easy


This nice quality under lever rifle, clearly a copy of a much more famous item, is in very good near new condition. It shoots really nicely at about 10.9 foot pounds with RWS Supapoint pellets and is fitted with a 3-12x42 illuminated mil dot scope with side parallax adjustment. The trigger is nice with a slightly spongy first stage a good second stage. Nice build quality, we have not had many of these in our shop at all. Plain stock, no checkering but nicely shaped. Lovely recoil characteristic, very little recoil no surge. Very pleasant to shoot. Probably inherent in this design.


This is a very nice quality air rifle, extremely solidly made, with a superb barrel lock up. This example is in near new condition having had very little use. Fitted with a Walther 6x42 parallax adjustable scope, ambidextrous stock with also ambidextrous safety catch and barrel lock up. Can be fitted with a silencer on the front although it is not loud as it is. A really nice quality air gun.



This high quality German made air rifle is in quite good condition, the the metal work with odd bits of speckled pattenation overall and a little bit worn. The rifle is in superb working order, it has just been fitted with a new mainspring and fully serviced, it produces 11.2 foot pounds with good consistency. Original open sights are fitted, stock is nice with a few surface marks and scratches, an excellent hunting rifle, these are always accurate and have a very good trigger mechanism.




This item has been much modified from its original form, it has been fitted with a steel breach block and bolt assembly. It has also been fitted with a gravity fed 9 shot magazine and an adaptor for a quite effective silencer. It has been fitted with a bipod and a 3-9 x 40 illuminated reticle scope. We understand the valve assembly has also had some polishing work and tuning done to it. With its original owner's manual. Cocks and shoots fine, a nice little carbine rifle.




This is a most classic and now well appreciated air rifle. This example is in very good condition, the cylinder retaining virtually all its original finish with a couple of marks. The barrel also being very nice with a few more marks of use. With its original open sights which are complete and working, stock has surface marks and scratches, no major just generally overall. Cocks and shoots about 10.3 foot pounds (540fps) with Air Arms Field pellets 15.9 grain. Very nice and smooth to shoot with minimal recoil. We have not changed the spring or been inside the gun it is consistent. Unfortunately one of the tabs of the safety catch has been broken off. The safety functions as it should but the thin bit of metal on the back one of them is missing. Otherwise its all complete and as it should be.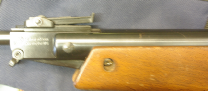 This very high quality underlever rifle is in excellent as new condition having had minimal use. It is fitted with a Walther 6x42 scope which has a nice clear reticle and also has its owners manual. There is no box with it though. Cocks and shoots absolutely fine, nice and smooth, these are a worthy rival to Air Arms and Weihrauch. In our opinion the LGU has a better safety catch.




This all; time classic rifle is in very good condition retaining most of its original bluing, stock has a few surface marks nocks ands scratches fitted with a Tasco Worldclass 3-9 by 40 telescopic sight. Cocks and shoots at 11 foot pounds using RWS Supapopint pellets. with nice consistency. This is a full length rifle .177, would make an excellent spring target rifle.