© Copyright Protek Supplies
Air rifles & pistols
You are on the red highlighted page
MAIL ORDER INFORMATION
Items that are shown with a blue envelope can be either purchased from our shop or you can have them delivered directly to your home address.
Items where no envelope is shown can be purchased from our shop or you can have them sent to a registered fire arms dealer near you, and you collect it from them. To order an item from us phone 01243 827500
Phone up & order it
01243 827500
Quick & easy
This Webley Hawk Mark 1 has been quite heavily modified from its original form. The barrel, which is detachable, now runs through and fits in to the transfer port area, the barrel lock has been converted to a lever action instead of the screw, there is a muzzle weight put on top and the stock, which has been broken and repaired, has got stippling round the grip. To be quite honest this is a bit of a faff to load and fire. There we are, we are nothing if not honest! Could be used for parts or an interesting project item. The safety catch and trigger mechanism works fine.
From A local cadet force, BSA Meteor .177 air rifle. Been recently serviced and fitted with some new components and in good working order. Fitted with BSA 4 x 32 scope and mounts A good local plinker or short range hunting rifle. Well used but in good working order. No open sights are fitted.
Stock number 3120 priced at £70.00
Tin plate type construction junior rifle the last of its type is in good cosmetic order but it lacks a bit of oomph in fact some tight pellets do not come out unless you cock it and shoot it a few times. Loose pellets do come out but with very very low power. Presumably the spring or piston seal neads replacing or sorting out. Original open sights are fitted, screw heads are good, stock is good Diana brass badge is however a little torn and missing. Needs sorting out really unless you are ok with a really low powered air gun.
This is an interesting German made Webley air rifle. Made by Diana in Germany and sold as the Webley Airwolf in the mid 1980s. On this example the metal work including the open sights are in as new condition. The stock is very good but with some storage marks and bumps which is e real shame as it prevents this being a minter. The rifle shoots around 5 foot pounds maybe the spring needs a bit of lube or even replacing. We have not taken it apart as the gun has obviously never been dismantled. A collector's item but could be shot as a nice quality junior rifle with fully adjustable open sights and a good auto safety catch and good build quality.
This is in fairly good condition with original sights, slight wear to the barrel which gives it a Damascus style finish. Most of the action is good and all screws are good and shoots quite nicely. This does have grooves for a telescopic sight.
Superior quality rifle in excellent near new condition. A new mainspring has been fitted and it produces a good mid power level of about 6 foot pounds. Open sights are fitted. Cometas have always proved accurate wen we have tried them, and the engineering quality is also good. In fact slightly better than other Spanish makes.
This is an example of the now not often encountered Harrington GAT rifle. We believe they had a high attrition rate as a lot were supplied to fair grounds and the casting became broken due to excess leveradge put on the ally frame. Certainly seen a few broken ones in the past. This example is in fair condition with the odd minor chip to the paint but is in good working order with its original pellet loading tool and some some minor wear to the stock work. An interesting variation on the well known pistol we can think of very few other push in barrel rifles. We have seen an Australian one though
The Sig MCX is truly a fun gun! Powered by the large 88/90 gram CO2 cylinder that sits neatly in the stock, this has a 30 round machine gun style belt click for air rifle pellets. This example is in near new condition and fitted with an adjustable reticle red and green dot sight
This not very often seen dinky little side lever rifle is very nearly the smallest air rifle that Diana ever made. It is one of the earliest side lever rifles that we know of, cannot think of an earlier one actually. This was made in 1951 and is in fairly good condition, the metal work seems to have a painted finish, the barrel screws out for loading a pellet and the gun shoots at just over 2 and a bit foot pounds which is quite surprising for something of this size. We have photoed it next to a Rula for comparative purposes. It really is a small air rifle. Marked Diana model 10 on the top and foreign on the side this is something that Diana collectors should have that is not often encountered.
This an excellent gun thats lots of funs. This Daisy 130 was made by Gamo in Spain and sold in the uk as the Sniper Repeater. This example is in excellent condition retaining vertually all the original finish to the metal work and complete open sights. There are a few minor marks to the stock where it has been knocked about during transport and stotage. The rile shoots really nicely with a a 25 shot spring loading magazine atop the cylinder. You can also use it single shot like. This example differs from some of the other Sniper Repeaters we have seen in that it has an automattic safety catch which has to pushed off before each shot. It is just afront the trigger and you soon get used to it. 25 shots can be shotted very quickly though.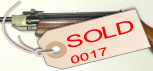 This classic fun gun is in good cosmetic order being complete and mechanicaly fine apart from the spring is knackered. It only produces about 2.5 foot pounds but with good consistency. The magazine mechanism works wel with the pelets we tried being old Eley Wasp and Bisley Practice pelets. The rear sight windage screw is broken but the stub it left can stil be used to make the sight adjustments. The elevation screw is fine. This is the mark one version with a few areas where the finish is lost to the pistol grip where it has been held but the bluing is generaly very good. Now becoming very colectable.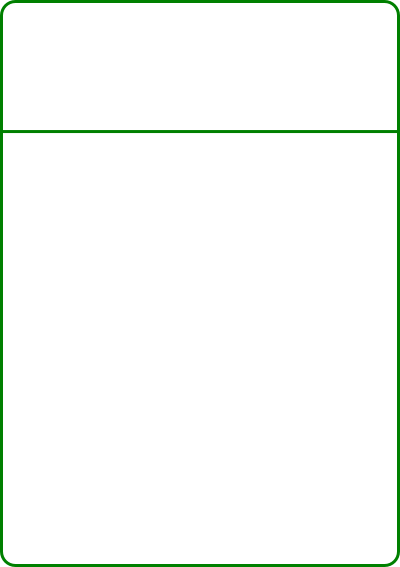 This classic solidly made under lever is in quite good condition, the metal work being nice and smooth and shiny. The stock has an unusual finish it must be a later modification the finish is a sort of red lacquer finish which would have looked quite nice when done but unfortunately on one side there is a large number of knocks to it where the under coat can be seen through the top finish. This rifle is fitted with the original sight rail and unusually a telescopic sight that fits it. Namely being a Nikko Sterling Japanese made mounty 4 x 20. The optics are a little milky its not the best scope we have seen. A nice shooting item with its original open sights fitted as well. Shoots at about 7 and a half foot pounds is is not as difficult to cock as other examples we have seen of this model.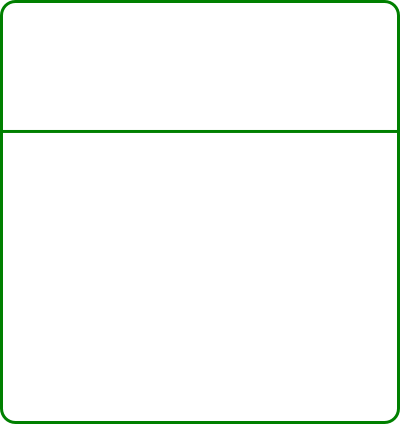 This dinky little child size air rifle is in basically good condition retaining lots of its black finish to the metal work. The rear sight is a replacement (a Relum unit) which works fine, the cocking link axis bolt has had its nut replaced with a well fitted and blued alternative part. Stock has some surface loss of its varnish but nothing john major, the rifle cocks and shoots nice and easily. An excellent entry level rifle for the budding youngster. There is a crack in the underside running from the cocking link slot about 3" along but this does not affect the stability of the rifle.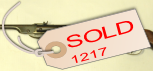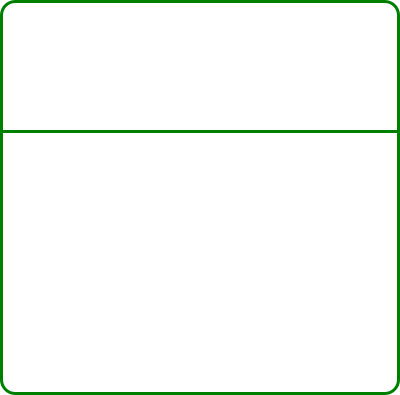 This interesting little air rifle has a retractable and in fact detachable stock, the camo effect on the wood work is original as produced by Norica, the metal work of the barrel is a little worn and rubbed, the rifle is complete with its original open sight and it shoots at about 5 and a half foot pounds and is fitted with a military style sling. A very light weight little rifle with an unusual design.