© Copyright Protek Supplies

Air rifles & pistols
You are on the red highlighted page

MAIL ORDER INFORMATION
Items that are shown with a blue envelope can be either purchased from our shop or you can have them delivered directly to your home address.
Items where no envelope is shown can be purchased from our shop or you can have them sent to a registered fire arms dealer near you, and you collect it from them. To order an item from us phone 01243 827500 Phone up & order it
01243 827500
Quick & easy

DOZENS OF WEBLEY PISTOLS IN STOCK, GIVE US A CALL OR BEST POP IN AND SEE THEM


Calibre: .177 smooth bore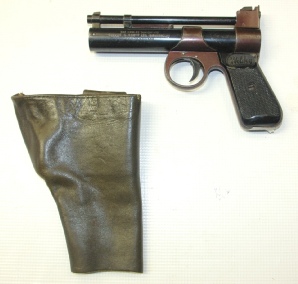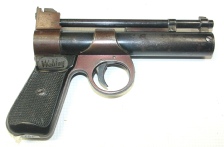 This all steel blued Webley Junior pistol is in fairly good condition. One side of the cylinder and has a rust spot and bluing missing the other side is very good it has obviously laid some where damp. The grips are perfect, the pistol shoots very well. There is a large letter A stamped in to the breech block for some reason. A sound example. Supplied in a leather pistol slip which we think may have caused the dampness/rusting but the pistol has been well oiled now so should not rust further. You can always discard the leather holster anyway if you do not want it.
We always have lots of used/second hand CO2 pistols in stock that we do not have room to display in the shop. Click here to see a list of them that we do our best to keep updated! Always phone before travelling so we can check stock and reserve items.
01243 827500
USED CO2 PISTOLS IN STOCK

This is a very high quality Italian made Olympic grade target air pistol. This example is in as new condition in its original case which is one of the nicest such cases we have seen and supplied with a second air cylinder and its filling adapter as well as all its instructions and manuals and tools. A high grade item indeed.


Year: We think 10-20 years old
The HW45 pistol is known for its quality. Spring powered, high accuracy and this example we measured at 4 foot pounds power. It has been well looked after, in near new condition and is presented in its original box with an allen key and a spare seal. There is no instruction manual but it is straightforward to use and the manual is bound to be found on the web if you need it.