© Copyright Protek Supplies
Air rifles & pistols
You are on the red highlighted page
MAIL ORDER INFORMATION
Items that are shown with a blue envelope can be either purchased from our shop or you can have them delivered directly to your home address.
Items where no envelope is shown can be purchased from our shop or you can have them sent to a registered fire arms dealer near you, and you collect it from them. To order an item from us phone 01243 827500
PHONE FOR DETAILS ON ANY OF THE ABOVE PISTOLS 01243 824284 OR 01243 827500
Phone up & order it
01243 827500
Quick & easy
DOZENS OF WEBLEY PISTOLS IN STOCK, GIVE US A CALL OR BEST POP IN AND SEE THEM
This very nice collector's item is in excellent near new condition with even the obviously very fragile transfer on the side visible. It is in its original box with an empty packet of what presumably are the original period bbs and some loose bbs of unknown age. Also with original instruction manual and some little pad of targets. One grip is warped this is quite common with these as they tend to warp over time. The pistol has had very little use. It could be regarded as the air soft gun of the period as it is extremely low powered. Tin plate construction actually rather nice with a little flip up peep sight. A nice collectable. A small price sticker on the base of the box indicates it was sold by Naugatuck Sports and Auto, Naugatuck being a town in Connecticut in USA.
This quality German made CO2 pistol is in excelent condition. It uses 8 shot magazines of which there are 3 with the gun and can be fired double action or with the hamer for a lighter triger pull. This example is in its case with a couple of co2 capsules, 3 magazines and a partial tin of pelets. A great fun gun slightly more powerful than many of a similar design. More acurate as well.
ALECTO (with Zoraki stock accessory)
This carbine is a variable power pistol with a choice of 3 power levels. Is is fitted with a superb fully adjustable modular stock. We find that when holding this in the aim position it seems to be extremely steady. Combine this steadiness with the complete lack of recoil and it will produce excellent accuracy. This example is in virtually new condition with its original Webley ABS storage case and some pellets and instruction manual for the modular stock accessory.
USED CO2 PISTOLS IN STOCK
This is a right handed pneumatic single shot pistol excellent for accurate target shooting. Pump once twice or thrice for various power levels. Three pumps gives full power. Very comfortable to hold unless you are left handed!
A nicely made single stroke pneumatic pistol capable of good accuracy. Safety catch. Fires metal 4.5mm ball bearings using a 15 shot magazine built in.
This chunky pistol is in excellent near new condition in its original box. It shoots at around 5 foot pounds using RWS Supadomes but it has a semi recoilless action which means it is quite smooth to shoot. Also supplied with a custom made cocking aid which slips over the front sight and makes cocking easier. A nice quality pistol.
This is a very early model of the Webley Hurricane, with the foil safety catch marker. It is in fairly good condition retaining most of its original finish. The name on one side has slightly worn away where it has lain and there are surface scratches on that fore end shroud. Fitted with its original white numbered rear sight, it shoots well and in actual fact these are one of the best Webley pistols due to their fully adjustable rear sight and slightly higher power than most of the others. Now becoming collectable.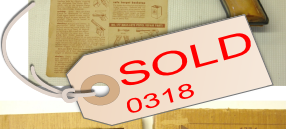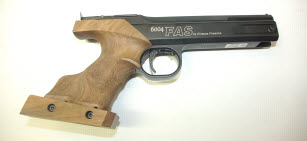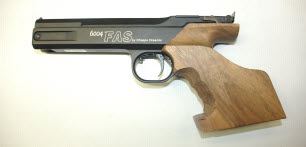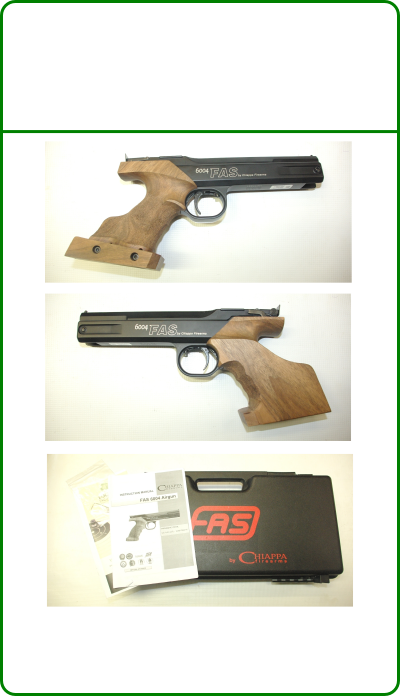 Near new condition. Supplied with case, instruction manual, allen key and warranty information. Has been very well looked after by its current owner.
This nice quality precharged pneumatic pistol is in excellent near new condition with original instruction manual fitted with a good set of adjustable open sights with a fibre optic front. It produces just under 5 foot pounds with most pellets we have tested it with. A nice shooting item.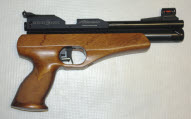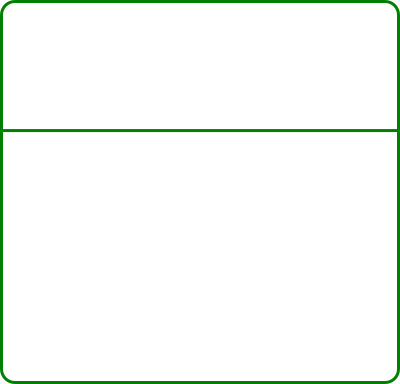 This late model GAT pistol in excellent condition, complete with corks, darts and a little metal box of pellets. A nice little set. The pistol works fine.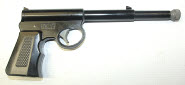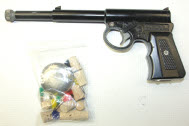 This example of the fully evolved Webley pistol design is in excellent near new condition. It is had little if any use. It is an early example with the foil type safety catch indicator later changed to a paint filled red spot. It is in its original box which is also in excellent condition with scope mounting bracket which has never been used, Webley and Scott guarantee card, a couple of 3 old target cards and the Webley tagged allen key. Missing is the little packet of sample pellets that would have come with it originally and there is no target card holder but we not sure it was ever supplied with one. Also has the rare blanking piece in place of where the optional scope would have been fitted once assembled. Foam inlay no instruction manual, which is missing, normally stored underneath the internal red velvet fitted inlay. A premium collector's example Webley pistols are shortly to go out of production probably forever this is a good opportunity to get what was in effect the final example of this pistol type. Although the Hurricane did evolve in to the Tempest but that was in effect a retrograde step and does not have the fully adjustable sights and scope option that the Hurricane has.