Telescopic Sights & Mounts etc


© Copyright Protek Supplies Phone up & order it
01243 827500
Quick & easy


MTC GENESIS 3-9 x 40
Superbly clearly optics. No lens caps. With high quality mounts 9-11mm
£140.00



~~~ Flat rate postage charge of £6.00 ~~~




BRAND NEW NIKKO STIRLING MOUNTMASTER ILLUMINATED ADJUSTABLE OPTICS 3-9 x 50, HALF MIL DOT.
Supplied with mounts for airgun (9-11mm standard rail)
£77.00
TELESCOPIC SIGHT COVERS
Some are yellow shaded, the sizes we are showing is measured as the inside diameter of the covers which is also the outside diameter of each end of the scope it fits. We have one of each shown, postage is £3.90.
SC1 - 64mm 44mm SOLD
SC2 - 48mm 38mm
SC3 - 37mm 36mm 1970s type SOLD
SC4 - 40mm 42mm SOLD
SC5 - 43mm 39mm
SC6 - 48mm 38mm not transparent SOLD
SC7 - 48mm 39mm
SC8 - 51mm 44mm SOLD
SC9 - 38mm 38mm not transparent
SC10 - 42/37mm 39mm for weaver scopes with flattened front lens (TV)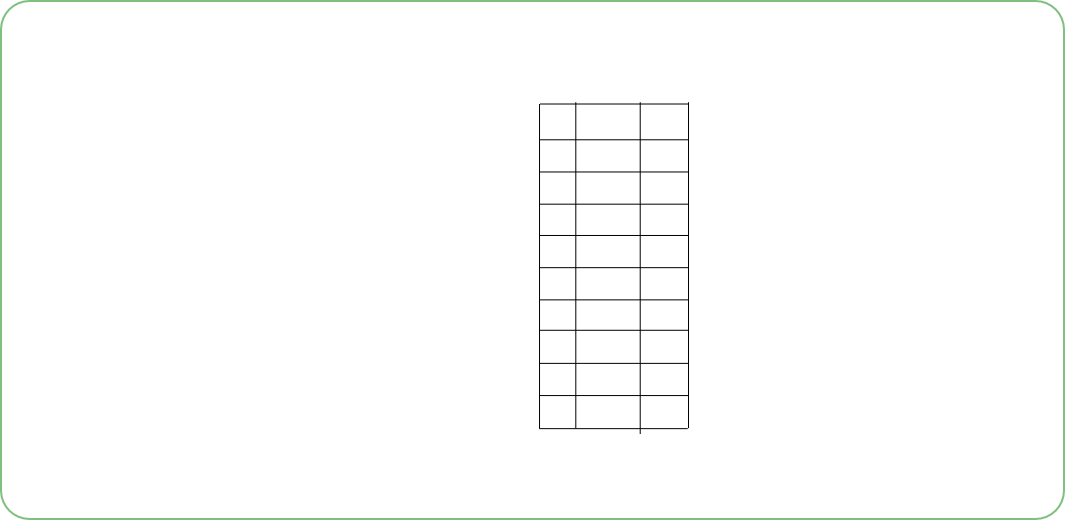 When you click on "order a scope" Paypal will ask you for description so just type the scope you want to order in and then put the price of the scope in the box under the description. Paypal adds the postage automatically.

SUNSHADE
NIKKO STIRLING
50mm inside diameter, 130mm overall length. Used excellent condition.
£10.00

KONUS 2 - 7 x 32 ZOOM RIFLESCOPE

• Adjustable magnification 2 to 7 times
• 30/30 engraved reticle
• Finger adjustable turrets
• Supplied with mounting rings
• Waterproof, shockproof, fogproof
• Multi coated optics
£68.95

BSA SWEET .17 TARGET/HUNTING SCOPE
• Fully multi=coated optics
• 6-18x power magnification
• Objective lens Diameter 40mm
• Side parallax setting 10 to infinity
• Field of view at 100 yards 16 - 6 feet
• Includes 3" glare resistant sunshade
• Multi grain turrets with zero reset
positive click ¼ MOA reticle adjustment
• 4" eye relief
• Specially designed for 17 HMR/ 17 & 20gr
£145.00
TELESCOPIC RIFLE SIGHTS.
BUY FROM A PROPER GUN SHOP FOR PROPER PERFORMANCE AND A MEAN KEEN LEAN NEVER BEFORE SEEN PRICE.
PROTEK - BIG on sayings, small on prices - We believe these prices are the best on the net. If you find someone selling them cheaper please send them our condolences because they must be REALLY desperate!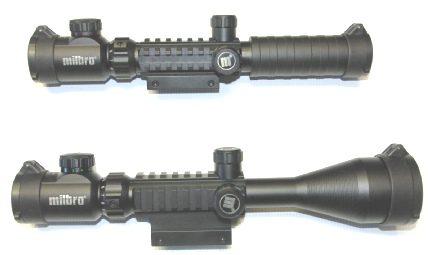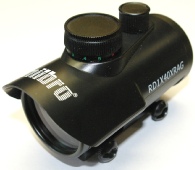 MILBRO MILITARY TACTICAL STYLE 3-9 x 32mm
Red and green variable illumination for low light shooting, magnify from 3 times up to 9 times, waterproof, fog proof, shock proof, flip up caps, scratch resistant lenses. Reversible mounts will fit air gun 9-11mm or weaver rail.
£49.99
Shipping is £4.95 if you want it delivered.
MILBRO MILITARY TACTICAL STYLE 4-12 x 50mm
Red and green variable illumination for low light shooting, magnify from 4 times up to 12 times, waterproof, fog proof, shock proof, flip up caps, scratch resistant lenses. Reversible mounts will fit air gun 9-11mm or weaver rail.
£59.99
Shipping is £4.95 if you want it delivered.



MILBRO RED/GREEN DOT SIGHT
Red and green variable brightness dot for precise aim point, waterproof, fog proof, shock proof, with protective rubber end caps, mounts will fit air gun 9-11mm or weaver mounts.
£32.99
Shipping is £4.95 if you want it delivered.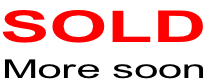 A GREAT DEAL ON A GREAT SCOPE
NIKKO STIRLING MOUNTMASTER 3-9x50 ILLUMINATED RETICLE.
This scope has half mil dot reticle for accurate distance shooting and illumination in red or green with adjustable brightness levels as well as an adjustable objective lens to maximise accuracy. Supplied with 9-11mm standard air rifle mounts and accessories as shown.
The scope is supplied with dust covers/light filter, Nikko Stirling cleaning cloth, spare battery, fixing tool and full instructions.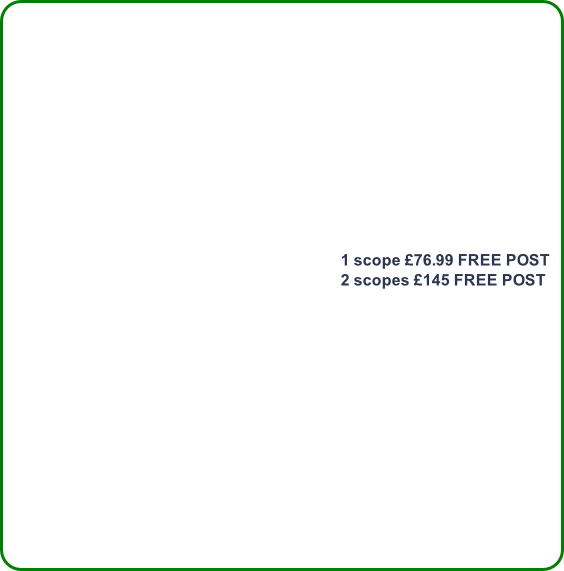 FOR THE SERIOUS TARGET SHOOTERS…OR ANYONE WHO WANTS TO HIT THE TARGET!
Accidental canting your rifle and scope is easy to do and results in a missed shot most of the time. Keeping the cross hair exactly vertical is vital. This device fits on to any telescopic sight and gives a clear indication via a spirit level indicating horizontal axis to ensure you are shooting with accuracy. Made with high grade aluminium. There are two types available for the 2 most common scope tube diameters. 25mm and 30mm.
M607 - to fit 25mm scope tube size £12.95 PLACE ORDER
M608 - to fit 30mm scope tube size £12.95 PLACE ORDER

Second hand but in "as new" condition. A very high quality telescopic sight. No mounts are supplied, they are available separately to suit your requirements..
Stock number 4966 £135.00 SOLD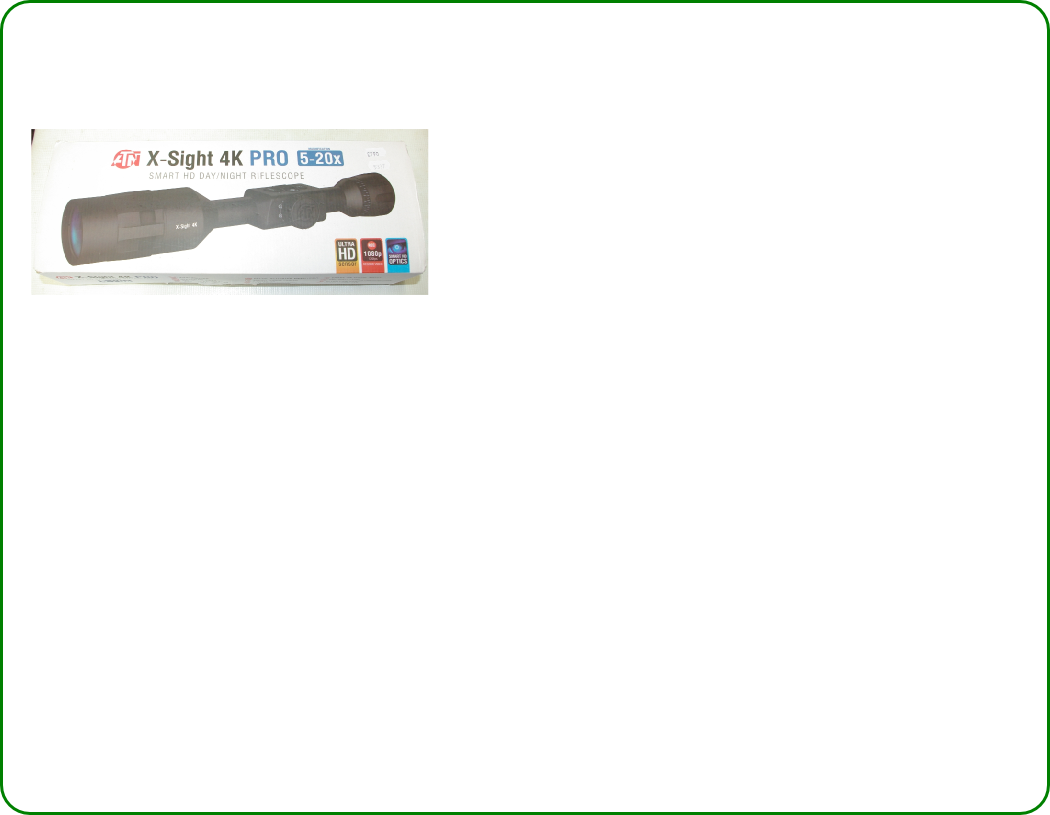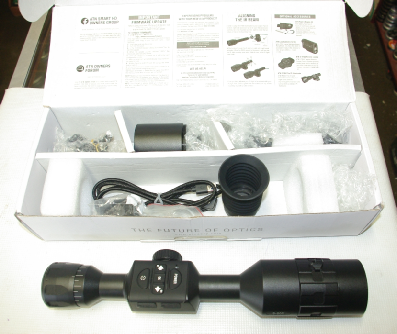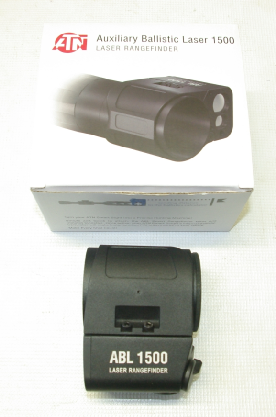 ATN AUXILIARY BALLISTICS LASER and SMART HD DAY/NIGHT RIFLESCOPE SET
Use this sight on air rifles, rim fire, centre fire etc, daytime or night. The ABL1500 (shown right) attaches to the scope and using laser technology adjusts the reticle in the scope automatically. Capture high quality video to SD card and connect up with Bluetooth. Attach the IR lamp for total dark shooting. Accessories are supplied for mounting etc.
• Vivid imaging
• Record HD video
• Ballistic calculator
• Dual stream video
• Recoil activated video
• Smart range finder
• E-compass
• Dual core processor
• Share on social media
• One shot zero
• Ultra low power consumption
• Profile manager
AUXILIARY BALLISTICS LASER 1500
LASER RANGE FINDER
Precision to 1 metre, range 5-1500 metres, Bluetooth 4.1 so pairs with the sight shown on the left, long battery life around 6 months.
This setup is second hand but has had little use and has been very well looked after and in new condition.
£790.00 Stock number 5337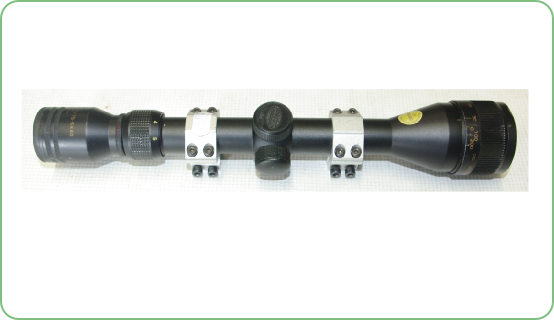 Nice quality scope, a few use marks, a small doing/little paint loss at front top, with high quality double screw two piece silver colour finish mounts, no lens covers.
£70.00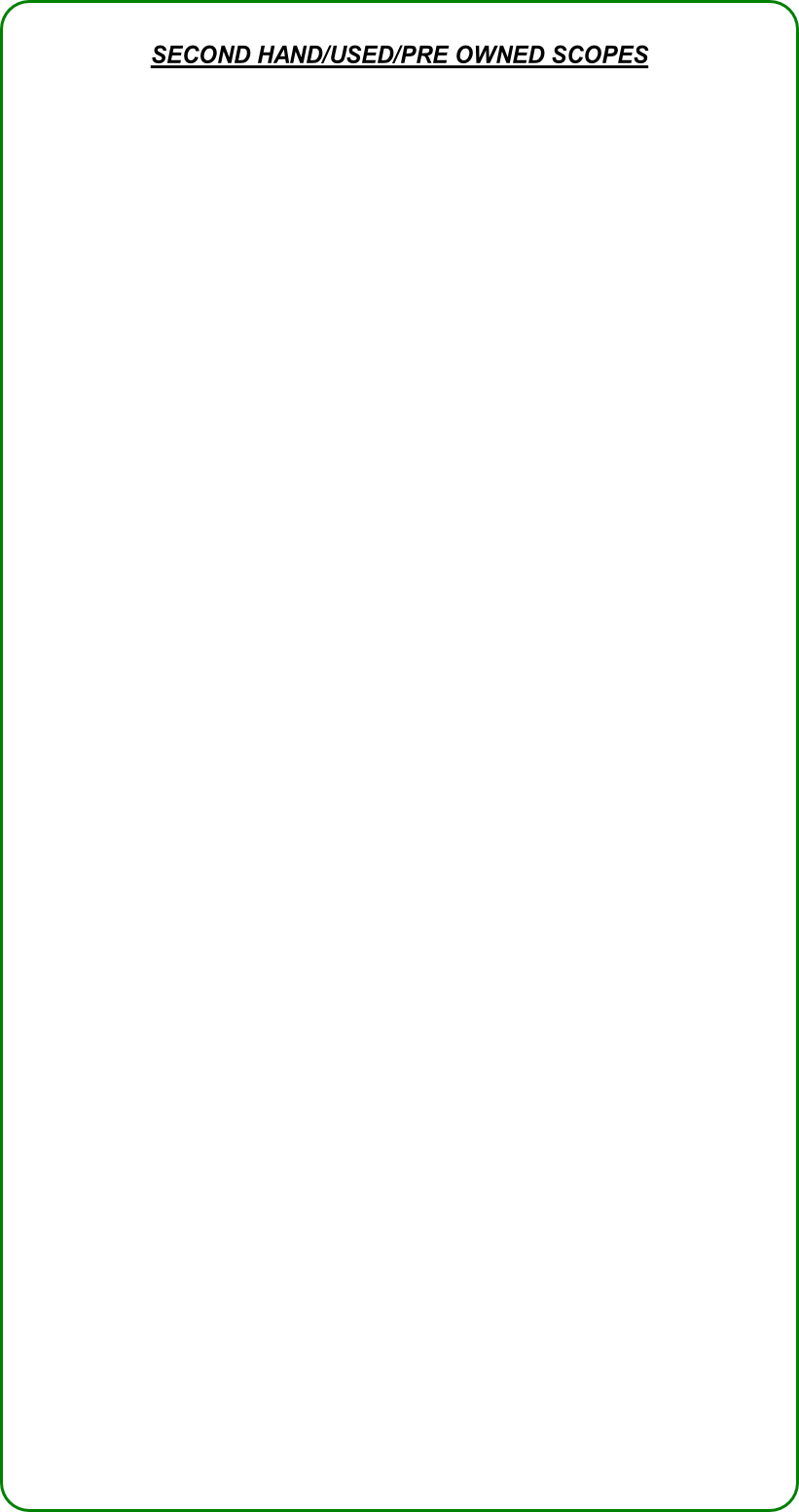 NIKKO STIRLING DIAMOND HUNTER 1 -4 x 24

WEIHRAUCH
Pistol scope. 2 x 20, very clear optics, supplied with 9-11mm mounts and scope covers.
BRAND NEW, WEIHRAUCH BRAND
£99.99

10 INTERCHANGEABLE RETICLES WITH PATENTED LCD TECHNOLOGY
A worldwide exclusive, patented by Konus, and the result of a decade long project of electronic engineering, this one-of-a-kind model is taking advantage of a patented LCD technology that will let you browse through 10 interchangeable reticles for long range shooting, intermediate use, tactical and hunting. This is therefore the most technologically advanced and the most versatile scope on the market, a true quantum leap that is finally bringing the optical industry into the 21st Century.
Specifications for Konus KONUSPRO-EL30 4-16x44 LCD Rifle Scope with 10 Interchangeable Reticles:
Magnification:
4 - 16 x
Objective Lens Diameter:
44 mm
Tube Diameter:
30 mm
Reticle:
10 Interchangeable
Eye Relief:
3 - 3.3 in, 78 - 85 mm
Exit pupil:
2.7 - 11 mm
Adjustment Type:
Mil Rad
Adjustment Click Value:
0.1 Mil Rad
Adjustment Range:
63.7 in at 100 yds
Field of View, Linear:
2.89 - 6.8 m at 100 m, 9.5 - 22.6 ft at 100 yds
Optical Coating:
Fully Multi-Coated
Battery Type:
CR2 Supplied and with a spare)
Waterproof
Shockproof:
Fogproof:
Length:
333 mm, 13.1 in
Weight:
23.39 oz, 663 g
Aluminium construction
LCD Technology, Locking Tactical Turrets
Konus KONUSPRO-EL30 4-16x44 LCD Rifle Scope with 10 Interchangeable Reticles: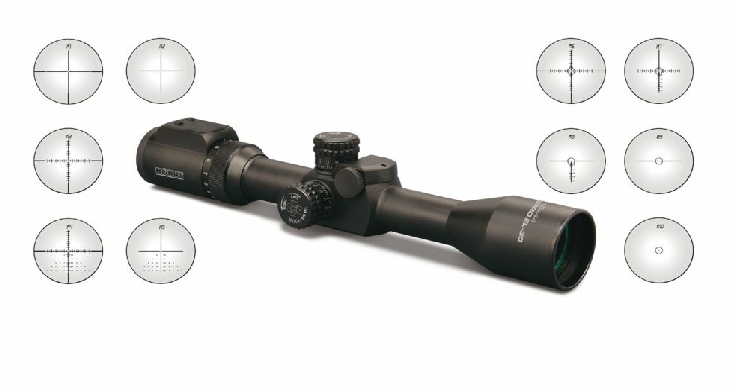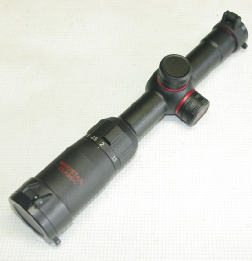 NEW WHITE TAIL CLASSIC SCOPES FROM SIMMONS
• Fully multi coated optics
• 1" tube diameter
• Tool-less turrets
• Long eye relief
• Water and fogproof construction
• Shockproof construction
• Flip up scope caps
• Blackgranite finish
• Truplex reticle




NIKKO STIRLING TIARA 4 x 28

NIKKO STIRLING GOLD CROWN
SCP31 - NIKKO STIRLING GOLD CROWN 3-9 x 40, good condition, made in late 1990s..
£38.00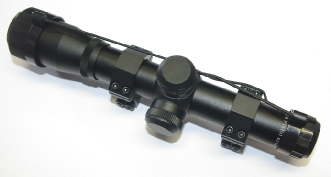 AGS COBALT 2 x 20 PISTOL SCOPE
22mm double screw match mounts, duplex reticle, long eye relief for pistol use, vobalt lens coating, PCP and gas ram rated, fast eye focus. Brand new
£48.00
30mm tube for superb light transmission, 4 dot reticle, illuminated for excellent low light shooting, nitrogen gas filled to prevent misting during temperature changes, 5 levels of red and 5 levels of green illumination, tinted lenses for maximum clarity. Windage and elevation adjustments are sooo smooth! As for the optics, on 1x mag it looks like there is no glass in there, its that clear! A really high quality unit.
£119.00

SCP25 - Nikko Stirling Gold Crown 4 x 32 compact, very good condition, the front flip up cover dont work properly it dont hold quite closed, and feels a little bit loose, you may be able to fiddle and fart around with it until it works, Optically the scope is superb. About 200mm long. £44.00 SOLD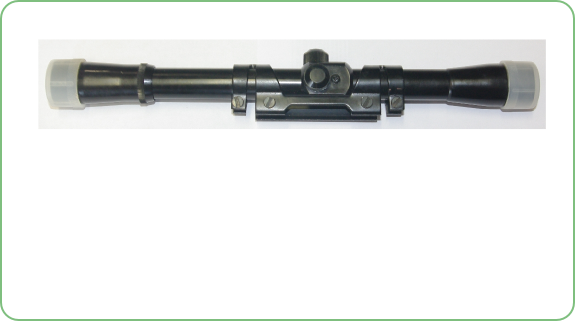 SCP26 - ASI 4 X 20 JAPANESE SCOPE, NUMBER 9 POST RETICLE, NEAR NEW CONDITION, 1970S OR 80S
£20.00
SOLD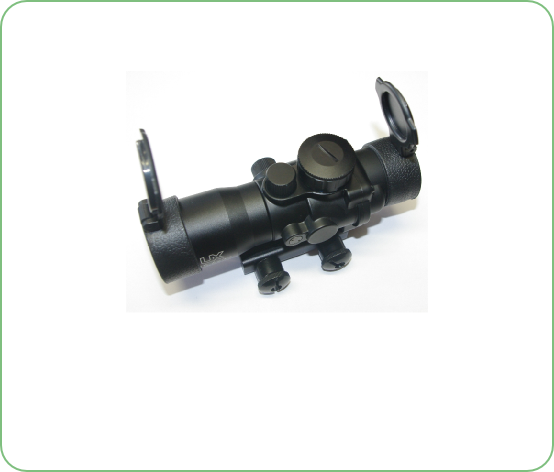 UMAREX RS 4 x 32 SHORT RIFLE SCOPE
Red green and blue dot with adjustable intensity, four times magnification, flip up covers, picatinny mount. Very clear optics, short eye relief (1-2") Brand new.
£69.00
SOLD


SCP32 - Japanese made in 1980s, 3-9 x 56, very good optics, some cosmetic damage.
£55.00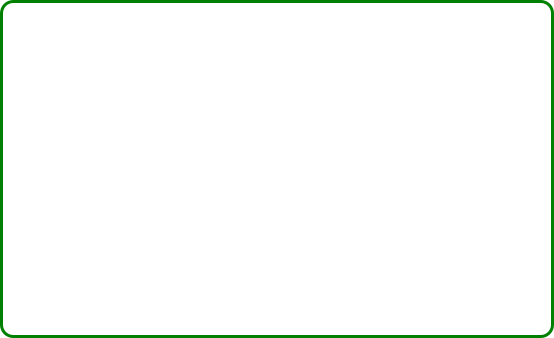 PECAR BERLIN 4-10 x 45
German made 1960s or 70s, used in very good condition, some paint loss to turret covers, fitted with German post reticle with changeable cross hair reticle assembly in original packaging. Superb clear optics.
£285.00 SOLD
1970s Japanese made, good optics, in very good condition.
£45.00

SCP13 - Nikko Stirling4 x 40 early illuminated dot scope, Japanese made, good condition, c1984 made. £70.00 SOLD

10 x 42 mildot. Boxed as new, excellent HFT scope, with sunshades and metal flip up covers. Also has parallax sidewheel adjuster (not shown in photo) and cleaning cloth and it also has illuminated red and green.also with various tools
£220.00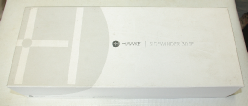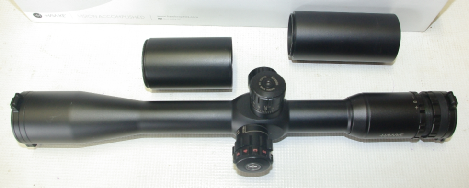 SCP33 - APOLLO 4 x 32 Japanese made 1980s, gloss finish, good optics and flip up covers and mounts. £45.00
SCP34 - HAWKE 6.5 to 20 x 42, half mildot sidewinder with mounts.very good condition no packaging. £230.090




NIKKO STIRLING PLATINUM 3-12x56 IR
Stunningly clear optics, green film lens, 30mm tube, floating reticle that is illuminated in 11 different brightness levels, sun filter built in. Used, in excellent condition.
£130.00


SCP35 - Apollo 3 star 3-9 x 40 Japanese made. 1980s matt finish, good condition, nice clear bright optics £55.00

SCP36 - TASCO SILVER ANTLER 4 x 40 gloss finish, some scratches to body, with covers. £28.00
SCP37 - BUSHMASTER 2.5 x 32 pistol scope and mounts, very good condition 1980s/90s a usable pistol scope. £40.00

SCP38 - APOLLO 2 star Korean made 4 x 40 good optics very good condition, with covers 19809s rubber rim missing from eyepiece. £30.00

SCP39 - Apollo 2 star (Korean made) 1980s gloss finish, fair condition, some scratches/wear, with period one piece mount. £42.00



DISAPPOINTED BY AUCTION SITE SCOPES?
GET A LOAD OF THIS…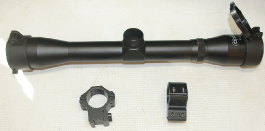 This is the Richetr Optik 4 x 32 scope. A stunning performer, substantially built with flip up sights and supplied with decent two screw mounts to fit on an air rifle. The reticle is a mil dot type which has zero points on the X and Y axis to allow for variable range and cross wind allowing compensation on the fly. A stunningly good buy.
£29.99 collected from our shop
£34.99 posted (UK only) or 2 for £64.00 posted
PHONE TO ORDER
01243 827500

You can also place order via Paypal

You can also place order via Paypal
Phone to place order
01243 827500

• Magnification adjustable from 1.2 times to 6 times
• 30mm tube for enhanced performance
• Fast magnification adjustment
• Full range focus ring for all eye types
• Flip up covers
• Compensation adjustments for windage and elevation, can easily be reset to zero point
• Tactical finger adjustments can be adjusted wearing gloves.
• Electronic reticle illumination select red or green, variable brightness
• Supplied with sun shade tube and adjustment locking key
• Available in black or bronze finish
• SUPERB PERFORMANCE FOR PRICE
£99.00


THE T-EAGLE HAS LANDED!!!
A SUPERB NEW GREAT VALUE SERIOUS SCOPE
T-EAGLE 1.2 to 6 times magnification with 24mm lens
• Ideal for air soft sniper rifles and bull pup air guns etc •
IN STOCK NOW
PHONE TO ORDER OR CALL IN TO OUR SHOP