© Copyright Protek Supplies
This is a guide as to what we have in our supplies area. It is updated frequently but if you don't see what you want, or you would like more details on anything, feel free to phone us. You can send an email but phoning is usually quicker.
Great airgun shooting starts here...
This is our shop! It is small but we fit loads inside it from army surplus clothing, boots, military camping equipment, air guns,air pistols, pellets, targets, telescopic sights,gun bags, swords, knives, and much more.
We have everything for the keen air rifle or air pistol shooter, whether your'e a beginner or more seasoned pro, including pellets, targets, bags/cases, cleaning kits and, of course, many spring, gas and pre charged air rifles and pistols. We stock both new, second hand and collectibles.
Our range of collectible, antique air rifles and air pistols changes constantly. Phone us or visit our shop to find out what we have at the moment. We look forward to hearing from you soon.
THUNDER FLASHES, BB GRENADES, PAINT BALL GRENADES, SMOKE BOMBS.....
Fragmentation grenades (pull pin or top strike), thermobarric grenades, flashbangs, smokes (large or small)
The Complete Perma Blue Liquid Gun Blue Kit
Easy to use PERMA BLUE liquid gun Blue is the proven way for touching up or completely reblueing most guns. The fast acting liquid gives a non-streaky, uniform blue-black finish to steel. This kit has a generous supply of everything you need to do several "firstclass" jobs. A complete instruction guide is included. Also included is a couple of "shoot n c" targets that show the pellet impact point perfectly.
In stock now at only £19.95
[] Perma Blue Liquid Gun Blue
[] Complete instruction guide
[] A couple of "shoot n c" targets
We stock a good range of pyrotechnics including pull pin fragmentation grenades for air soft skirmishing, paint ball games or for pure entertainment!!! Good stock available for immediate sale (to over 18s)
This is a selection of air guns we have on display. Spring powered rifles start at around £30. If your'e after something with accuracy we have many new models from Webley, BSA, Edgar bros, Air Arms and more. We now stock a comprehensive range of air rifles from SMK (Sportsmarketing).Chinese made to high standards the XS range offer superb performance with VERY competitive price tags.
We have a range of air cylinders for use with pre charged pnuematic (pcp) air rifles. All the cylinders are within test date unless otherwise stated.
Air Cylinders for precharged air rifles
PULL PIN RANGE INCLUDING 60 SECOND SMOKE GRENADES IN STOCK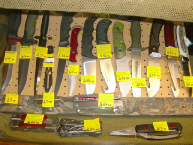 Knives. Our selection is enormous. We have folding blades, fixed blades, multitools, machettes, bayonets etc etc. We sell the best quality knives from companies such as Buck, Kershaw, Gerber, Leatherman, Opinel, Joker, as well as lower cost brands where cost is more important.
PELLGUNOIL
Made exclusively for use with high compression CO2 gas and air gun seals, moving parts and pump actions.
You would be amazes by the amount of CO2 leaks we have repaired with this by just putting a drop on the neck of a CO2 capsule.
£3.99
TW25B
Lubricant, Protectant
For use on bolt actions, bore and all metal parts. Reduces malfunctions due to friction, debris, and temperature extremes (-95F to +450F) Provides the ultimate in corrosion protection and significantly reduces carbon build up making cleaning faster and more effective. Supplied in 43g tube, made by MIL-COMM products USA
£5.00
Phone up & order it
01243 827500
Quick & easy

PERMA BLUE liquid gun blue also available separately £9.95