© Copyright Protek Supplies
Phone up & order it
01243 827500
Quick & easy
ROSS SOLAROSS English made binoculars, 1964-75, good image quality, 15 x 40 optics used £45.00
8 x 30 binoculars, made in Kong Hong, coated optics, image is a little milky but the images converge accurately making them fully usable. Not bad, not bad, and they come with a leather carry case. £15.00
To get an idea of scale they are about 15cm wide (6") (half a foot)

BINOCULARS
We have new and used binoculars and monoculars in stock, a small selection of them is shown here
FOR MORE DIOPTER SIGHTS, RED DOT SIGHTS and PEEP SIGHTS SEE OUR PAGE
PARALLAX ADJUSTMENT SIDE WHEEL
To fit a knob of 32 to 34mm diameter
£12.00
Photo shows both sides of the same wheel. So you get 1 wheel for twelve quid.
Bisley 3 - 9 X 40 SCOPE
Good clear image, adjusters working, 2 piece mounts, turret caps are a bit scratched, caps have done their job of protecting the scope.
£35.00
M253 - Sportsmatch made mount, manufactured with cut out of side for Falcon rifle, allen screws at side, flat blade screws on top, used good condition £15.00
M254 - Anodised finish mount manufactured with cut out at side for bolt action rifle, used good condition, allen screws at side, flat blade screws on top £15.00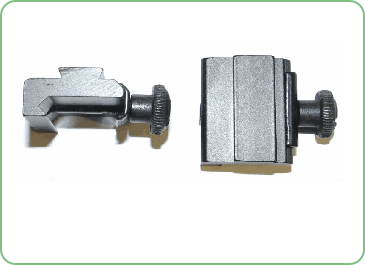 DIANA scope, 3 x magnification, not good optics, very early technology where the tube moves via adjustments on the outside. Mounting bracket is not complete.
£8.00
SCOPE TORCH/ACCESSORY MOUNT
Mount a torch or laser or something else on your telescopic sight with this intermount. The centre clamps together to hold a tube up to about 15mm to a scope up to about 30mm.
£4.95
PISTOL SCOPE, NIKKO STIRLING, SILVER CROWN
2.5 x 32 silver finish, used, excellent condition, no lens covers.
£40.00
SIMMONS WHITETAIL CLASSIC 3.5 - 10 x 50
• Stunning optics
• Made in Philippines
• 1" standard tube
• Blackgranite finish
• Multi coated lenses
• Waterproof
• Fog proof
• Shock proof
We don't think these are manufactured anymore so get one while you can!
£179.00
BISLEY 4 x 32 and 1 piece mount, Korean made, good optics, good condition.
£30.00
SEAGULL scope, 4 x 28 Stunningly clear optics able to resolve a gnat at 5 miles with extreme clari.....not really. One of the worst optics we have seen and the construction is very poor. The cross hairs are wavy but do cross in the middle. These were supplied free with the SMK B45 pump up rifle some years ago. Has mounts fitted, end caps are present. Boxed.
£8.00
BUSHNELL 4 x rifle scope (70-3000) with box, 1960s made, the mounts are not the original ones but do work. One turret cover cap is missing. £35.00
DIGITAL NIGHT VISION
GUN MOUNTED
6.5 x magnification, can be used in day or night, built-in laser/led infra red illuminator, selectable electronic reticles, video output. Made by Yukon £419.99
DIGITAL NIGHT VISION GUN MOUNTED
Can be mounted on gun or used hand held, built in illuminator, laser dot projector, hand held is 3x magnification, gun sight is 1.5x magnification. £339.95
DIGITAL NIGHT VISION GUN MOUNTED
M294 - This pair of adaptors allow a scope with 9-11mm (airguns) to fit to a weaver/picatinny rail. £14.00 pair
We were really impressed by the optics in this scope, the colour rendering is spot on and the image crystal clear. Really solid mounts for 9-11mm air gun. No dust caps though.
£40.00
OPTIMATE 4x40 Japanese very clear optics, boxed as new (was £124.95 when purchased new).
£70.00
Heavy artilliary scope, very solid construction, have tried to photo through the lens so you can see the markings (photo right).
£20.00
KONUS AS-34 2 - 6 x 28 ZOOM
• 34mm tube
• Illuminating level bubble
• Fully multi coated lenses
• Engraved mil dot reticle
• Lockable tactical turrets
• 1/4" MOA adjustments
• Red/blue illumination
• Dual mount for 7/8" and 3/8" rail
• Lockable turrets
• Set reticle illumination to any level
• Flip up covers
• Sturdy construction
£140.00
Paralax adjustment, Korean made, very good condition, good build quality, good optics with 2 piece mounts from early 1980s. £42.00
This very nice quality well made scope was purchased by us as a sample from a Chinese company however we decided not to go ahead with the importation. It is a slightly unusual specification being 2 to 12 times mag. Parallax adjustment on the side, illuminated centre dot, very nice quality optics. Would make a great HFT scope set on 10 times mag although its not a mil dot reticle which is part of the reason we decided not to import them. Nice low profile adjusters will also be a great hunting scope. Was £245.00 now reduced to £170.00
HUNTER 4 x 40, Japanese made 1980s, wide angle TV screen, high see through mounts, great optics. A few scuff marks on the tube. £40.00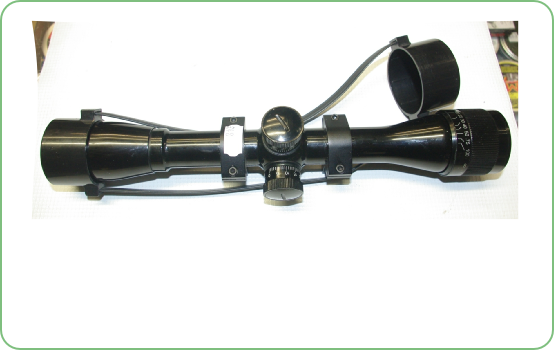 1.25-4 x 26 RHINO SCOPE
30mm tube really clear optics (we used to sell Rhino scopes until we ran out off them). Parallax adjustable, matt black finish.
£70.00 SHOP SOILED EX DISPLAY SOLD
£60.00 TINY DOT ON CROSS HAIRS AND MISSING TURRET CAPS AND LENS COVERS.
NIKKO STIRLING 4 x 32
Japanese made very clear optics, very good condition, model details are engraved on scope body, named lens covers, good quality 1970s with mediocre quality 2 piece mounts!
£48.00
VIEW OF NAMES LENS CAPS AS FITTED TO THIS SCOPE.
SUNSHADE
NIKKO STIRLING
50mm inside diameter, 130mm overall length. Used excellent condition.
£10.00
KONUS 2 - 7 x 32 ZOOM RIFLESCOPE
• Adjustable magnification 2 to 7 times
• 30/30 engraved reticle
• Finger adjustable turrets
• Supplied with mounting rings
• Waterproof, shockproof, fogproof
• Multi coated optics
£68.95
WEBLEY SPEED POINT
As new in original pack, 1990s vintage. £25.00
So you have this scope, red dot or laser that will only fit on to a weaver mount.
This adaptor allows you to fit a Weaver mounting device on to an airgun rail (9-11mm standard). Brilliant.
Top and bottom are shown in the pictures above.
Overall length is 132mm
£5.00 plus £3.50 post.
Part number M373
CARL ZEISS
JENA
7 x 50
Working, exceptionally clear image as you would expect.
Really nice quality in nice leather case. An RSPB strap has been added.
£155.00
Stock Number 3976
M374 - Anshutz rubber eye cup to fit an Anshutz dioptor sight. Perfect condition. 24mm inside diameter.
£8.00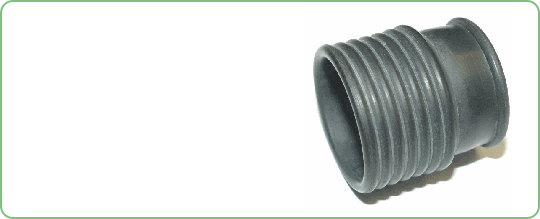 MTC GENESIS 3-9 x 40
Superbly clearly optics. No lens caps. With high quality mounts 9-11mm
£140.00


BSA 4 x 20
Japanese sliding mount good optics. Some loss of finish to part of tube. £18.00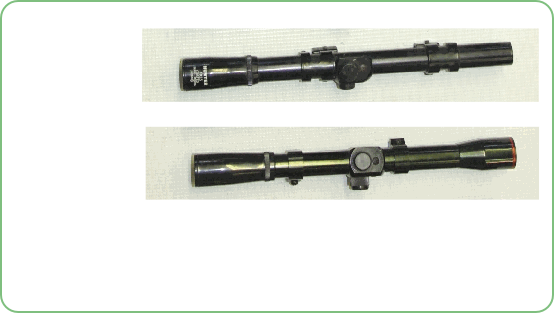 BSA 4 x 20 Japan 1960s £15.00
WEBLEY 4 x 20
1980s/90s
£10.00
NIKKO STERLING TIARA 4 x 20
Japanese c1960s
£24.00
BSA 4 x 20
Japanese, post reticle, 1960s/70s
£20.00
BSA 4 x 20
Japanese, non central (replacement?) cross hairs.
£12.00
BSA 4 x 20
Japan 1970s
£14.00
BSA 4 X 15
Japanese 1960s
£10.00
GUNMARK 4 x 20
Japanese, 1970s
£10.00
HUNTER 4 x 15
Japanese 1970s
£15.00
SIMMONS 4 x 20
1990s
£8.00

MTC OPTISAN VIPER 8-32 x 60
Illuminated reticle, side parallax adjustment and Sportsmatch mounts Good condition, works perfect. No lens caps, or instructions. It is boxed.
Stock number 4036
£280.00
IS THIS A DIGITAL NIGHT VISION OR A LASER RANGE FINDER OR A DIGITAL COMPASS OR A PITCH ANGLE READ OUT OR A THERMOMETER OR A PRESSURE READER?
ITS ALL OF THESE.
Laser range finding to 500 Metres, 6 x 32 optics night vision and 4x digital magnification all in one small hand held unit that is easy to use.
Screen overlays information such as distance, pitch angle, direction, air pressure, temperature. Only 175mm long ideal for hunting, fishing, wildlife and security personnel.
£345.00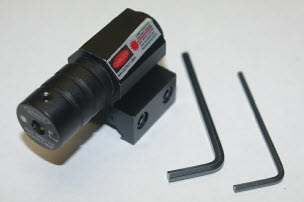 Fits in seconds to any Weaver type rail as fitted to some pistols, air soft rifles and paintball guns. Adjustments for windage and elevation. Switch on back of laser. Supplied with battery. Powerful red beam.
£12.00 plus £4.00 shipping

CARL ZEISS
Binoculars. 10x50, stunningly clear image, fully working, in leather carry case.
£150.00

AKAH SPOTTING SCOPE
20 - 60 x magnification, angling swing view eyepiece.
Cased as new
£120
Stock code 4119
INCLUDES A NICE LITTLE FOLDING TRIPOD


• First focal plane design
• Engraved reticle in the forst focal plane
• Dual colour illumination
• 550-ballistic reticle with centre circle
• Spirit level built in
• Fast focus
• Precision ¼ MOA adjustments
• Mid sized parallax wheel (down to 10 yards)
• Fully multi coated optics
• Flip up covers and sunshade included
• Compact well made scope.
£369
OUT OF STOCK

BRAND NEW NIKKO STIRLING MOUNTMASTER ILLUMINATED ADJUSTABLE OPTICS 3-9 x 50, HALF MIL DOT.
Supplied with mounts for airgun (9-11mm standard rail)
£77.00

YUKON PHOTON
DIGITAL NIGHT VISION SIGHT
Works in day or night, built in infra red torch, adjustable brightness red dot centre reticle, variable digital enhancement control, video output socket, external power in socket. Runs on 2 AA batts.
Used but very good condition a bargain way to get in to night shooting (or day shooting).
Stock number 4132
£260
BSA PANTHER 3-10 x 40
Perfect working order but the rubber straps have perished. Nice clear optics.
£90.00
HAND HELD NIGHT VISION WITH SD CARD RECORDING BUILT IN
HAWKE NITE-EYE 2000

Used, no box or instructions but very straightforward to use. Has Li on rechargeable battery so charges from USB. Based on digital optics so can be used in daylight as well as night.
Stock number 4147
£148.00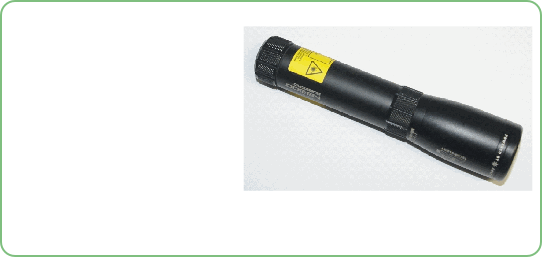 Laser torch, by LASER GENETICS model NS300.
Monochromatic green light in extremely tight green circle that is adjustable for size. Illuminates only the exact area you need to illuminate, no light overspill. Works down to -18c which is more than we do!!!
Used in excellent condition with box, instructions and switch on wire to put near gun trigger. Also includes gun mount.
Stock number 4146
£110.00
Overall length 15cm with a 1" tube


NIKKO STIRLING
4 - 12 x 50 illuminated reticle 12 levels including zero! With Sportsmatch mounts.
£48.00
SIMMONS AETEC
6 - 24 x 44 with mounts and Butler Creek covers. Very clear image
£70.00
BUSHNELL
4 x 32 in very good condition with good quality lens covers and mounts.
£48.00
WEBLEY 4 x 15 telescopic sight
In its original box, a few scratches to scope but perfectly usable.
£18.00


This really nice old blued steel bodied scope is in good condition but of uncertain vintage. Could be early 1960s. It is a Weaver B6 scope made in El Paso Texas USA but fitted with some Winchester branded scope mounts, the rear one of which is adjustable for windage and elevation. Fits approx 10mm scope rails but there should be a good bit of adjustment in the mounts. The image is quite clear for a thin scope of this type, cross hairs complete and unbroken.
£50.00



HAWKE AIRMAX 30 SF - 3 - 12 x 50 SF - illuminated reticle, 3 to 12 times zoom, easy adjust turrets, side wheel (included), flip up covers, lovely clear optics, field of view 10.3-2.8m, 30mm tube, 102mm eye relief,346mm long. Used, boxed as new condition with instruction book, cleaning cloth etc. £210.00

RHINO 4 x 32 scope - Quote from shop keeper "wow, never seen a scope so *** clear to look through, WOW" (or words to that effect!) All it does is make the image bigger. We did not notice any colour change or aberrations of the image it was just BIGGER (plus the important cross hair is there). Used, really nice condition, with lens caps.
£35.00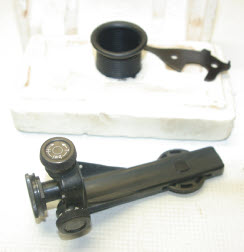 DIANAWERK DIOPTER 60 - Near new condition, fully working, with eye cup and tool. Made i Germany. Original polystyrene box.
£84.00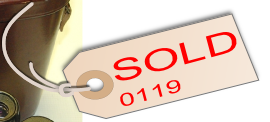 KONUS 4-16 x 52 ZOOM - From 4 to 16 times magnification, engraved reticle on the first focal plane, dual colour illumination, 550 ballistic reticle with centre circle, level bubble, fast focus ocular, precission 1/4 MOA adjustments, mid sized parallax wheel (down to 10 yards) fully multi coated optics, flip up covers and sunshade included. Used excellent condition £240.00 Stock number 4206
PAO 2 x 20 pistol scope - supplied with 9-11mm and Weaver type mounts. Second hand new condition boxed with instructions. £28.00

RHINO 2.5 to 10 x 26 FIRST FOCAL PLANE
30mm tube no mounts supplied, standard 30 30 reticle, illuminated reticle, very clear optics. Boxed in as new condition.
£89.95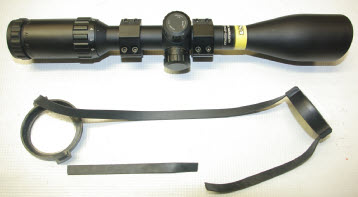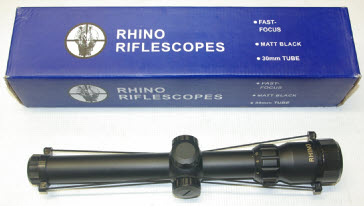 CLULITE GUN LAMPING KIT GL8
Battery pack, mains charger, 12V charger for car fag lighter socket, red filter attaches easily to gun mounted high power halogen bulb lamp with in line power switch. Used perfectly good, made in Petersfield England.
£50.00
BSA RS1 reflex sight - Not working, the perspex tube is missing so no reticle visible (well it is JUST) . Boxed with instruction sheet with exploded diagram, sold as model only £7.00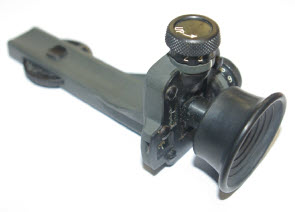 M431 - ORIGINAL/DIANA DIOPTER SIGHT circa 1970s made, as fitted to models 67 and 75. Very good condition, detachable rubber eye cup.
£82.00