© Copyright Protek Supplies

LATER TORNADO/SUPER TORNADO
R54 Trigger strut (pair) £4.00
R59 Front stock screw locking washer (pair) £2.00
R29 Front trigger guard bolt £3.20
R62 Trigger adjusting screw £2.50

For late Tornado, Super Tornado. model 527 fits any Relum rifle with trigger that is adjustable through the trigger guard. £12.00 Can be sent to an RFD only, you need to contact us before ordering.
OPEN SIGHTS, later models
R5 Rearsight elevation pin and circlip £1.50
R1 Rearsight blade/body £5.00
R2 Elevation adjusting screw £4.00
R3 Windage adjusting screw £5.00
R4 windage adjusting retaining screw £1.50
R6 Rearsight elevation spring £1.50
R7 Rearsight windage spring £1.50
R8 Complete rearsight assembly £16.00
R10 Front sight retaining screw £1.50
R11 Front sight hood £4.00
R17 Trigger guard (early type) £8.00
R18 Trigger guard (later type) £7.00
R19 Trigger unit pin £1.00
bulk deal on trigger guards 10 for £35
OPEN SIGHTS, Early models
These sights can also fit (or be made to fit) Webley Junior, Jaguar and Ranger, Milbro Diana rifles, Haenels etc and many small tin plate rifles with dove tails to accept them. Very useful when original parts can not be obtained or are very expensive.
R30 Rear leaf sight and adjusting screw £6.00
Bulk deals available 10 rear sights for £30.00
MODEL 527/427/522 (TAURUS/ZEPHYR)
R20 Breech seal (synthetic) £3.00
R21 STOCK - very good condition, slight surface marks due to storage, with trigger guard fitted. £26.00 SOLD
R24 Barrel detent latch £4.00
R25 Barrel axis bolt £6.00
R29 Front trigger guard bolt £3.20
R72 Cylinder end cap knurled £7.50

Late model Tornado/Super Tornado We can supply every part for this gun
R80 Rearsight retaining pin £1.00
R81 Under lever detent spring £1.50
R82 Under lever detent retaining pin £1.00
R41 Under lever retaining detent ball £4.50
R75A Length 180mm thickness at hole end 5.5mm. For older break barrel rifles. £9.50
R75B for LG15 late Tornado £8.00
R75C for 522/427 break barrel £8.00
R75D length is 72mm overall £3.50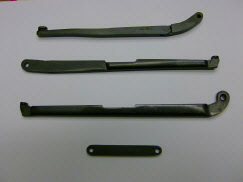 R26 Leather breech seal 822 £4 00
UNDERLEVER - TORNADO, ZODIAC and 322, (LG11)
R33 Loading tap .22 cal £12.00
R34 Loading tap retaining nut £4.00
R35 Loading tap tensioning spring £2.00
R36 Tap, spring and nut assembly £17.00
R37 Underlever axis bolt £4.50
R38 Underlever axis bolt lock screw £2.50
R39 Loading tap stop screw £2.50
R40 Cocking link axis screw £3.00
R41 Underlever retaining detent ball £4.50
R74 Rear trigger guard screw £2.50
R73 Cylinder end plug £7.50
R45 End plug retaining pin 4.3mm £2.00
R46 Cocking lever short link £2.00
R47 Front stock bolt £2.50 or 2 for £4.00
R49 Underlever with ball latch NO LONGER AVAILABLE
R48 Relum cocking link rejuvenation set - leaf spring, fixing rivet and synthetic bushing £3.00
R32 Cocking linkLeaf spring only £2.00
R79 Loading tap .177 cal (rare item, limited stock) £16.00
R88 - Loading tap washer £1.50 SOLD OUT


All parts available for RELUM 527 & 522 (Taurus/Zephyr

R86 - ALTERNATIVE POWER KIT
For Relum under lever rifles, Zodiac and early Tornado. Consists of new machined end cap, spring guide and new spec main spring designed to give maximum compression and smoothness. £22.50
R87 - ALTERNATIVE POWER KIT
For later Tornado, and Super Tornado and LG15V. Consists of Relum spring guide specially turned down to correct size and new spec main spring (B10) which is designed to give maximum compression and smoothness when used with this spring guide. £18 00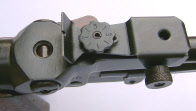 This is the late style rear sight unit R8. If your rifle is fitted with one of these it will have the later style trigger assembly.
This is fore sight unit for later Relum rifles. It fits on to two grooves which run along the barrel, we no longer have this assembly.
R90F - Front sight post for early Relum break barrels and under levers. Original Relum part, storage/use marks, £12.00 OUT OF STOCK
R90U - Unfinished so require you to provide the filing and bluing OUT OF STOCK
PROTEK SUPPLIES are the main source for Relum parts.
R50 - Mainspring set comprising Relum outer and inner springs. Made in UK to higher specification than original £16.00
R51 - Inner spring only £8.50
R51 - Inner spring only £8.50
POWER PLANT KIT
For .22 Relum Tornado
Restore the performance of your Tornado easily with this full kit of parts. You get the twin spring set, piston washer, rivet & spacer, loading tap and lithium grease.
Order part no R100 £32.00
This gives you a saving of £7 over buying the parts separately
~~~ Most parts in stock for dispatch usually same day ~~~
~~~ Flat rate postage charge of £3.50 (air guns £16.00 to send) ~~~
Air guns can not be ordered by Paypal. Phone us to place order using credit/debit card. Barrels, pistons and air guns later than 1939 can only be sent to a registered fire arms dealer. Postage rates shown for UK if outside of UK contact us first. 01243 827500

R102 - Trigger/sear spring for early type trigger mechanism £5.00
R103 - pin for early trigger unit. £1.20 for 2

R50 - Mainspring set comprising Relum outer and inner springs. Made in UK to higher specification than original £16.00
Phone up & order it
01243 827500
Quick & easy
R105 - Front trigger guard bolt and trigger adjusting screw, complete assembly Fits ealy Tornado, Telly 200, Zodiac, 822, LP29, Sport, Repetier £7.50
R58 Front stock screws sold as a pair £2.25 for the pair
R58 Front stock screw £1.50 or 2 for £2.25
R107 - Underlever retaining block, used good condition with pins £14.00
R109 - Detent retaining catch £3.00
R110 - Grub screw for detent retaining catch GRUB SCREW ONLY £1.50
This is a piston from an early Tornado. We may have one in stock, you need to contact us on 01243 827500 for availability. Can be sent to RFD or you can pick up from our shop.
R31 Rear leaf sight adjusting screw only £1.00
R111 Spring guide, synthetic construction with power washers. For use when using single spring upgrade. £8.00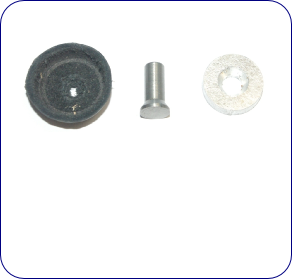 PISTON WASHER RIVET & SPACER
R96 Leather piston washer £6.00
R16 Buy all 3 parts and save £3.00 piston washer, rivet and spacer £10.00
R116 - Cocking link, early Relum Tornado. Used very good condition £18.00


R117 - Early Relum piston, very good condition and rejuvinated and lubed piston head assembly.Can be sent to an RFD only, you need to contact us before ordering. £25.00