PRECHARGED PNEUMATIC RIFLES Phone up & order it
01243 827500
Quick & easy

© Copyright Protek Supplies
Our stock changes continuously so please check before travelling.

We usually have more than what is shown here in our shop. Call in and see us.
THE HATSAN GLADIUS PRE CHARGED RIFLE
10 shot magazine fed, .22 calibre bull pup hunting gun that is compact, powerful accurate and quiet thanks to its shrouded barrel. The butt pad is fully adjustable for perfect fit which makes for perfect shots. Storage under the butt for 3 extra pellet magazines giving you instant access to 40 bang on shots. Plus accessory rails for lights, lasers, cup holders and lip stick holders!
Supplied with 4 magazines, sling, fitted case and filling adapter. £599.95
AVAILABLE TO ORDER
NOW IN OLIVE DRAB VERSION

• Rugged all round model
• Durable Varmint thumbhole stock
• Form fit and force-fit barrel lock for constant precision
• Smooth, quiet and vibration free shooting
• High capacity bottle
• Durable ABS stock
• Excellent German engineering
We have scopes, pellets, bags, cases, targets, cleaning kits and more.


SERIOUS TACTICAL AIR RIFLE...
HATSAN AT44 PRECHARGED 10 SHOT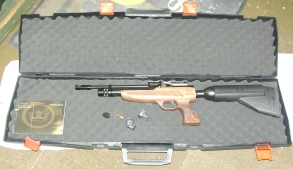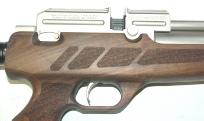 Supplied in a good quality hard case.
KRAL NP-02
This must represent the best value PCP rifle we have ever encountered. It is a really nice quality well made item with a good quality Turkish walnut stock. A large capacity buddy bottle gives 160 shots before you need to refill. A gauge lets you keep watch on air level. Supplied with 2 magazines, silencer and a single shot pellet tray. It shoots at 11.4 foot pounds, a power adjuster allows lowering of the power for shorter range and more shots from a fill. A nice positive side lever mechanism on left side for comfort in cocking while holding the rifle. The scope rail takes 9-11mm dovetail or weaver mounts. Compact and powerful, a uniquely good rifle to hold and shoot.
We have it in .177 and .22
Both calibres £379.00
KRAL ARMOUR PCP RIFLE
• 14 shot magazine fed
• Storage for a second mag (1 supplied)
• Can also be used single shot
• Side lever cocking
• Air gauge
• Tactical futuristic look
• Adjustable cheek piece
• Compact
• Great build quality
• Highly accurate
• Metal frame
• Power control device
• We supply with a 3-9x32 illuminated scope & mounts
• .177 calibre
£540.00 includes the scope and a quality hard carry case.

THE NEW BSA DEFIANT BULLPUP REGULATED PCP RIFLE IN STOCK NOW
• 10 shot magazine
• 110 shot count per air fill
• 2 stage fully adjustable trigger
• Sturdily built
• Walnut stock
• Enhanced cold hammer forged barrel for ultimate consistency and very low noise.
• Built in sound moderator
• Manual safety catch
• Supplied with 2 pellet magazines, really nice quality carry case and air filling adapter.
SUPPLIED WITH 2 MAGAZINES
SCOPE SHOWN FOR ILLUSTRATION AND IS NOT INCLUDED IN THE PRICE. ALTHOUGH WE DO SELL THEM AND CAN FIT THEM.
• 14 shot (.22 cal) 12 shot (.177 cal) magazine loading
• Walnut stock
• Magazine with index
• Adjustable trigger pull
• Weaver scope rail
• Quattro trigger
• Safety catch
• Air fill pressure gauge
120-140 shots on an air fill
730mm long, 3.45kg weight
We have black finish (shown above) in .22 calibre and silver finish in .177 calibre, both are priced at £379.00
WE NOW HAVE THE "BIG BORE" (.25) CALIBRE IN STOCK, WITH 3X TEN SHOT MAGAZINES
(NO MODERATOR SUPPLIED)
VERY FEW I.25 IN THE COUNTRY SO GET ONE NOW

This nicely made British built PCP air gun is in good condition retaining most of its original finish. The stock may have been refinished we think it has its got some nice grain we still think its beech. Although it gives a good impression of walnut. Fitted with an SMK 3-9x40 mildot scope and a moderator. Shoots at 11.5 foot pounds with RWS Superpoint pellets. Would make a good junior target rifle or hunter. No nonsense bolt design, no magazine needed just put pellet in and shoot. Simple and effective.

NOW SUPPLIED WITH A SILENCER/MODERATOR

S510 CARBINE ULTIMATE SPORTER
This superb hunting or target rifle is in excellent near new condition . We understand it has been fitted with a lane regulator and also a modified two piece hammer. It shoots very nicely. Supplied with its filling adapter, one 10 shot magazine and the parts that were removed from the rifle before the modifications. Fitted with a Hawke sidewinder 4 - 12 x 52 scope.

THIS ITEM IS NOT ON DISPLAY IN OUR SHOP, PHONE TO ARRANGE TO SEE IT.

This is superb classic air rifle in a league of its own as far as PCP rifles are concerned. This example is fitted with a Gary Cane custom stock, a Weihrauch silencer as it works better than the Theoben ones. Also has the Anschutz trigger unit as opposed to the standard Gamo type. Fitted with a suede cover for the buddy bottle and with fixed scope mounts. Shoots at 11.23 foot pounds using Accupel pellets, slightly higher with a heavier pellet. Also supplied with a Doctor Bob buddy bottle sling swivel mount and 17 shot .177 magazine. I excellent condition we understand this has recently had work done on it by Ben Taylor but there is no paperwork for that work.


This high quality, Swedish made rifle is in excellent condition, a couple of small scratches to the surface finish of the air cylinder but otherwise all fine. Fitted with a very nice quality BSA Panther 3 - 10 x 40 scope and a very effective moderator, with 2 magazines that hold 8 pellets each, and a filling adaptor. FX rifles are very expensive when new but very well mad and this example is being offered much lower than the price of a new one. It would make a very nice hunting rifle.


Swedish made pcp rifle in excellent condition. Metalwork is a nice glossy black colour, the stock is superb. Hand cut, sharp checkering and a beautiful piece of walnut. 7 shot magazine, fitted with a Simmons 3-9 x 40 scope and a carbon fibre screw off silencer, filling adapter included. A very nice quality rifle. Made, we believe, by Axsor in Sweden, a company having links to the current FX air guns company.

English style, but Made in Germany: The new WALTHER ROTEX RM8 is a pre-charged air rifle for hunting and for leisure-time shooters. The repeater features an 8-shot rotary metal magazine, capable to hold all kinds of pellets up to 9 mm length. The RM8 is available in .22 with .177 available to order. The barrel was made by Lothar Walther, with a 1/2" UNF thread for a silencer. In 16 Joules the integrated tank delivers up to 180 shots. It has an air gauge built-in.
£459.95


The BSA Ultra SE provides top spec' performance and unique handling qualities in a stylish, affordable package. Perfectly balanced and designed for fast target acquisition, the Ultra SE is purpose built to take your sporting shooting to an exciting new level. It's a lightweight stalker, a super-compact ratter, the ideal hide-hunting rifle and much, much more. It's the BSA Ultra SE – a genuine mini-supergun!
.177 £439.00

Fully regulated PCP rifle achieving consistent and dependable accuracy.
Increased 280cc detachable buddy bottle delivering up to 340 shots per fill.
Adjustable butt pad.
Adjustable Soft Touch covered wooden cheekpiece.
Fully adjustable 2 stage trigger.
Pressure gauge and "on rifle" quick fill system.
.177 in stock, .22 & .25 calibres available to order
@ £799 rifle only.

SPECIAL DEAL
WITH HIGH QUALITY GUN BAG, SUPERIOR JSB PELLETS AND BSA 3-9 x 40 SCOPE
ALL FORONLY
£899.95
The Spitfire is an innovative design of pre charged air rifle. They are cocked by simply breaking the barrel a little bit putting pellet in and closing the barrel and gives a good accurate recoilless shot. This example is in fairly good condition but with some minor surface marks the finish of the wood work. Fitted with a sound moderator and a Hawke 4x32 scope. Also supplied with a filling adaptor which allows the fitting of a normal pump or bottle. Fully serviced, this is in good working order. Would make an excellent hunting rifle.
Stock number 4001 Calibre .22 £285.00