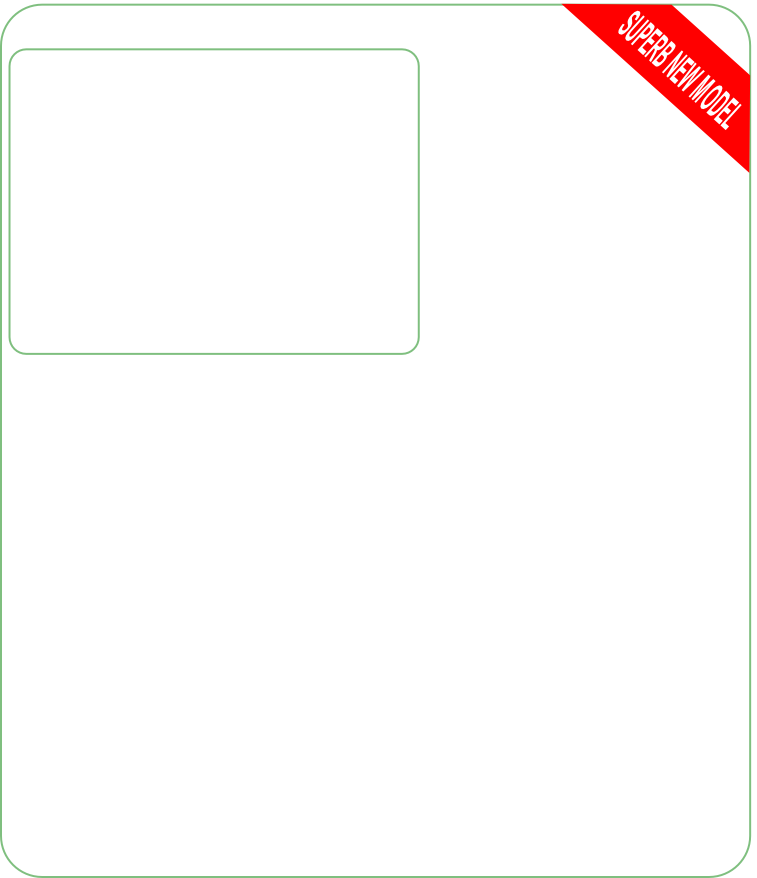 Air rifles & pistols
You are on the red highlighted page
MAIL ORDER INFORMATION
Items that are shown with a blue envelope can be either purchased from our shop or you can have them delivered directly to your home address.
Items where no envelope is shown can be purchased from our shop or you can have them sent to a registered fire arms dealer near you, and you collect it from them. To order an item from us phone 01243 827500
Phone up & order it
01243 827500
Quick & easy
Important- This is a guide only to the range of co2 pistols we stock. We cannot guarantee to have all these models in stock all the time but we can guarantee we have more models in stock than we show here. Please contact us before travelling if you have specific requirements. 01243 827500
The pistols shown on this page are powered from little CO2 cylinders which are cheap and disposable. Some of the pistols offer single action or double action shooting, all of them are great fun to shoot.
CO2 powerlets are available for 80p each or in packs of 12 for £8.00
or 50 for £26
© Copyright Protek Supplies
BERETTA 92
8 shot pellet magazine, supplied with 2 magazines, high quality German pellets, CO2 gas and fitted carry case. Very accurate shooting, single or double action trigger.
£219.00
COLT DEFENDER
All metal, 16 shot magazine for steel bbs
£84.95
CROSMAN 1088
8 shot
£79.99
CROSMAN C41/P38 WALTHER type
18BB clip
£89.99
SIG SUAER
Semi auto BLOWBACK PELLET firing, .177 rifled barrel, steel construction. Single/double action trigger. Available in all black or olive body with black top slide.
£99.99
GAMO GP20
Semi auto, steel BB, 122m/s velocity, 20 round mag, rear fibre optic sight and white dot sight. Japanese made to a high standard.
£54.95
DAN WESSON
6 shot, metal bbs, CO2 powered.
£139.90
Also in rifled at £159.00
UMAREX
WALTHER CP88
8 shot CO2 powered pistol with single or double action trigger. Cased with two magazines.
£229.95
SMITH & WESSON
Model: M & P
Metal slide, drop out clip holds 19 metal bb rounds, CO2 powered, accessory rail and easy load system.
£74.95
HAMMELI AP40 TARGET PISTOL
Pre charged pneumatic target pistol with a choice of small or medium size grips ideal for junior or ladies however the medium grips fit big hands. Superb price, limited quantity, highly accurate, right handed, .177 cal, German made, with deluxe carry case.
£799.99
The CP1 pistol (detailed above) is capable of vermin dispatch up to about 15 metres. This kit comprises CP1 CO2 powered pistol fitted with a highly effective sound moderator and a fast target acquisition, multi reticle holographic dot sight. In neat carry case for self containment.
£199.00
CP1 dispatch kit, cased and ready to go. (Lid not shown but there is one!!
DAN WESSON 715
6" revolver
• Full metal construction
• Comfortable rubber grip
• CO2 tool in grip
• 6 shot rotary action
• 6 shell speed loader included
• Up to 3 Joules power
• Rifled barrel, pellet firing
£179
CROSMAN VIGILANTE
10 shot revolver that fires steel shot or lead pellets. Great value and great fun. 6" barrel.
£83.99
WEBLEY MARK VI SERVICE REVOLVER
Replica of the original fire arm, CO2 powered fires 6x 4.5mm steel ball bearings loaded into the shells that remove from the cylinder. Great to shoot and to own. Highly realistic and really well made in metal with plastic grips.
£199.00
BAIKAL MP654K
Black finish, CO2 powered 4.5mm BB firing hand gun, rifled barrel, this shoots lead BB with good accuracy. Field strips and comes with bbs.
£164.95
COLT 45 PEACEMAKER
6 shot revolver, full metal construction, shoots 4.5mm bb, CO2 powered, highly authentic. We have it in standard blued finish, nickel finish or antique "holster worn" finish.
£159.95
NOW AVAILABLE WITH RIFLED BARREL, PELLET SHOOTING AT £199
UMAREX LEGENDS LUGER P08 ALL METAL BLOWBACK
21 shot magazine
.175 bb
£149.95
CROSMAN C11
18 shot metal bbs
£59.99
GAMO PT85
Tactical, blowback with multicolour dot sight, torch, laser and silencer.
£179.99
CROSMAN 2240 RATBUSTER
High power .22 bolt action.
£94.95
WALTHER P38
Blowback action, all metal construction, 20 shot magazine for metal BBs
£159.99
SIG SAUER P226
.177 calibre pellet shooting blowback pistol with full metal slide and rifled steel barrel.
£124.00
COLT GOVERNMENT 1911 A1
8 shot CO2 pistol, correct weight sold metal, very accurate, in case with 2x 8 shot magazines.
£215.00
COLT PYTHON 357
Full metal frame, fires 4.5mm bb, CO2 powered, double/single action, 6 shot, just load BB into bullet case and put 6 of them in to chamber.
£99.99 OUT OF STOCK
CZ75 P-07 DUTY
Blowback action, metal slide, threaded for a silencer (not supplied) accessory rail. 4.5mm steel shot.
£89.95
CURRENTLY OUT OF STOCK
ASG CZ P-09 DUTY
Blowback pistol with 16 round magazine, rifled barrel for accuracy and it fires Bbs or pellets (.177/4.5mm calibre) Up to 492fps velocity. Metal slide and accessory rail fitted.
£139.99
GAMO
P25 BLOWBACK PELLET PISTOL
• Semi auto
• 8 shots in one second
• Metal slide
• Plastic grips
• Substantial feel
• 16 shot pellet magazine
£99.99
UMAREX
SA 10 BB and METAL PELLET FIRER
• Blowback recoil action
• Fires steel bbs
• Single or double action
• Cool magazine that holds 32 pellets in 4 supplied 8 shot rotary clips.
• Substantial metal slide
£159.00
SIG SAUER P320
30 round mag, pellet firing, up to 430fps, full blowback action, authentic weight
£179.00
BERSA BP9CC
Blowback action, steel BB firing, accessory rail, easy loading system, comfortable grip, 3 dot sight system.
£119.95
GAMO PT85
Pellet firing, 8 shots in 1 second, high velocity.
£109.00
• Steel BB firing
• Single action authentic
• 6 rounds
• Removable bullet cartridges
• CO2 powered
• Battlefield finish
£189.00
• Blowback CO2 powered
• Up to 420 feet per second
• Dual ammo pellet or bb
• Superb new mag system holds 32 rounds
• Metal slide
• Heavy weight
£149.00
• CO2 powered pistol
• Fires pellets or metal bb
• Rifled barrel
• 8 shot magazine
• Single or double action trigger
• Open sights
• Picatinny rail on underside
• Ready to go out of the box with pellets, bbs, safety goggles and for a limited time 5 CO2 power capsules.
AMAZING VALUE AT £69.00
TOLMAR GRAND POWER
P1 mark 7
Blowback BB firing pistol, around 90 shots per CO2 capsule, really nice construction quality.
£120.00
OUT OF STOCK
MORE TOLMAR MODELS COMING SOON
COLT SPECIAL COMBAT
Metal slide, 4.5mm BB, CO2 powered, 19 round mag, adjustable rear sight. Although not blowback action the slide does pull back for double action shooting. Always an eye catching pistol in our shop.
£159.95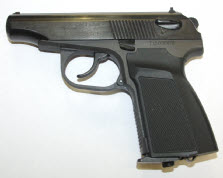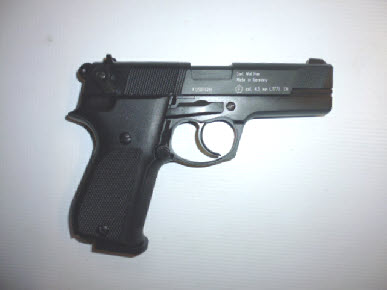 WALTHER CP88
8 shot semi auto pellets
Cased with 2 magazines
£209.00
We now have the pellet firing, battlefield finish rifled barrel version in stock that fires .177 pellets
£229.00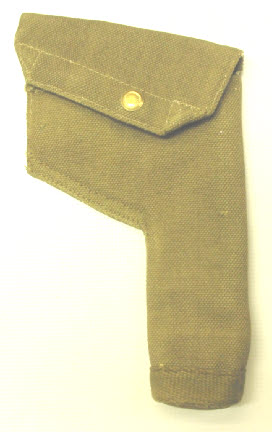 Canvas holster specially made for the Webley revolver, really nice quality £32.95
£3.00 off when bought with a Webley revolver.
• 9 shot mag in .177 and 7 shot mag in .22
• Fantastic value recoilless hand gun
• Bolt action, C02 powered
• Highly accurate
• Hard wood beech grip
• Open sights fitted
• Dovetail for scope or red dot sight
• Up to 500 ft/second
• With full English box/instructions
• Every pistol tested with "Air Arms field" pellets
• 12 month warranty
GREAT VALUE TARGET SHOOTING
We can deliver the CP-1 to a Registered Fire arms Dealer for you to collect for £10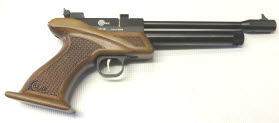 9 shot mag in .177 and 7 shot mag in .22
We now have .25 BIG calibre in stock at same low price
.22 and .177 and .25 calibres in stock now
£109.95
GAMO C15
Blowback, 15bb clip for metal bbs
£84.99
OUR LOWEST PRICED BLOWBACK PISTOL - GREAT VALUE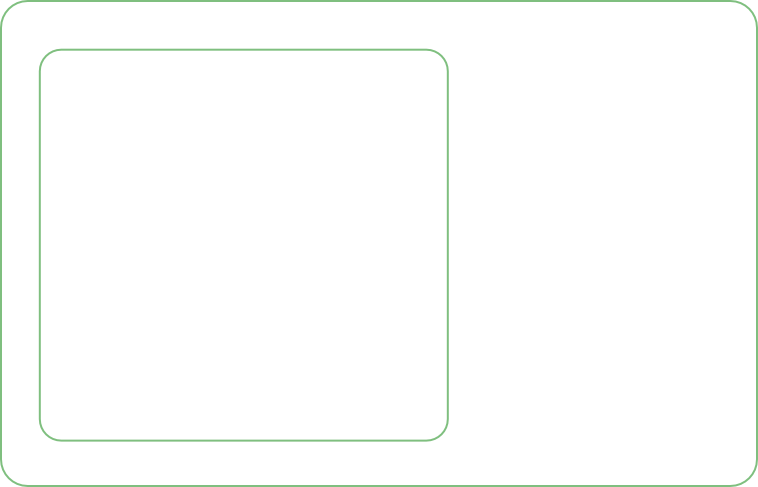 SWISS ARMS
SA P92
Heavy weight full metal construction, Blow back system, accessory rail, 21 bb mag.
£99.99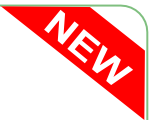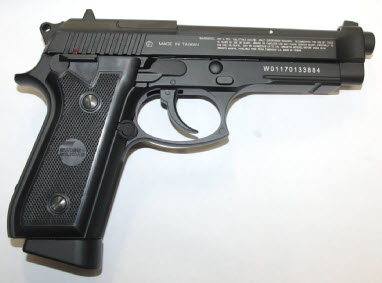 BAIKAL MP654K NICKEL
Nickel finish, CO2 powered 4.5mm BB firing hand gun, rifled barrel, this shoots lead BB with good accuracy. Field strips and the internals are nickel finish. Comes with bbs and a carry case.
NEW LOWER PRICE
£175.00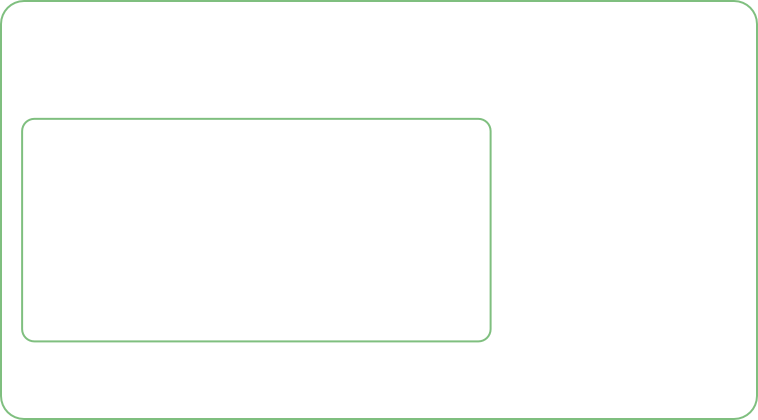 • Rifled barrel pellet firing
• Full metal body
• Wood texture pistol grip design
•CO2 powered
• CO2 tool in grip
• Cartridges included
£175.00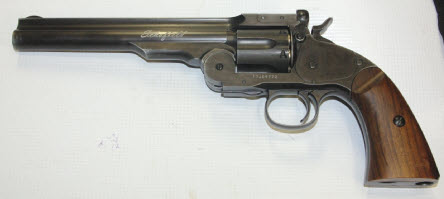 SCHOFIELD 6" Aging black finish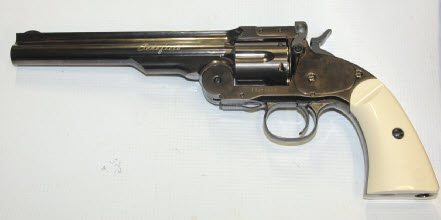 SCHOFIELD 6" Steel grey finish
• Steel BB firing
• Full metal body
• Ivory texture grip
•CO2 powered
• CO2 tool in grip
• Cartridges included
£169.00