Blank firing & replica guns
© Copyright Protek Supplies
This is a small selection of blank firers, and replica firearms that we have in our shop.
Some may be available for mail order, phone us for details 01243 827500
Phone up & order it
01243 827500
Quick & easy
A selection of VCRA act compliant blank firing replicas that we have in stock at the moment. These are non realistic imitations in bright colours and must not be converted to make them in to realistic imitations firearms.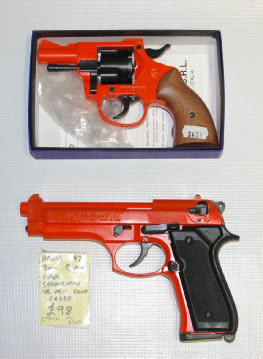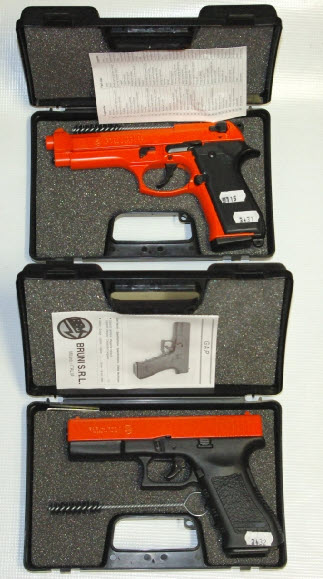 BRUNI Olympic 38 9mm blank firer
Boxed with instructions
Stock number 3433 £52.00
BRUNI 92 8mm blank firer
Second hand near new condition, cased
Stock number 3335 £98.00
BRUNI model 92 8mm blank firer
Cased with instructions
Stock number 3431 £115.00
GAP 8mm cal blank firer
Cased with instructions
Stock number 3432 £120.00
Unused.
This large ad impressive revolver see large human hand for scale, is in as new unfired condition. It has been deactivated to the new EU specs but which does allow cylinder to still revolve, the hammer still to cock and the action still to work. The cylinder can not be removed from its arbour though. The revolver originally started an an air cartridge revolver of Brocock type and has recently been deactivated. This means there is no powder residue effecting the bluing etc or the colour case hardened finish to the frame. Overall a nice impressive solidly made revolver which would make a great display piece. Complete with its said EU/Birmingham proof house deactivation certificate.