Antique & Vintage air rifles (pre 1939)
© Copyright Protek Supplies
Air rifles & pistols
You are on the red highlighted page
MAIL ORDER INFORMATION
Items that are shown with a blue envelope can be either purchased from our shop or you can have them delivered directly to your home address.
Items where no envelope is shown can be purchased from our shop or you can have them sent to a registered fire arms dealer near you, and you collect it from them. To order an item from us phone 01243 827500
Here is a great selection of antique air guns. As all of these were made BEFORE 1939 they can be sent directly to you. For details on any of these or to order one (or more) phone 01243 827500
Phone up & order it
01243 827500
Quick & easy
This lovely antique air rifle is in truly superb condition retaining virtually all the original dark black blue finish to the barrel and frame and parts. The stock is in very good condition with lovely sharp chequering with just a few surface scratches and marks. The cylinder is good, unfortunately there are some deep vice marks on part of it. These were supplied to the rifle on an exchange basis, you sent your empty one off and they return to you a full cylinder. Imagine the disappointment of an owner who had looked after his rifle very well received back a cylinder that had been not kept as well. A truly lovely antique with lots of engraving which is all nice and crisp, nice horn ribbed butt plate and this model is fitted with sling swivels to the barrel and stock. An excellent collector's item in lovely condition.
This nice quality French made CO2 powered rifle is in fairly good condition the metal work being brown to black, the action having nice engraving on it and retaining most of its original finish. All components are as they should be with the exception of the front sight which we believe to be a replacement but looks fine. The stock has probably be rubbed down at some point, the checkering is not that sharp. Original and nice balloon butt plate fitted. The action is in good working order. This is the 8mm version which we have have found to be less common than the 6mm version and 4.5mm versions. That is based on what we have had through our shop we do not know actual production figures. The cylinder is in good condition and matches the action and barrel very well. A nice quality early antique air rifle.
This very early BSA air rifle by our calculations the 279th air rifle produced under the BSA name from the first batch of BSA's after the initial Lincoln Jeffries batch is all original and complete but does have a number of issues which have occurred over time. The front sight has lost its bead and has been filed down quite neatly, the tap screw cover is missing and now appears to be a welded lump on the thread and has been filed and cleaned off we believe there should be a knurled head screw however the tap does function as it should just does not look great. The underlever axis screw lock screw is broken we have not attempted removal we have left it as it is. One of the trigger guard screws is non original we fitted one of our reproductions and It looks superb and does the job and is the best looking screw on the gun , the stock has losses where it meets the trigger block and a small crack the checkering has been very well worn down over the years through use. The BSA trade mark can just about be seen on the stock but the stock where it meets the butt plate has also been broken and repaired in ancient times. An extra screw has been put in the butt plate presumably to hold it secure all this was done a long time ago during its working life. The rear sight is original and functional the inscription on top the the cylinder is just about visible on the grey to broem grainy slightly pitted metal surface and reads "BSA AIR RIFLE LINCOLN JEFFRIES PATENT MADE BY THE BIRMINGHAM SMALL ARMS COMPANY LTD. This is a well used honest example.
This truly superb gun is in excellent condition retaining virtually all its original bluing the engraving on the breech block is nice and sharp and really looks nice, the cylinder, thankfully, is also in very good condition. These were supplied on a return basis and are often in not as good condition as the item they are fitted to however in this case the cylinder is almost as good as the rest of the gun. The trigger guard again has engraving o the long tang, the stock is in good condition with some minor surface scratches and marks of time but with nice checkering. Original horn butt plate and fitted with sling swivels. The sights are what would have originally been fitted ie minimilistic type in a small dovetail adjustable rear sight and a tiny little bead at the front. A truly nice collector's item.
This really nice interesting antique is in good condition in a nicely fitted baize lined oak brass bound case with various accessories as shown below which include bullet mould, oil bottle, pump. It has two barrels one of which is a smoothbore and one of which is rifled with a c13mm bore. We believe the rifled barrel may be a later replacement. The manufacturer's name is on the smooth bore barrel and that reads "E. London Gun And Rifle Maker, 1 London Wall, London". The butt removes from the action and the action itself has what we believe to be a air bypass for de cocking the gun. This is also a very neat tap loader for loading of balls. Leather covered butt of some age. This is a very nice collectable item.
PLEASE NOTE:
Due to the value of this item we are unable to post it to you.
PRICE REDUCED ON INSTRUCTION OF SELLER TO £3200.00
This is a superb collectors item. The metal work has been totally and very carefully and superbly well refinished so it is a superb deep blue black colour, all screw heads are perfect certain internals have also been changed including the piston and head mainspring and sear. The stock has what we believe to be the original finish and there are a few surface scratches one very visible on the left hand side see photo, the wood itself;f is a lovely piece of walnut with vertical graining all down it. This is a really nice appearing rifle which would grace any collection. Obviously original open sights are fitted and complete.
Also accompanying the rifle is a letter showing that this gun was sold by John Knibbs around 20 years ago and giving the owner the details of date of manufacture.
We must emphasis again that this is a top quality refinished job which is a professional one not an amateur re blue. The refinishing job was done sometime before 1998.
This is a basically good honest gun, all fittings and screws being original the front sight has had a slight break on the bead or some one has modified it but everything else seems ok. The metal work itself is a mixture of brown to grey to blue varying from original quite dark black in hidden areas to worn and grey in areas where its been held. The stock is ok possibly been rubbed down at some point but with some surface marks and scratches of age. Some general nocks and marks to the metal work and one of the trigger guard screws is a replacement. Original spring fitted presumably as its a flat section rectangle one, tap ,trigger and cocking mechanism are all good. Overall a decent reasonable fair condition gun that gas seen some use.
Whilst this antique butt reservoir rifle has no markings or makers name on it we are pretty sure it is of Austrian manufacture, there is no decoration and it is very plain in the military style. The hammer mechanism is unusual with moving striking piece which strikes a just off centre located hammer. The butt reservoir itself appears to have been recovered in leather some time after its manufacture, a really nice job has been done and it looks in good condition. The metalwork is in brown smooth condition apart from the brass coloured brass! The lock plate itself is devoid of any engraving or decoration, it is extremely plain and functional. Fitted with a ramrod which may well be later, probably not original and nice tiger stripe effect to the wood which has probably been refinished. Plain trigger guard fitted underneath with quite a thin trigger. An interesting antique item. We have seen repeating versions of this made by Girandoni but this one is a single shot and not made by Girandoni (sometimes referred to as Girardoni). This rifle is stored in our shop but is not on open display.
Calibre 8mm ( 0.32" rifled)
Made c1800-1820
Barrel length 708mm (27.75")
Overall length 1170mm (46")
£2650.00 PRICE REDUCED ON INSTRUCTION OF OWNER TO £2150.00
This nice old antique rifle is in what we would call original condition retaining some original finish being nickel plate to the cylinder but very well worn where it has been held and used. The rifle has received much use. The stock is good with no major cracks just numurous...numouros...numuourous...lots of surface marks and some initials of a former owner branded in to the stock. The spring is a little bit weak we are not sure about the calibre as .25 pellets seam a bit tight but we are supplying some pellets which we have sized and do fit the barrel fine. The bore is lovely clean and smooth original open sights are fitted and original being the theme that is the marking on top of the flat. ORIGINAL being the mark for original the Venus vafenverk we believe. A nice interesting old antique.
Calibre: c12.5mm (half inch)
This fascinating item is the oldest air gun we have ever offered for sale. It is an outside lock air gun with all the mechanism visible and using a large leaf spring. This is an unusual one in that the trigger is folding and also the striker has a bypass whereby you can release the hammer without shooting air. The barrel has almost certainly been re browned at some stage whereas the action is in its original slightly pitted finish. The butt flask has been later covered in leather very nicely, sold brass butt plate, very long barrel which would have been designed to make full use of the air discharge. The barrel unscrews for loading the gun. An interesting early air gun, which clearly shows the mechanics of the pre charged air gun.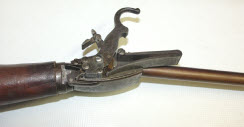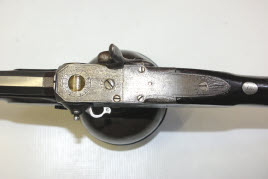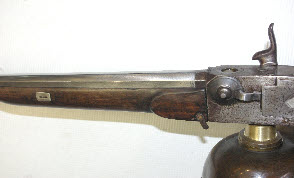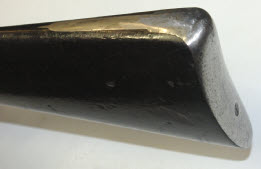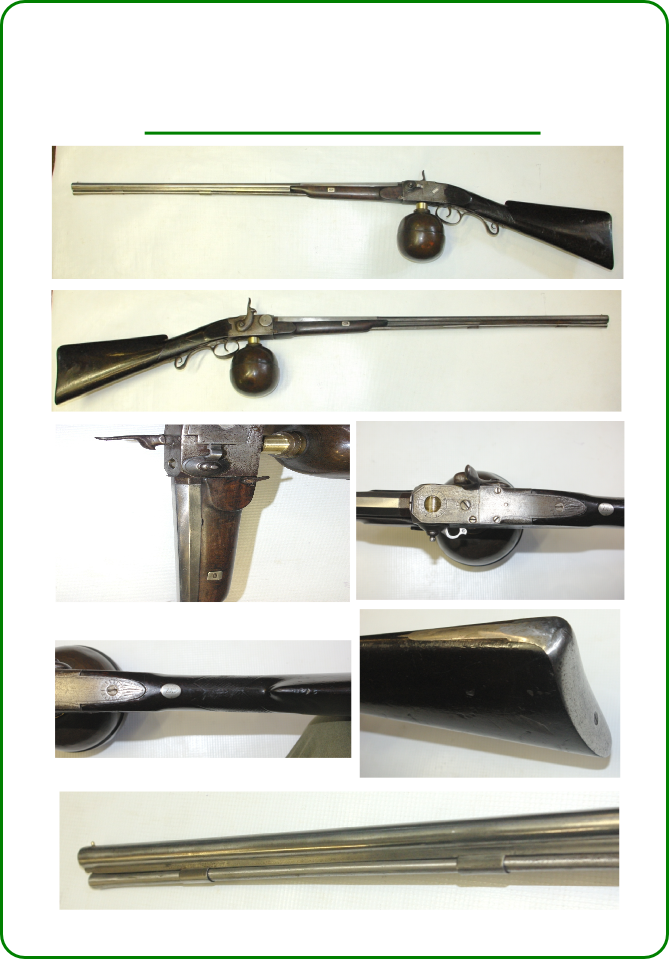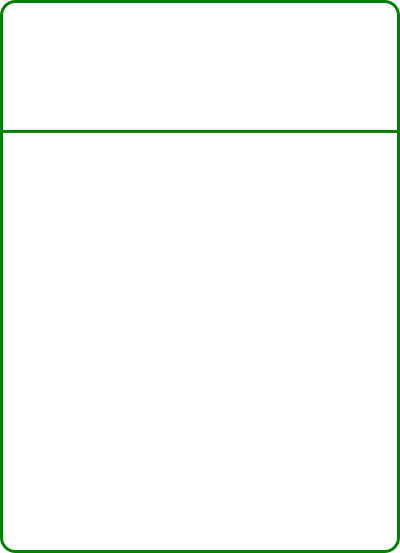 This nice antique rifle is in fair condition. The metalwork has received a coating of black paint. We cannot see the metal underneath so do not know what condition it is in. The marking on the barrel is visible "PRECISION" it says and the barrel flats seem quite sharp. The mechanism is fine and complete, spring is not in very good condition. All components seem to be original. The stock is nice with good sharp checkering, fitted butt plate, barrel lock up is good, breech lever mechanism works as it should although you do have to close it manually after cocking it on some it seems to close itself on this one it does not.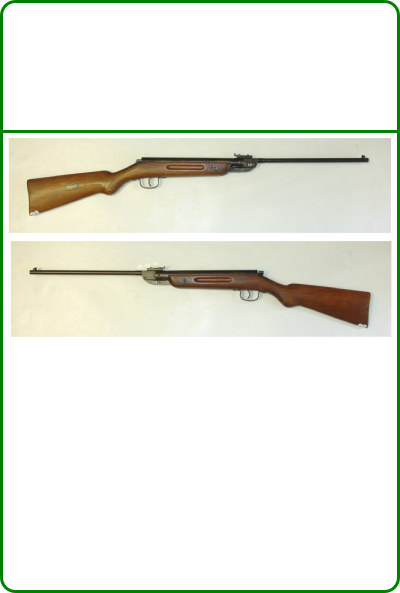 This rifle which would have been very modern looking when it was made before the war is in good condition with a good secure barrel latch, original open sights. This model is actually the last model of Haenel made and introduced the flag type safety catch at the back of the cylinder. We believe this was introduced in 1938 and by 1939 importation of these in to the UK stopped for some reason. We understand that the East German Haenel company which started production again after the war also briefly produced a similar model. This rifle shoots well and has a nice clean bore and the metal work is a little bit brown and worn but not too bad. The stock has some surface marks and scratches but no major cracks or wood missing. A neat little rifle which looks very 1950s but is actually 1930s.
This old GEM has at some point had some quite deep pitting and has been lightly polished off giving now a quite nice pleasing aged look. The stock is nice and tight on the action, and it has a nicely fitted crescent shaped butt plate. A new breech seal has been fitted and the barrel lock up is ok not perfect but none of these aver are. There are no markings on the barrel or anywhere else other than a serial number on the breech face and the front of the cylinder. Quite a crisp trigger action and probably original spring as its a flat section type which has a bit of left left in it.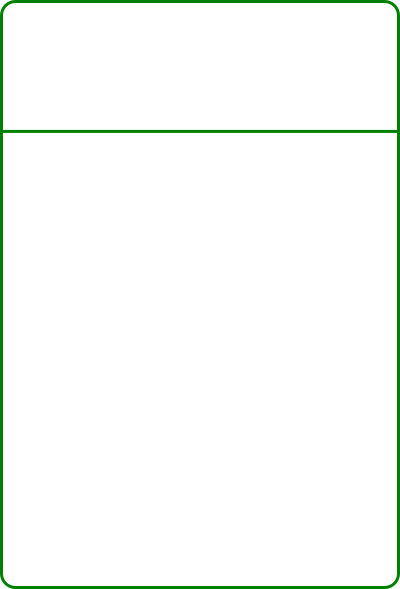 The action of this Diana 27 is in fairly good condition mostly crisp and tight order. Fitted with what is probably the original open sights and a good strong main spring and barrel detent catch. Screws also seem good. The stock, however, is not the original. It is a cunningly crafted and well fitted Relum one which has been modified to fit and does so with no looseness and actually looks quite good on the gun. Original steel Relum butt plate fitted. Does give the advantage of having a nice cheek piece and you can get your eye down nice and low to view the open sights. Original trigger guard fitted. Markings are the Diana huntress throwing down her bow in favour of an air rifle trademark and the word DIANA on the cylinder and DIANA LUFT-GEWEHR on top of the barrel. Also has the date stamp for 4 24 ie April 1924 under the breech block.