Antique/classic air pistols 4
© Copyright Protek Supplies
Air rifles & pistols
You are on the red highlighted page
MAIL ORDER INFORMATION
Items that are shown with a blue envelope can be either purchased from our shop or you can have them delivered directly to your home address.
Items where no envelope is shown can be purchased from our shop or you can have them sent to a registered fire arms dealer near you, and you collect it from them. To order an item from us phone 01243 827500
Phone up & order it
01243 827500
Quick & easy
DOZENS OF WEBLEY PISTOLS IN STOCK, GIVE US A CALL OR BEST POP IN AND SEE THEM
This LP53 is in very nice condition but there is some marking on the barrel where a previous owner has had a barrel weight fitted. Complete with cocking aid and clearing rod and presented in a deluxe plasic carry case by GunGuard which is foam lined and has a cloth Walther badge sewn in to the top layer foam.
This nice quality pistol is now becoming a scarce model. It is the junior version of the Hurricane with a smaller grip in brown plastic. This example is in near new condition and its original presentation plastic flock covered shaped lining and with its original rear sight separate in a bag as it has been fitted with plastic Webley scope mounting block and Webley 1.5 x 15 scope. Complete with its original instruction manual and box which is in very good condition. Also there is an interesting outer box which is stamped "Typhhoon .177" and has a Birmingham post mark which is dated 24th March 1980. We believe this was sent from someone in Birmingham, possibly Webley, to a customer at that date. A nice collector's piece in excellent condition.
This customised Junior shoots Ok but with not particularly high power, wooden grips are nicely shaped. The barrel is not the original Junior barrel. We think its right handed but feels comfy in the left due to clever grip shape.
REF: KBC14
PRICE: £170
SOLD
ALL BOXES WITH THESE PISTOLS ARE THE ORIGINAL BOXES, NOT REPROS
These pistols can not be sent directly to you but we can send them to a registered fire arms dealer near you for you to collect (they usually charge a small fee for this). For details on any of these you are best popping in to our shop to look at them but you can phone about them. Please avoid emailing because we don't like typing!! And emails can go on and on over days and days...you get the idea.
Beautifully made replicas of Webley boxes from yesteryear,
ideal for collectors.
REPLICA WEBLEY PISTOL BOXES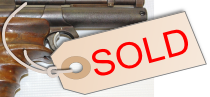 Model 5 modified by T H Bergmann
This prewar item was originally part of a shooting booth or stand. It is extremely rare most of them having been destroyed. The basic pistol was made by Diana and converted by Bergmann and company for shooting booth use. It has a smooth bore barrel, .22 pellets are slightly loose. The telescopic sight unit is missing as would have been taken out when the pistol was removed from the stand. It is in fairly good condition but has obviously had a lot of use.