Antique/classic air pistols 3
© Copyright Protek Supplies
Air rifles & pistols
You are on the red highlighted page
MAIL ORDER INFORMATION
Items that are shown with a blue envelope can be either purchased from our shop or you can have them delivered directly to your home address.
Items where no envelope is shown can be purchased from our shop or you can have them sent to a registered fire arms dealer near you, and you collect it from them. To order an item from us phone 01243 827500
We are always looking for antique air rifles and pistols. Phone us on 01243 827500
Phone up & order it
01243 827500
Quick & easy
DOZENS OF WEBLEY PISTOLS IN STOCK, GIVE US A CALL OR BEST POP IN AND SEE THEM
Beautifully made replicas of Webley boxes from yesteryear,
ideal for collectors.
REPLICA WEBLEY PISTOL BOXES

This fine quality blued steel pistol is in fairly good condition retaining most of its original pellets but with some surface scratches on one side but worn and very lightly pitted on the other side where it has laid in the box. A bit of a shame. The grips are perfect and the pistol shoots very well with a very good spring and very tight breech lock up mechanism. The box is a bit torn and battered with one end flap detached but present inside the box.
This pistol is in good condition, complete and working, retaining most of its original finish but with areas of wear down the sides where it has lane. Good condition un chipped grips. Supplied in one of our superb reproduction boxes with a compartment and an empty repro pellet box.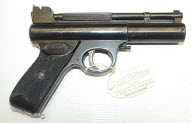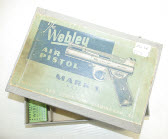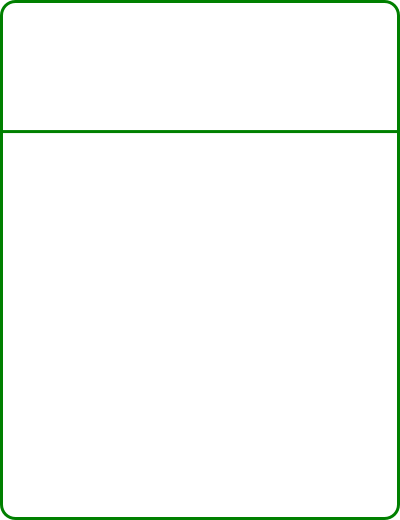 In mint condition, supplied in one of our superb reproduction boxes with repro pellet box and instructions/diagram leaflet.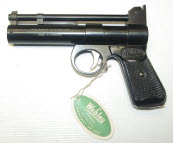 This Premier, one of the last of the brown grips, but with what we believe is a suncorite finish is in excellent near new condition obviously had very little use. In its box, the box is a little battered and torn. Complete with an original tin of Webley pellets with about 50 pellets therewithin. Plus a little gift voucher which appears to be original. A nice collector's item.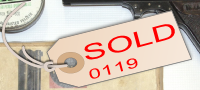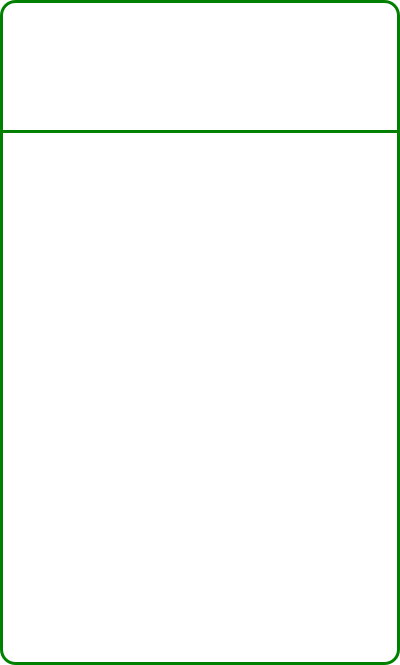 This is a really interesting and clever design of pistol. It looks like one of the Italian single stroke pneumatics but it is in fact a spring pistol. It is surely a development of the Webley pistol with the cocking axis in a different point and pulling the spring out from the front of the piston. It is actually quite a well made pistol all be it of cast metal as most modern pistols are. This example is in fair condition with some paint loss, the grips may have been rubbed down we don't think they are as originally produced but we've never had another one of these to compare it to. This is the first one we have ever seen and were pleasantly surprised at how it actually cocks and shoots so nicely. Fully adjustable rear sight, the only thing it lacks is an anti bear trap mechanism but then no Webley pistols had them either. Good trigger, an interesting nice design. Really surprising you don't see more of them about.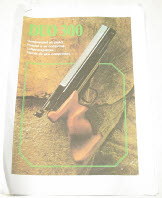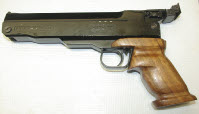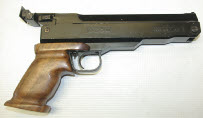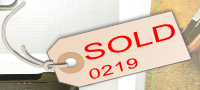 This is the only one of these we have ever seen. It was made in Canada we guess in the 1970s. It is in as new condition in its original box and it shoots and holds gas fine. Very solidly made all of metal, it looks like an old fashioned duelling pistol. A friend of ours has suggested a Thompson Contender type pistol. Single shot, .22 calibre, you turn and pull the bolt on the top and drop the pellet in and then slide the hammer forward on the side. A nice quality pistol with a good heft and weight about it. Interesting collector's item. Shoots around 2.7 foot pounds with Air Arms pellets when we tested it.