Antique/classic air pistols 3
© Copyright Protek Supplies
Air rifles & pistols
You are on the red highlighted page
MAIL ORDER INFORMATION
Items that are shown with a blue envelope can be either purchased from our shop or you can have them delivered directly to your home address.
Items where no envelope is shown can be purchased from our shop or you can have them sent to a registered fire arms dealer near you, and you collect it from them. To order an item from us phone 01243 827500
We are always looking for antique air rifles and pistols. Phone us on 01243 827500
Phone up & order it
01243 827500
Quick & easy
DOZENS OF WEBLEY PISTOLS IN STOCK, GIVE US A CALL OR BEST POP IN AND SEE THEM
Beautifully made replicas of Webley boxes from yesteryear,
ideal for collectors.
REPLICA WEBLEY PISTOL BOXES

This fine quality blued steel pistol is in fairly good condition retaining most of its original pellets but with some surface scratches on one side but worn and very lightly pitted on the other side where it has laid in the box. A bit of a shame. The grips are perfect and the pistol shoots very well with a very good spring and very tight breech lock up mechanism. The box is a bit torn and battered with one end flap detached but present inside the box.
This Premier, one of the last of the brown grips, but with what we believe is a suncorite finish is in excellent near new condition obviously had very little use. In its box, the box is a little battered and torn. Complete with an original tin of Webley pellets with about 50 pellets therewithin. Plus a little gift voucher which appears to be original. A nice collector's item.
This lovely quality pistol surely the top most quality pistol Webley ever made is in very good condition just with slight surface marks and scuffs mainly down one side but retaining virtually all its original bluing. In its original box with a tin of period pellets which may have been with it for a long time. Its cocks and shoots superbly with a nice smooth trigger pull. Obviously not had a lot of use, the grips again are perfect. A nice collector's item that is also good to shoot. Beautifully engineered item.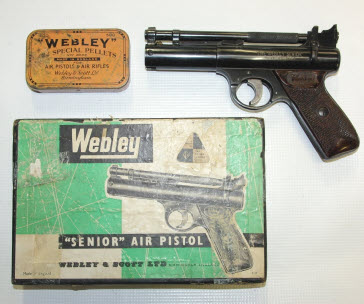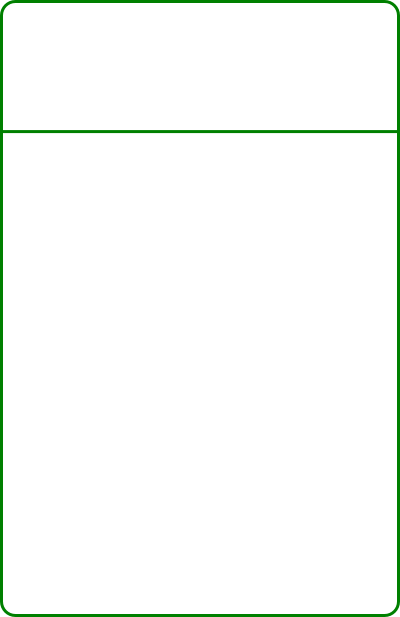 This D series Premier, one of the very last of the blued steel pistols, is in excellent condition retaining nearly all its original finish just with some light surface scratches and marks. Obviously had very little use. This is in its original lift off lid box, the label is dirty, also with a tin of Webley .22 pellets of the correct period but only containing about 50 Webley special pellets. A nice collector's item but also in good shooting order.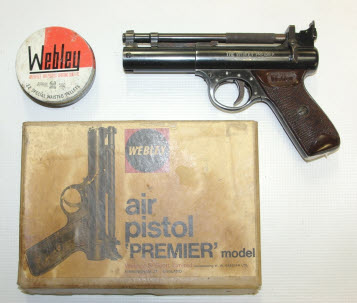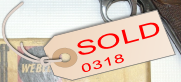 This well made pistol is in fairly good condition the bluing is a bit thin on both sides, the pistol works and shoots very well. There is no pitting just a bit of wear. The spring is very good the breach seal nice and the pistol is all complete and the grips are not chipped.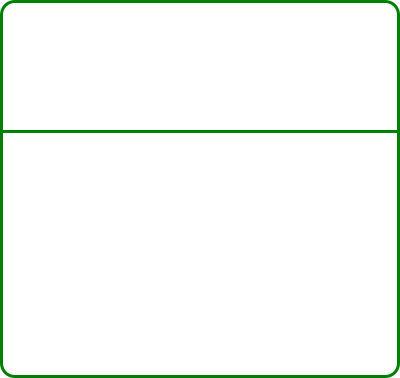 Calibre: .177 smooth bore
This pistol is in very good honest original condition. The finish is a little bit brown and very slightly grainy but all components are complete, the barrel is the correct length, overall the pistol is reasonably tidy.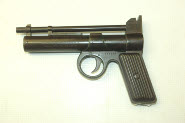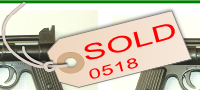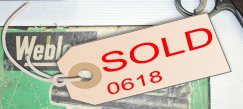 This beautiful quality pistol is in excellent condition retaining most of its original bluing just with a little wear on the grip frame. The pistol shoots really nicely, smoothly cocking and a very nice trigger pull. Contained in one of our excellent reproduction boxes with a partial tin of old Bulldog pellets. There is only about 50 and they are oxidised though. A nice collector's item that also shoots very well. The brown grips are original and are completely unchipped and all parts and fittings are original.