Antique/classic air pistols 2
© Copyright Protek Supplies
Air rifles & pistols
You are on the red highlighted page
MAIL ORDER INFORMATION
Items that are shown with a blue envelope can be either purchased from our shop or you can have them delivered directly to your home address.
Items where no envelope is shown can be purchased from our shop or you can have them sent to a registered fire arms dealer near you, and you collect it from them. To order an item from us phone 01243 827500
Phone up & order it
01243 827500
Quick & easy
DOZENS OF WEBLEY PISTOLS IN STOCK, GIVE US A CALL OR BEST POP IN AND SEE THEM
HARRINGTON GATS for interested persons.
Two different "last" model GATs with safety catches. Note the differences. One has "F" and "S" stamped in to it the other one (top of picture) has "FIRE" and an "S" raised above the level of the casting and the word "GAT" put in to the pistol and also the screw holding the 2 halves together is through the grip on different sides on each version. We are not sure which one is earlier we suspect the lower one is older than the top one. Both were sold in this country by Harrington and this was before they were produced in America. Both say "Made in England" and both have "J101" with F in pentagon on the other side which is identical apart from the grip screw hole. Also we notice that the cork holder on the tip of the barrel has a coarser knurling on the top one.
This Senior is in superb original condition. With an original tin of pellets (about 150 pellets) Made for 177 calibre but has an over sticker which states there are 500 .22 pellets in tin. The pellet tin is in poor condition though. In one of our superb reproduction boxes.
In very good condition, in one of our reproduction boxes.
Beautifully made replicas of Webley boxes from yesteryear,
ideal for collectors.
REPLICA WEBLEY PISTOL BOXES

British made Diana model 2 with nickel plate finish, nice cosmetic condition but the spring is very weak and only loose fit pellets will exit if at all.
Stock number 3644
£44.00 SOLD
Diana 2 marked Made In Great Britain. Fair condition with some original bluing, good spring and seal etc some marks and scuffs to the pistol grip.
Stock number 3645
£28.00 SOLD
Diana 2 marked Made In Great Britain with a fair amount of its dark blue black finish to the metalwork and a fairly god pistol grip. Good main spring and seals, shoots well.
Stock number 3646 £29.00 SOLD
Diana 2 not marked in any other way on the metalwork but has British Made stamped in the front of the pistol grip. This is unusual and not something we have seen before. Fairly good condition we believe this to be a very early model. No date on the grip unfortunately. Spring is ok. Original pellet loader is believed to be present. Fair condition overall.
Stock number 3647
£32.00 SOLD
Diana 2 pistol marked Made In Great Britain with a e reasonable level of blue left to the metalwork slightly worn pistol grip. Spring is ok but not brilliant but the pellet exits every time.
Stock number 3648
£25.00
Similar to the GAT pistol, push the barrel in to cock the gun, the pellet then loads in to the back.
This pistol was originally sold at a very cheap price and offered what seamed like a lot of value for money! A s such it would have been the first pistol for many shooters. Hopefully they were not too put off because really it is not that great a pistol. This example is in very good condition in its original polystyrene tray however the rear sight which is actually very fragile and shoddily made has been broken and it has been modified to its current state which it could be used to sight the pistol. This example actually shoots well with the .22 pellet coming out at its intended velocity. Obviously had only a little use but that did not stop the rear sight breaking. Some purchases will have fond memories of these. Some perhaps not so much, and may have been put off shooting altogether. Nevertheless we have found these to be very sellable and even collectable. This also has an applied Jackal stamping on the right hand side of the breach block which indicates it was imported by Sussex Armoury.
MODESTO MOLGORA (MONDIAL)
This Italian made pistol dating from the 1970s is actually quite a bit better quality than the RO71 and 72 which were made by a different Italian company. We are not saying it is high quality however. This example is in good condition with some paint loss to the painted finish but is in its original box with plastic tray and outer lid. This made by a firm called Modesto Molgora of Mondial and we have not had many of these in the shop over the years. Looking at it there is even a certain amount of style to shaping of the pistol grip and breach area. Better than its compatriots.
Stock number
3754 Webley Premier F series, c1973, very good condition, shoots well .22 £140.00 SOLD
Stock number
3755 Webley Senior c1950's, very good condition, good working order .22 £170.00 SOLD
Stock number
3736 Diana mark 4, good condition, 1963, .177 £62.00 SOLD
Stock number
3734 EM-GE ZENIT, c1930's, fair original complete condition, .177 rifled £135.00
SOLD
Stock number
3706 CROSMAN 1322 MEDALIST, new valve seals fitted, very good condition, pump up, c1988 £75.00 SOLD
Stock number
3728 ORIGINAL 6G, TARGET, new seals, very good condition, .177, totally recoilless £145.00SOLD
Stock number
3756 WEBLEY TEMPEST, very good condition, powerful, .22 c1980's £122.00 SOLD
Stock number
3737 DOLLA antique c1920s, good order, original breech screw, some wear to nickel finish, .177 £94.00 SOLD
Stock number 3732 WEBLEY SENIOR .22 boxed superb condition, early 60's made. This most classic well engineered pistol is in its original box, the metal work is in very near new condition. Unfortunately the plastic grips have been broken on the corners and a glued repair made. At the same time the grips seem to have been fully stuck on with glue. During its service we could not remove them. A real shame otherwise this is a near mint pistol. The box is a little battered and worn on the edges but is complete. A very nice collector's item and also shoots superbly. Obviously had very little use. £230.00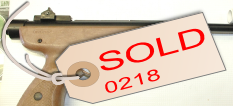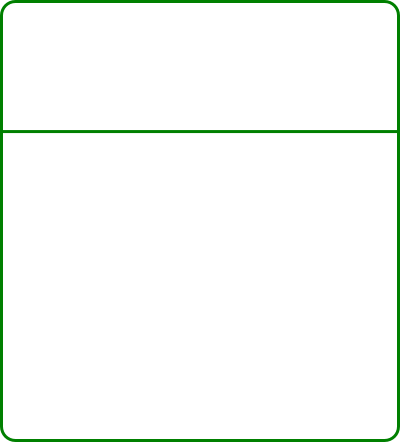 LATE MODEL, AMERICAN MADE
The ver popular GAT gun is becoming scarce. This is a late model made in USA. Nice condition with just a little paint loss on one of the grip areas. Works fine, like most GAT guns do!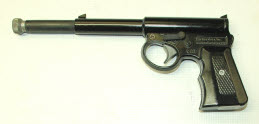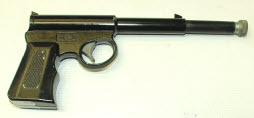 This Italian made air pistol is in fairly good condition but with some of the paint flaking off revealing the zinc die cast body underneath. The pistol is complete and works even the sights are still functioning which is quite a surprise. Slight looseness on the grips. The polystyrene tray is broken and partially missing, the little scope mount referred to on the outside of the box is actually slightly broken with a piece of it missing. This was a Sussex Armoury import and with an original price label on the front indicating it was sold in Luton in a sports shop for £14.99. Allowing for inflation the thing has probably gone down in value over the years in real terms. As one would expect.