REPLICA WEBLEY PISTOL BOXES
Beautifully made replicas of Webley boxes from yesteryear, ideal for collectors.
Antique/classic air pistols 1
© Copyright Protek Supplies

Air rifles & pistols
You are on the red highlighted page

MAIL ORDER INFORMATION
Items that are shown with a blue envelope can be either purchased from our shop or you can have them delivered directly to your home address.
Items where no envelope is shown can be purchased from our shop or you can have them sent to a registered fire arms dealer near you, and you collect it from them. To order an item from us phone 01243 827500

Phone up & order it
01243 827500
Quick & easy
Take the time to visit other pistol pages, things are being added.
This rare pistol I an interesting variation, the frame I made of aluminium we have had a chance to compare it with a standard one which is a zinc casting and this one is much lighter, initially when we bought it in we assumed it was made without a trigger guard but now careful and close examination leads us to believe it may have originally had one but has been carefully removed. An interesting design with a 6 shot magazine for balls which actually we have been given information measure .24 calibre. Which was number 4 buck shot in America. This has a brass cylinder which may well have been polished off. On the end cap it reads Apache and on the outside Pasadena 2 Calif. USA. These are a rare item. This one is in working condition. I cant believe the balls when very far when you shot it. These were a short lived model and extremely scarce. This variation is one we've never come across before.

DOZENS OF WEBLEY PISTOLS IN STOCK, GIVE US A CALL OR BEST POP IN AND SEE THEM
Beautifully made replicas of Webley boxes from yesteryear,
ideal for collectors.
REPLICA WEBLEY PISTOL BOXES

This nice quality air pistol retains most of its original black finish to the cylinder and barrel, the cast iron frame is a little bit worn but not worryingly so, mostly on the edges where it has lain. Mechanically perfect with a nice tight barrel catch, good clean smooth bore barrel and un chipped grips. A nice collectable item which is also a good plinker and also a good dart shooter! We have put this with one of our stunning reproduction boxes and have included an original box of Milbro cup slugs.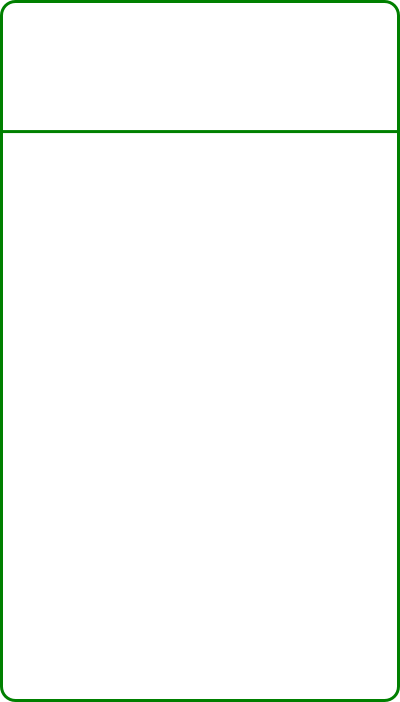 We are selling this on behalf of the original purchaser who purchased it on 7th Jan 1976 from TLC trading in Charring Cross for £24.25. We know this because the receipt is in the box. Also in the box with instruction pamphlet and parts diagram. The pistol itself is in excellent near new condition just with slight fading of the recessed name label and the slightest thinning of the bluing on the barrel. The pistol shoots nicely. This is a nice collector's item with a known history. The box a little tatty but is complete. The Premier mark 2 is one of the shortest lived production runs of the Webley pistols having only been in production for about 4 years and being replaced by the Hurricane and the Tempest.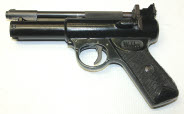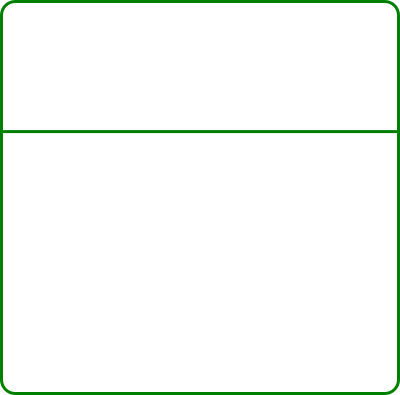 This very solid little antique pistol is in good condition retaining much of its original nickel plating on one side but this has worn through slightly to a dull grey finish on the other side. Good strong spring, and presumed original breach pin. A nice little antique.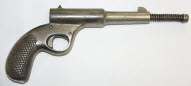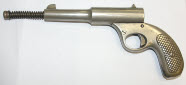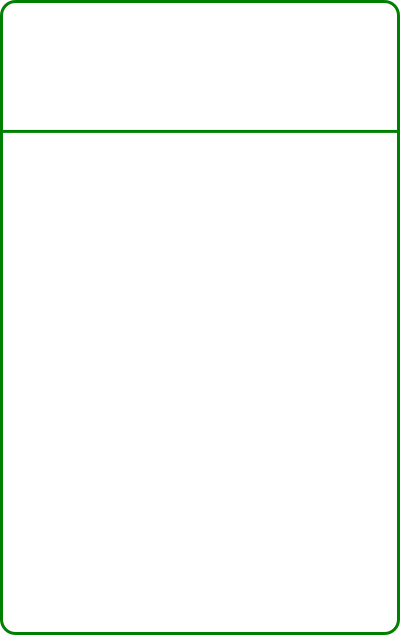 Thyis classic early webley pistol is in quite good condition retaining some original finish but with some ares of pitting and damage to the metal and wear. The linkage seal and spring etc are all fine, we have put it in one of our nice reproduction boxes to make a nice collectale item.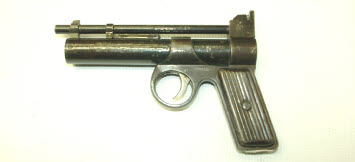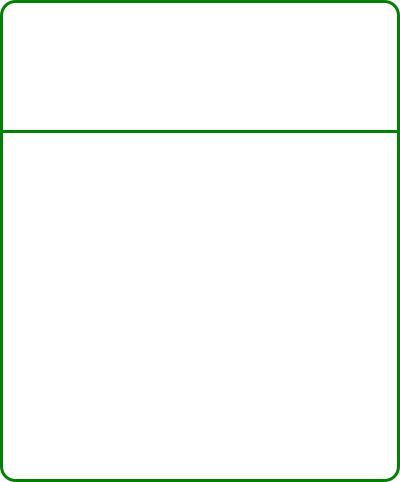 Calibre: .177 rifled barrel
This is a rare item, it has no rear sight and we can not obtain such a device to fit. It does shoot.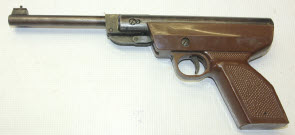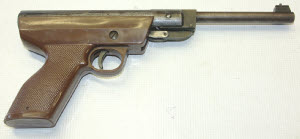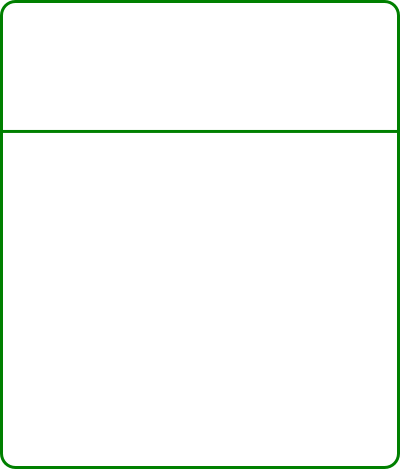 This rather rare and interesting pistol is in quite good condition, the metalwork is bit thin on the bluing but there is no rust as such. The pistol is complete and working well, original open sights fitted. Certain parts have been replaced recently like the piston seal and piston rod to ensure the pistol works perfectly and will go on doing so. An interesting item that was later copied by Gamo in their Falco and Center pistols. Interestingly this version has no provision whatsoever for a wire stock which has been seen on presumably later versions of this, we believe this is an earlier version produced before the wire stock option was available. The only markings on the gun are the word "foreign" on the side, there is no serial number. We presume the barrel is rifled.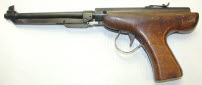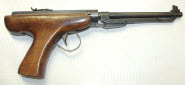 This classic design of air pistol is in excellent condition retaining lots of its original finish just with a slight bloom of age coming through on the metal work. All components seem to be original and complete, the barrel lock up etc is nice and tight. The grips are also very good with a nice clean Webley medallion, few minor surface marks. This is a good example. Complete in a reproduction box of the period and a reproduction box of John Bull containing a few suitable old waisted pellets. A nice collectable item.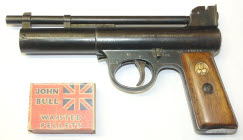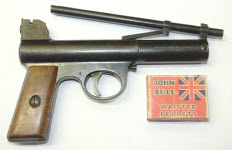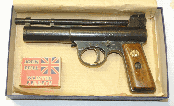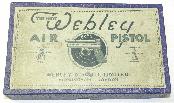 This pistol has been modified slightly to make it easier to cock for use by a younger person or female or lightly built male. The power is about 1.5 foot pounds but it is very consistent and pleasant to shoot. In good order with some non original shim washers around the front cocking pivot.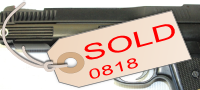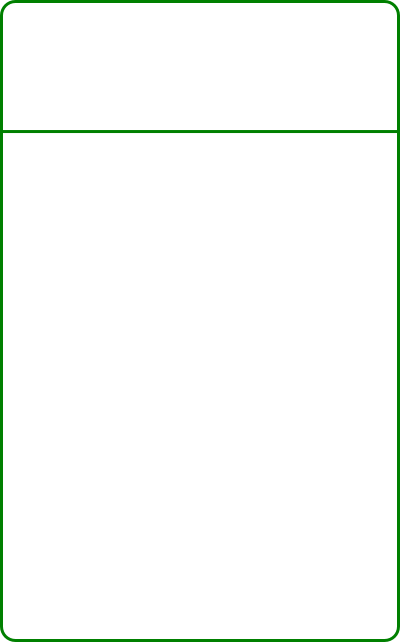 This classic design of air pistol is in excellent near new condition just with some slight surface wear and rubbing to the front end where the model number is printed. Had very little use. This example is in its original box with factory notice about lubrication and a Webley tin of pellets containing about 60 what look like old Wasp type pellets. Although this is a collector's item this actually shoots really nicely as well and is a good fun plinking pistol. Sadly it is no longer in production.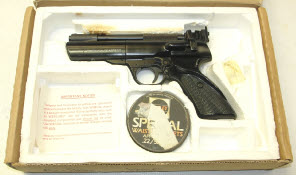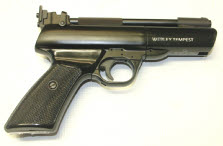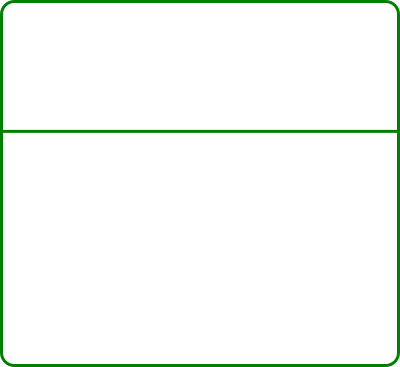 This nice antique pistol is in fairly good condition, the metalwork is brown and with a rather thin finish and very slight pitting on one side of the metal work. It is complete and fully functional with a good spring, safety catch works, the screw heads are good. Overall an honest example of a first Webley pistol.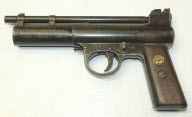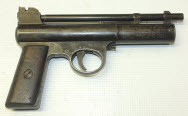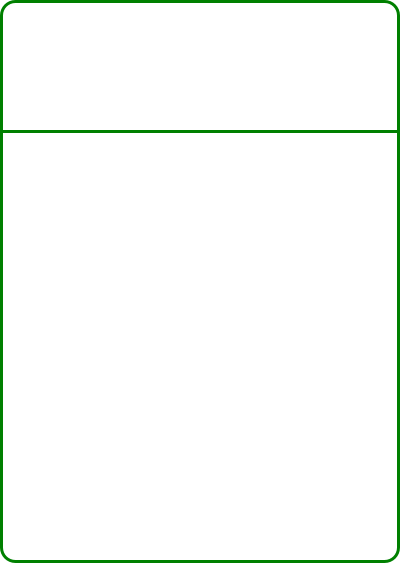 Calibre: .177 smooth bore
This nice early Webley pistol is in good condition, the metalwork retaining most of its original blacked finish. The action is nice and tight with a good barrel latch and a good spring. The barrel has not been cut down as they sometimes are on these. All markings are clear. We have put it in one of our superb reproduction boxes to make a nice assembly. Also with an additional tin of Milbro hollow slugs which are suitable for the smoothbore barrel which this pistol has.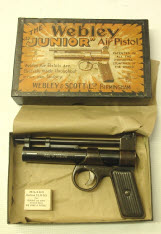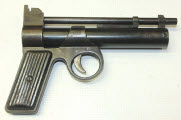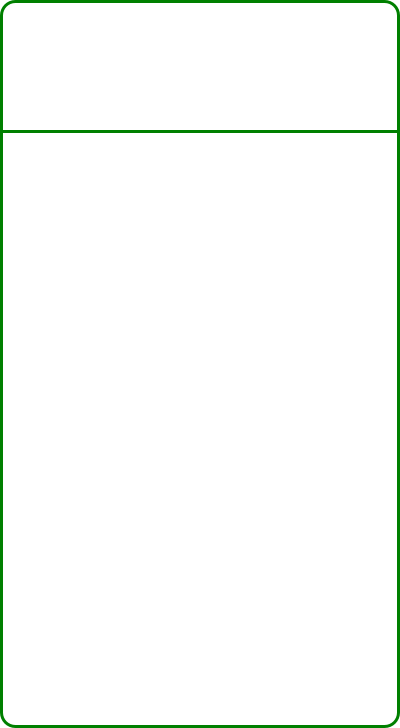 This very early Junior pistol is the wood grip version which was produced for a short time before Webley changed to the much more often seen tin grip style. This example is in quite good condition, the metal work retains some original black finish in places but exhibits slight wear to the barrel. There is small areas of sort of graininess we hesitate to call them pitting, but if it is pitting it is very shallow. All the markings are clear and readable, the barrel recess may have some metal missing or slightly deformed where the barrel pushes home. The barrel sits absolutely positively and rigidly under the barrel catch with no lateral or vertical movement. The spring seems to be in good condition, as is the breech seal, the grips are very nice. Overall the pistol is one of the best examples of these we have found but we can not recall having one for sale in the shop in the last 15 years. We have put it in a nice reproduction box which actually shows the wood grips on the pistol depicted but which Webley used for all their prewar Junior pistols. A nice collector's item.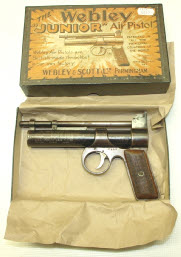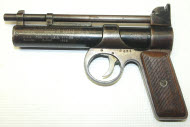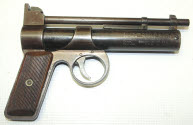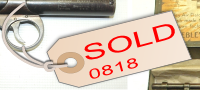 This is the last of the all steel bodied Premiers. It is an apoxy finish, it is very smooth and even this example is in superb condition retaining all its original finish and with a very good spring and locking action obviously having had very minimal use. A real nice solid feeling pistol.