REPLICA WEBLEY PISTOL BOXES
Beautifully made replicas of Webley boxes from yesteryear, ideal for collectors.
Antique/classic air pistols 1
© Copyright Protek Supplies
Air rifles & pistols
You are on the red highlighted page
MAIL ORDER INFORMATION
Items that are shown with a blue envelope can be either purchased from our shop or you can have them delivered directly to your home address.
Items where no envelope is shown can be purchased from our shop or you can have them sent to a registered fire arms dealer near you, and you collect it from them. To order an item from us phone 01243 827500
Phone up & order it
01243 827500
Quick & easy
Take the time to visit other pistol pages, things are being added.
This rare pistol I an interesting variation, the frame I made of aluminium we have had a chance to compare it with a standard one which is a zinc casting and this one is much lighter, initially when we bought it in we assumed it was made without a trigger guard but now careful and close examination leads us to believe it may have originally had one but has been carefully removed. An interesting design with a 6 shot magazine for balls which actually we have been given information measure .24 calibre. Which was number 4 buck shot in America. This has a brass cylinder which may well have been polished off. On the end cap it reads Apache and on the outside Pasadena 2 Calif. USA. These are a rare item. This one is in working condition. I cant believe the balls when very far when you shot it. These were a short lived model and extremely scarce. This variation is one we've never come across before.

DOZENS OF WEBLEY PISTOLS IN STOCK, GIVE US A CALL OR BEST POP IN AND SEE THEM
Harrington GAT pistols, chrome finish, very good condition, working, good springs fitted, complete with original pellet inserter pins. The top one is a bit more shiny but it does have the former owners name lightly scratched in to the body, or he might have named the pistol. (F.Y.I. his name was Mick) Rumour has it he had a rifle called Michael!!
WEBLEY
JUNIOR MK2
.177
1973-77
One gripo is missing a small bit at the bottopm of the left hand grip, some paint scuffing otherwise ok.
Stock nr 3167
£80.00
BSA
SCORPION
.22
No open sights fitted, fitted with a Crosman electric red dot sight, new breech seal fitted, very average slightly worn condition.
Stock Nr 3168
£68.00
MILBRO
MODEL 2
.177 smooth bore
1970s
Complete and working, rusty sort of finish, grips are still in one piece. Original inserter pin.
Stock Nr 3169
£20.00
Beautifully made replicas of Webley boxes from yesteryear,
ideal for collectors.
REPLICA WEBLEY PISTOL BOXES

This pistol has been modified slightly to make it easier to cock for use by a younger person or female or lightly built male. The power is about 1.5 foot pounds but it is very consistent and pleasant to shoot. In good order with some non original shim washers around the front cocking pivot.
This nice quality air pistol retains most of its original black finish to the cylinder and barrel, the cast iron frame is a little bit worn but not worryingly so, mostly on the edges where it has lain. Mechanically perfect with a nice tight barrel catch, good clean smooth bore barrel and un chipped grips. A nice collectable item which is also a good plinker and also a good dart shooter! We have put this with one of our stunning reproduction boxes and have included an original box of Milbro cup slugs.
This very nice quality air pistol which was a rival to Webley at the time just after second world war but did not last as long, is in excellent near new condition retaining virtually all its original bluing. Just with a few light wear marks where the action has been cocked. It is in a very nice quality aged reproduction box with instruction manual, cleaning brush and a reproduction box of Webley pellets containing about 100 waisted diablo .177 pellets. This is a really nice collector's item but shoots very well as well. Quality and finish wise this is nearly the equal of its contemporary Webley.
Both sides of the same pistol shown
This early model Tempest is in very good condition just with some light wear to the front fore end shroud where it has lain in the box. Interestingly this has an applied serial number which looks like it has been added after manufacture. This is an original Webley Tempest air pistol box with manual the box is not in great condition it has been painted black for some reason. The pistol is complete and working and shoots nicely. As these are shortly to stop being made this is the time to buy up good examples.
This 59 year old pistol is in excellent condition the metal work being in near new condition with its lovely original dark glossy black finish completely intact. There are a few very minor surface marks to the wood work but nothing to worry about. The pistol works perfectly and seems to have had little to no use. Shame it is not boxed but this is a nice early example.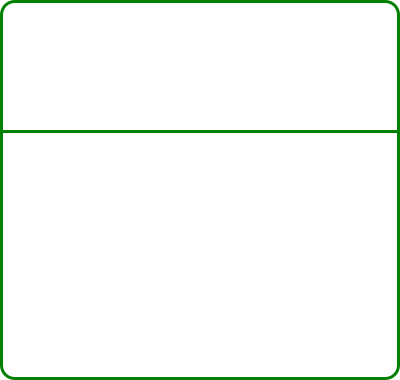 A chrome finish GAT gun complete with its pellet pusher. Working.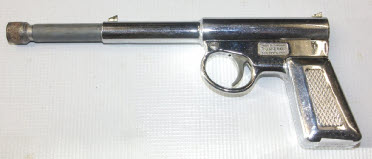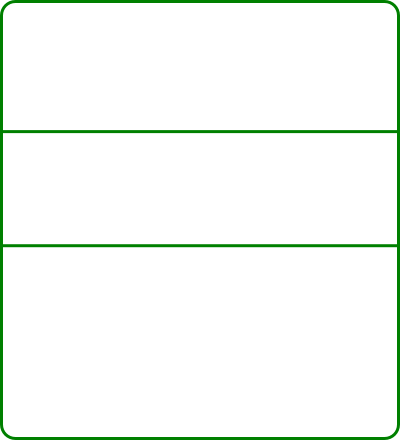 This is a really nice, under rated pistol, which we regard as being nice quality. It is an under lever with a swing out breech mechanism and they actually prove to be quite accurate with the correct pellet. The pistol grip is adjustable for rake and the rear sight is fully adjustable for windage and elevation.this example is in very good condition retaining virtually all its original bluing just with the very slightest of thinning on the under lever. A good entry level target pistol. Supplied with manual, oil, pellets and cleaning brush set.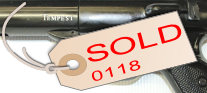 This truly recoilless target pistol is in very good condition retaining almost all its original finish with just some slight thinning on the barrel. The foresight is slightly broken and will move under pressure but for the most part will stay put if used with the knowledge that it can move. This should not affect shooting however, we feel we should point it out. New seals have been fitted and the pistol shoots very well. Fully adjustable rear sight. Presented in its original polystyrene based box with plastic lid with a couple of cracks in. A nice target shooting pistol.