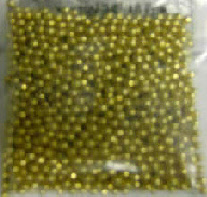 H&N HIGH GRADE 4.4mm LEAD BALL AMMUNITION
This lead ball ammo is made by H&N and is coated in copper. It is particularly good in air guns with rifled barrels as the rifling will give the shot a spin and make your shots more accurate.
Highly recommended for the Baikal 654 CO2 pistol, Haenal 311, Anshcutz 275, and pre war bolt action military training rifles such as the VZ35, Mars and post war VZ47.
Available in different pack sizes:
PLEASE NOTE: You must be 18 or older to purchase ammunition
Shipping charges are UK only. Outside of UK please email us first for postage rate.
CLUBS and SHOOTING GALLERIES
SPECIAL OFFER, LOAD-OF-BALLS!!!
BUY 10,000 H&N 4.4mm lead balls for just
(plus £16 postage sent Parcelforce 48)

This item is sold in various pack sizes and is available to buy on line

On line, including shipping £10.49
On line, including shipping £16.49
On line, including shipping £30.98
You can also purchase by phoning the BB hotline 01243 827500
YOU MUST BE OVER 18 YEARS OF AGE TO PURCHASE AMMUNITION OR AIR GUNS.
Phone up & order it
01243 827500
Quick & easy
© Copyright Protek Supplies
21-100 original box labelled "100 21-100 felted slugs". Sealed and unopened. Boxes are slightly dusty having been stored for over 90 years in a warehouse. £68 per box or 2 boxes for £125 plus £4 postage. Order code "felted slug 21-100" Also available as pack of 20 pellets, no box £2.50 per pack plus £3.50 post.
A RARE FIND...QUACKENBUSH PELLETS
YOU MUST BE OVER 18 YEARS OF AGE TO PURCHASE AMMUNITION OR AIR GUNS.
21-100 felted slugs, 1 box
21-100 felted slugs, 2 boxes
.177 PELLET LOADER
By CROSMAN
• Holds 16 pellets (.177 calibre)
• Easily loads pellet in to tight breaches
• Easy to use
• Great for hunters in the field or target shooter alike
£9.20
Order code: PL177
Un opened in original packaging.
Sought after by collectors, they are also a highly practical device. Stores 24 pellets in .177 or .22 and with a simple turn of the dial a pellet is dispatched silently. Simply attaches to the side of your gun.
£24.00 each
(plus £4 postage)
To order phone 01243 827500
Tuesday to Saturday
11AM till 5PM
New from Defiant is this box of "vintage" pellets. Made to imperial .22 measurements to fit all British obsolete air rifles such as BSA improved, BSA Standard, Lincoln Jeffries, Mark 3 etc etc.
Box quantity is 500 and price is £13.80 Postage on this item is £3.50 a box.
NOTE: You must be 18 years of age or over to purchase this item.

1 Tin £4.00 plus £3.50 shipping
2 Tins £7.80 plus £3.50 shipping
Tin of 500 balls at £4.50 a tin.
30 ROUND MAG
FOR SIG MCX and SIG MPX CO2 AIR GUN
With 3 extra pellet belts.
£49.99
For fast loading of 7 magazines the type used in CP88 and Beretta 92 and CP99 pistols.
£22.00
NOW includes pack of 20 slugs so you don't have to open the box to see them or test fire them.
21-100 felted slugs, pack of 20