 Phone up & order it
01243 827500
Quick & easy



© Copyright Protek Supplies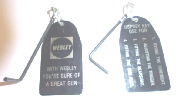 W468 - Osprey tool tag as supplied with the Webley Osprey, used but good condition, we can't be certain the allen key is the correct one as appears to be metric (in inches it measures .106 inches) £12.00
W296 BOXED - The mounts as shown above but in the original Webley box. These mounts are stamped "WEBLEY" and are in original Webley box.£25.00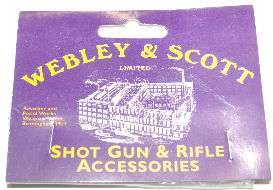 W532 - Header card, Webley, 102mm by 75mm. £1.00 Only one of them though.
W500 - WEBLEY JUNIOR pistol component parts and prices (no longer valid due to inflation!!). This is a quality reprint on the correct paper and will enhance any Webley enthusiasts collection. £1.00 from our shop or £2.00 if you want it posted to you. Order by phone only 01243 827500 or if you are placing an order by Paypal for other parts add this (W500) for £1.00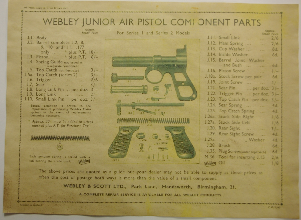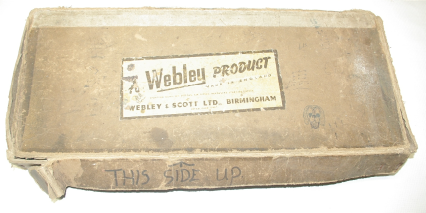 We have inherited a collection of these from a sadly departed airgun collector/colleague/friend. The example shown is a middle condition one, we have others in less good condition with fewer internal boxes and some in better condition with many more internal boxes. Priced accordingly. These are rare retailer spares boxes which would have been in a gun shop and filled with spares to provide spares to customers in the shop. These are a nice addition to any Webley collection and also could be used to store pistols and parts if you have them. Rare classic collectors items.
No inside partitions or boxes £40.00
No inside parts boxes £60.00
The one shown above £90.00
WEBLEY RETAILER'S PARTS/SPARES BOXES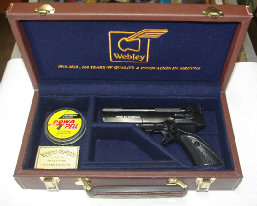 This lovely quality pistol case was made in 2010 to mark 100 years since Webley produced their first air pistol. An item that did not actually go in to production. This item was produced in very limited quantity we believe 400 to house the Tempest Centenary model. There were extra cases made and we sold quite a lot of them at the time. This will take any standard Webley spring air pistol, also can be modified to fit Webley Nemesis. Lovely blue baze lined with partitions and a faux leather outer. Really smart. Also embroidered inside the lid as shown with the Webley badge and motif. These are a genuine Webley product, never going to be made again and if you have a nice Tempest it would look superb in this case. We have seen them adapted to take 2 pistols. Also this example has a non original Webley and Scott premier works label nicely fitted in on a plinth on the left hand compartment. Very good condition in fact near new.
£95.00
Our stock reference WEB BOX 38

W786 - Webley tag and allen key as supplied with early Tempest, Hurricane and Typhoon pistols. £10.00 we may have 2 of these, phone to check. Photo shows both sides of tag, 1 is supplied for £10.00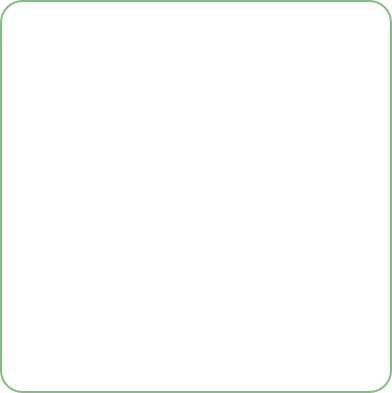 W788 - Webley Tempest holster, brown leather, 1980s, in very good condition. £35.00

W791 - Webley Marksman enamel badge. In very good condition it was obtainable by sending vouchers in pellet tins to Webley. C1960s/early 1970s £30.00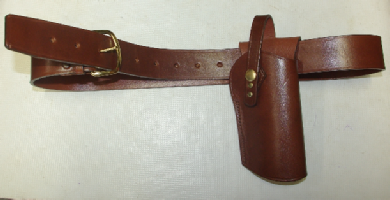 W787 - Genuine Webley Tempest holster plus the belt they sold for it. Very good condition. Near new condition. £48.00